THEC64Mini
From C64-Wiki
| | |
| --- | --- |
| | This article is very short and not very detailed. Please help to improve it. |
THEC64Mini

Type:
Producer:
Retro Games Ltd.
Price:
79,99€ (69,99 £ oder 69,99 U$)
Released:
2018
Discontinued:
Processor:
Memory:
OS:
Info:
License of Cloanto Corporation
THEC64Mini or THEC64 MINI is a new developing of the famous C64 with a ARM CPU Basis and the OS Linux with VICE, which cab connected on every modern and actual TV by a HDMI cable. The computer was developed by the company Retro Games Ltd. and in Europe distributed by Koch Media.
Inside of the THEC64Mini are 64 classical C64 games like Uridium, Paradroid, Hawkeye, Nebulus and Monty Mole, which highscore is savable.
This project was published in the internet since end of September 2017. This news was the reasons in the C64 scene and in other computer websites for a lot of discussion by a lot of retro computer nerds. The official sell was started in April 2018 for a price of 79,99€.
Technical Details
[
edit
]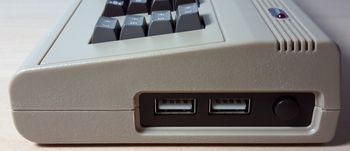 Savable highscore for the 64 C64 games
Software updates over USB stick.
64 classical C64 games, which are onside of the ROM chip.
Dimensions: 250 * 50 * 200mm
Weight: 372g
Plugs rear
HD output with 720p over HDMI
Micro USB port for power
Plugs right side
Other informations
The keyboard of THEC64Mini is only a decoration.
Keys can be used with a popup keyboard on the screen.
Alternative can used a USB keyboard
If you want to use both USB joysticks, a USB keyboard and a USB stick, you need a active USB hub.
The emulator being used is x64 from VICE 2.4
Packing
[
edit
]
THEC64Mini contains the following components:
Blue box
THE C64 MINI computer with box
USB joystick in Competition Pro style with eight buttons
Manual in 5 languages
1,2m long HDMI cable and a 1,2m long USB power cable (no USB power hub!)
Contained Games
[
edit
]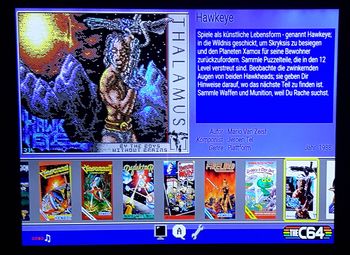 The following 64 C64 classical games was developed by the publishers Epyx, Gremlin Graphics, Hewson, Thalamus and The Bitmap Brothers and contained in THEC&$Mini:[1]
Other Programs
Starting & Using
[
edit
]
THEC64Mini can connected by a HDMI cable over the HDMI plug with a TV, which has also a HDMI plug.
The power of THEC64Mini comes by a USB cable over the "Power IN" plug with an adequate USB power hub (5VDC/1A).
Loading own programs
[
edit
]
You need a USB stick, which is in FAT32 formated and contains a D64 image, which has the name THEC64-drive8.d64. After that choose in the THEC64 Mini menu BASIC and load with LOAD "NAME",8,1 your program and start it by writting RUN. Also you can reload other programs, if this programs inside the same diskside.
As of version 1.1.0 of the firmware, loading games off of a USB stick is as easy as saving the supported files (.d64, .d81, .prg, .crt, .tap) on either the root directory of the device, or within a file folder. Then, using the new File Loader and joystick, navigate to where the file is stored and launch it by pressing the fire button on the joystick.

References