Arcade
From C64-Wiki
Jump to navigation
Jump to search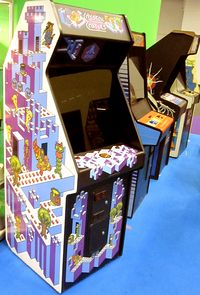 The Arcade genre originally referred to coin operated video games. These games were almost always had rules that were easy to understand or intuit and had a fast pace. The term quickly widened to refer to ports of such games to home consoles and computers. Soon some platform games with simple rules and a fast style of play were called Arcade style games.
Famous Arcade Games (Selection)
[
edit
|
edit source
]
1972: Pong (many ports and different variants with many titles. First sucuessful arcade game from Atari.)
1974: Tank, Gran Trak 10 (first video arcade machine with ROM)
1975: Gun Fight (first video arcade machine with CPU)
1976: Breakout (many ports and different variants with many titles.)
1977: Circus, Space Wars (first arcade game with vector graphics)
1978: Space Invaders
1979: Asteroids (programmed for C64 in 1987), Galaxian (first coloured graphics arcade game), Lunar Lander
1980: Centipede, Defender (first scroller), Pac Man (many ports and different variants with many titles.), Phoenix (C64 port name Eagle Empire from Alligata Software), Berzerk (with human voice output)
1981: Donkey Kong (first jump'n run game), Frogger, Galaga, Lady Bug, Mario Bros, Qix, Scramble, Space Panic (first platformer)
1982: Burger Time, Dig Dug, Moon Patrol, Pengo, Pole Position, Pooyan, Q*bert, Robotron: 2084, Time Pilot, Tron
1983: Elevator Action, Star Wars, Tapper
1984: 1942, Bomb Jack, Star Force
1985: Bank Panic, Buggy Boy, Choplifter, Ghosts'n Goblins
1986: Arkanoid, Bubble Bobble, Out Run, Wonder Boy
1988: Tetris, Ghouls 'n Ghosts
1989: Final Fight
1991: Street Fighter II
2012: Fix-it Felix Jr. (an arcade game for Disney's CGI film Wreck-It Ralph that is back-dated in 1982.)
Other C64 arcade ports see under Arcade.
A selection of animations of C64 arcade ports (with year of the C64 port) of the 1980s: