C64DTV
From C64-Wiki
Jump to navigation
Jump to search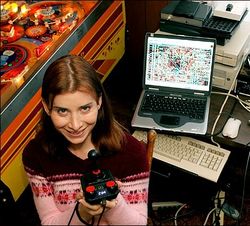 The C64DTV (Commodore 64 Direct-to-TV) is a single-chip implementation of the Commodore 64 computer with 30 built-in games and is housed in a joystick case. The C64DTV was designed by Jeri Ellsworth.
The C64DTV concept followed on from the C-One project also designed by Ellsworth. Tulip Computers NV (which had acquired the Commodore brand name in 1997) wanted to market a smaller version of the C-One and licensed the rights to Ironstone Partners, which cooperated with DC Studios, Mammoth Toys, and The Toy:Lobster Company in the development and marketing of the unit.[1] Assisting Ellsworth with the C64DTV were Jason Compton, Adrian Gonzalez, Robin Harbron, Per Olofsson, Mark Seelye, and Oliver VieBrooks. By March 2005 Tulip Computers NV sold the rights to Yeahronimo Media Ventures.
250,000 NTSC units were produced in late 2004 at the Mammoth Toys factory, China. Of which, 30,000 units were purchased by QVC who had the exclusive rights to sell the C64DTV until 2005. The units were sold from 26 November 2004[2] on the QVC channel for USD 25. Including both NTSC version 1 and PAL versions 2 and 3, the total number produced was 600,000.
There are a number of versions of the C64DTV as detailed in Table 1.
Table 1 - Revisions of The C64DTV
Version
Remarks
Image
C64DTV1
- For use in countries using the NTSC Broadcasting Television Standard.
- Released late 2004.
- Storage is on RAM and ROM.
C64DTV2
- A revised version for the European and world markets using the PAL Broadcasting Television Standard.
- Released late 2005.
- Storage is on RAM and flash memory; the ROM having been replaced.
- Suffers from a manufacturing fault, which results in poor colour rendering (the resistors in the R-2R ladder DACs, for both the chroma (C) and the luma (Y'), have been transposed).
C64DTV3
- A problem with the blitter was fixed.
Casing/Connectors:

Integrated in a Kempston Micro Electronics Competition Pro lookalike joystick.
Default wiring imitates connection to port 2 of a C64.
Five additional buttons (imitating keys).
Composite video monaural audio (RCA connectors).
Power:

Single transistor-regulated power supply.
Requires (four AA batteries).
CPU:

Atmel Application-Specific Integrated Circuit (ASIC).
System ASIC clock running at 32 MHz.
Emulated 6510 clock running at 1 MHz.
DTV2 and later: Enhanced CPU (fast/burst mode, additional registers and opcodes, support for illegal opcodes of the 6510).
Graphics:

On-board digital-to-analogue graphics output.
300 x 200 pixel resolution.
DTV1 only: NTSC analogue output.
DTV2 and later: New packed pixel 256 (16-bit) colour mode.
DTV2 and later: Additional blitter for fast image transfer.
Sound:

On-board digital-to-analogue sound output.
No support for MOS Technology SID filters.
DTV2 and later: 8-bit digital sound, additional options for ADSR envelope generators.
The official games for the unit are mostly a mix of Epyx and Hewson Consultants Ltd. C64 games. Games unique to the NTSC or PAL versions are indicated in Table 2.
The C64DTV mainboard has exposed solder points for floppy-drive and keyboard ports, enabling hardware modifications (modding) such as:
Keyboard connector (although some emulated keyboard faults exist, they can be rectified with the "Keyboard Twister").[3]
External joystick connectors (Port 1 and 2).
Floppy drive connector.
Power unit connector.
S-Video connector.
User port connector.
Data transfer cable connector (parallel port (or USB/serial port via DTV2ser) to joystick port or user port).
SD card interface connector (1541-III or MMC2IEC)
Rectifying PAL colour palette problems (to some degree this is possible in software by adjusting palette entries).
Retrofitting to an original C64 case.[4]
C64DTV was transformed by Rod Hull (tfw8b) into a fully functional portable C64 with SD2IEC Joysticks ports and 1530 touchpad, as in the case of the C64p Laptop
The C64DTV contains flash memory and is available as device 1 (although no software is included for access). Nevertheless, a number of homebrew tools exist that can compile programs into DTV-compatible flash images and load them to the flash memory. In their original form, many games were not suitable for the C64DTV due to the requirement for a keyboard or extra joystick. However, many more games have now been altered in order to run on the C64DTV. Also available are custom game compilations, alternative boot menus, and data transfer facilities. Programs such as DTVtrans enable data transfer between a PC and the C64DTV RAM via the PC parallel/USB port and the C64DTV joystick port. It should be noted that flash devices used in the C64DTV only enable a very limited number of write accesses.