Manic Miner
From C64-Wiki
Jump to navigation
Jump to search
Story
While prospecting, Miner Willy stumbles on an old, long forgotten mineshaft. On further exploration, he finds evidence of a superior lost civilization. These ancients used robots to dig deep into the Earth's core to supply the essential raw materials for their advanced industry. Centuries of peace and prosperity passed, until one day the civilization tore itself apart thorough war. It lapsed into a long dark age, abandoning its industry and machines. Nobody, however, thought to tell the mine robots to stop working. Through countless ages they had steadily collected a huge stockpile of valuable metals and minerals.
Miner Willy realizes that he now can make his fortune by finding the underground store. To move to the next chamber, you must collect all the flashing keys while avoiding nasties like POISONOUS PANSIES and SPIDERS and worst of all, MANIC MINING ROBOTS. However, if you fall heavily three times the game will end. After collecting all the keys, you can enter the flashing portal to escape the mine.
Manic Miner is an early game from the C64's earliest days. The levels lack variety but have a good buildup. Willy and the guardians animate smoothly. But the simple sound eventually gets monotonous.
Controls
Q , E , T , U  or O  = move left
W , R , Y , I  or P  = move right
SHIFT  or SPACE  = jump
Or use the joystick in port#2
A  = pause on
S  = pause off
L  = music on
K  = music off
additionally in the crack by Remember
←  = abort game and back to menu
RUN/STOP  = restart current level
Tips
You can recognize the collapsible floors by their distinct color or shape.
Despite bugs in the original release, you can now traverse all the levels and complete the game, as shown in the video by Reinhard Klinksiek.
Voting of the C64-Wiki users (10=the best vote):
7.32 points at 19 votes (rank 330).
You need to be logged in to cast a vote.
C64Games
7
26th July 2008 - "very good" - 2622 downs
Lemon64
7,3
04th January 2011 - 68 votes
Kultboy.com
6,25
26th June 2011 - 4 votes
ZZap64
95%
Issue 89/06
H.T.W: "This veteran of the platform games is simple but nevertheless ingenious. You see in the graphics that the ZX Spectrum was the inspiration for it, but the animation of the sprites is fluent. The levels are built up well-thought-out and get harder during the game. You need pixel exact jumping and this also with the pressure of time. A nice game from the starting time of the C64."
Robotron2084: "Manic Miner, that is borderline graphics, which is dishonourable to the C64, annoying background music in permanent loop and an inhuman difficulty grade. Hard stuff for true platform fanatics, who seek a real challenge after Jumpman. For me personally Manic Miner is simply too stressful. 5 out of 10 points."
pj64: With its kooky plot and surreal cast of characters it caused a stir when Bug-Byte released it for the little old ZX Spectrum back in 1983. It's great to see such a faithful port. However, like other Speccy games, it did not capitalize on the C64's better graphics and sound and probably won't impress C64'ers.
There is a cc65 remake by Stefan Wessels available.
The game was awarded the British Golden Joystick Award in the category Best Arcade-Style Game of the Year in 1983.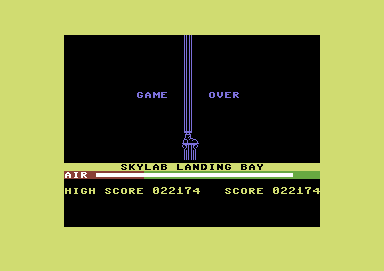 Camailleon - 22.174 (15.06.2011)
Equinoxe - 19.650 (13.06.2011)
Robotron2084 - 15.268 (31.05.2011)
Ivanpaduano - 3.706 (12.07.2018)
Videos