Amiga
From C64-Wiki
Amiga

Type:
Home Computer
Producer:
Commodore
Price:
? DM, ca. ?€ (? US$)
Released:
1985
Discontinued:
1994 (at Commodore)
Processor:
Motorola 68000 @ ca. 7 MHz (16-bit)
Memory:
min. 521 KByte, upgradeable
OS:
AmigaOS, also called Kickstart
Info:
These article is about the history timeline until 1995;
differents designs with differents CPU and RAM inside, later with PC technology
The Amiga was a computer series from Commodore, which sold the ruin company Amiga Inc in 1984. The first AMIGA models was sold in the shops at the end of the year 1985. It was the AMIGA 1000.
Commodore split the AMIGA computer series in two lines: Home computers and professional systems
Developer and father of the AMIGA was Jay Miner, who was born in Arizona (1932) and died on 20. June 1994. He resigned at Commodore in 1989.
In March 1989 the one million AMIGA was sold.
It was sold 7.2 millions AMIGAs worldwide and in Germany round about 1.68 million times until 31.12.1993. The contrast is, that the C64 was sold over 17 million times (1983-1994).
In 1995 the trademark AMIGA was sold to the companies Escom (1995/96), Gateway 2000 (1997-2000), Amino (2000-2004), KMOS (since 2004), which produce other AMIGAs with PC technology inside.
The Commodore AMIGAs
[
edit
]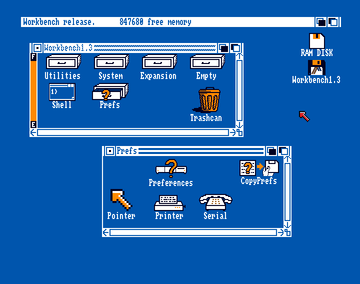 Home Computer:

AMIGA 500 (1987)
AMIGA 500 plus (incl. 1 MB RAM and OS Kickstart 2.04.; 1991)
AMIGA 600 (1992)
AMIGA 1200 (1992)
Professional:

AMIGA 1000 (1985/86)
AMIGA 2000 (1987)
AMIGA 2500 (1988)
AMIGA 3000; also available in tower and workstation versions (1990)
AMIGA 4000; also available in a tower version (1992)
Others:

SideCar (AMIGA 1060) expansion port upgrade to make AMIGAs PC-compatible (1986)
CDTV (predecessor to CD32; 1990)
CD32 - Gaming console based on AMIGA 1200 (1993)
Selling (Stand: End of year 1993)
[
edit
]
Amiga Models
Germany
Europe (rest)
USA
World (rest)
Amiga 500
1.081.000
-
750.000
-
Amiga 500+
79.500
-
-
-
Amiga 600
193.000
-
200.000
-
Amiga 1000
27.500
 ?
 ?
1.000.000
Sidecar
max. ca. 5.000
-
-
-
Amiga 1200
95.500
-
144.000
-
Amiga 2000
124.500
-
-
-
Amiga 3000
8.300
-
-
-
Amiga 3000T
6.000?
-
-
-
Amiga 3000T/040
80?
-
-
-
Amiga 4000/030
7.500
-
-
-
Amiga 4000
3.800
-
-
-
CDTV
25.800
max. 30.000
-
-
Amiga CD32
25.000
 ?
 ?
200.000
Amigas unsorted
-
2.645.000
146.000
400.000
Sum:
1.680.480
2.675.000
1.240.000
1.600.000
Sum worldwide:
7.195.480
Advertise
[
edit
]