Lightforce
From C64-Wiki
Voting of the C64-Wiki users (10=the best vote):

6.58 points at 19 votes (rank 467).


You need to be logged in to cast a vote.
C64Games
7
25th December 2006 - "very good" - 1880 downs
Lemon64
6.9
25th December 2006 - 33 votes
Happy Computer
63%
Games Special 3/86
Kultboy.com
6,75
15th October 2010 - 4 votes
Description
[
edit
]
"Lightforce" is the debut of the software forge "FTL" (Faster than Light). The game is a fast space shooter with excellent background music by Rob Hubbard.
The Story
The emergency call from the colonies around REGULUS is short - "spaceships of unknown origin landing at key positions!" The GEM council reacts fast and mobilizes all their Space Force in the REGULUS sector. Unfortunately, only one LIGHTFORCE glider is near which you steer. Free the two planets "Water World" and "Ice World" and the space that lies in between.
The game has 4 levels that repeat after playing through them. The weapons of the space glider are a double laser and smart bombs. The graphics are not spectacular with the music more so. Unsurprisingly, as this is from Rob Hubbard.
Lightforce is one of the games where you can shoot around heedlessly. Only when an enemy sprite comes so close that you would fly into the explosion when shooting it, you shoud spare it and avoid. You can shoot around here in the most situations hell for leather as you cannot destroy upgrades as in other vertical shooters, e.g. Warhawk or Hades Nebula. With Auto-Fire you have a shooting frequence that you probably cannot do better otherwise and this helps the index finger. You could even say: for games as Lightforce was the Quickshot or respectively the auto-fire function on joysticks invented in the first place.

Controls
Space  - smart bombs
F1  - switch between music and sound effects
F3  - pause on/off
F5  - self desctruction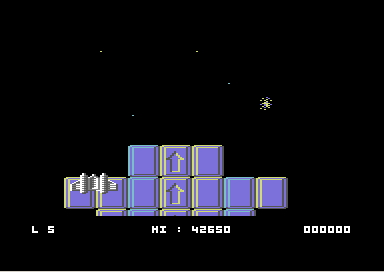 Solution
[
edit
]
POKEs
After a reset you can enter the following POKEs for the tape version:
POKE 14235,173 ($379B,$AD) = unlimited lives
POKE 13344,205 ($3420,$CD) = no enemies
POKE 14181,000 ($3765.$00) = enemies are instantly destroyed when appearing
POKE 12567,173 ($3117,$ad) = unlimited bombs
POKE 11568,001 ($2d30,$01) = 1 bomb already at the start
POKE 14189,169 : POKE 14190,000 ($376D,$A9 : $376E,$00) = indestructible
SYS 2061 ($080d) = start the game
Critics
[
edit
]
TheRyk: "A pretty nice vertical shoot em up with an in game music by the godlike Rob Hubbard that you will find in many top 10 alltimes C64 music charts. The graphics are also beautiful. Shortcomings are mainly the lack of weapon upgrades plus the size of the own ship which is a damn good target for enemy fire. That makes the game kind of difficult, considering you even die if you fly through explosions. The 'highscore entering minigame' via shooting randomly appearing letters is a cute idea but sometimes it takes ages to shoot your name. Anyway, a very well-done shoot em up game that genre fans and music gourmets should now. Super in spite of minor shortcomings, 8 out of 10."
Robotron2084: "You get worn down in this game without a stick with permanent fire, the thumb is exposed to a nonstop permanent strain - which can be almost called cruel - that I do not know of hardly any other shooter. The graphics have a strong Spectrum touch - and this of a rather not so nice type! However, the crux is the already mentioned own oversized spaceship and the extremely unprecise collision query. Lightforce does not take second place to 1942 which also fails in this category and this ruins the game almost completely. The really excellent science fiction hymn that Rob Hubbard has contributed as background music can also not rescue much. Therefore only 6 out of 10 points."
Miscellaneous
[
edit
]
Versions
[
edit
]
Here a list of the cracks, that can also be found in the CSDb. The crack by REMEMBER (Release 103) is the first choice with its highscore saver.
Computerbrains Cracking Service - with trainer
Cracking Force Berlin
Hitmen - with trainer
Micro Mix
Plutonium Crackers
Remember - with trainer and highscore saver
The Master
The Omega Man
The Perfect Combination
Triad
Warlock
Part 1 of an appr. 14 minute longplay by einokeino303...
| | |
| --- | --- |
| The cover of the diskette version | The cover of the cassette version |
Diskettes
[
edit
]
Advertisement
[
edit
]
Highscore
[
edit
]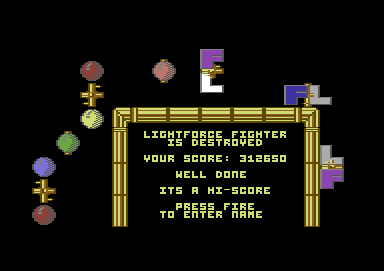 Logan - 312.650 (06.05.2006)
Robotron2084 - 69.250 (15.10.2010)
TheRyk - 54.750 (25.10.2008)

Videos