The Way of the Exploding Fist
From C64-Wiki
Jump to navigation
Jump to search
The Way of the Exploding Fist

Game No.
232
Voting
8.06 points, 54 votes
Developer
Gregg Barnett, Bruce Bayley, David Johnston, Greg Holland
Company
Beam Software
Publisher
Melbourne House, Stars
Musician
Neil Brennan
HVSC-File
MUSICIANS/B/Brennan_Neil/Way_of_the_Exploding_Fist.sid
Release
1985
Platform
Amstrad CPC, C64, Plus/4 ZX Spectrum
Genre
Sports, Fighting, Karate
Gamemode
Single player
2 players (simultaneous)
Operation
Media
Language
Information
The Way of the Exploding Fist is a karate simulation for the C64. You can choose to compete against the computer or a human player. When fighting against the computer you have each only one live. When reaching full two points, you will win the fight. After the time has run out the referee decides who has won. After two won fights you get into the next arena of which there are altogether four. Your "skill" then rises from NOVICE to 1st Dan and so on. The computer enemy gets correspondingly stronger.


Graphically very pleasant 2d design, fighting screens, kicks and punches can be heard well (samples), very nice background music by Neil Brennan.

During the demo:
F1

  = Start game

F3

  = set 1/2 player mode

F5

  = restart game

F7

  = set joystick/keyboard controls

DEL

  = fighting screams on/off
Controls with joystick:
Depending on the direction of the joystick you can creat the corresponding kick or movement. There are 15 actions and the movement to the left and right.
8 Kicks
3 Punches
2 Somersaults
Crouch
Leap
            without fire button pressed                   with fire button pressed:
                                                                       FLYING
                       JUMP                                             KICK
                        |                                                |
             FORWARD    |                                      HIGH      |
            SOMERSAULT  |   HIGH PUNCH                       BACK KICK   |  HIGH KICK
                    \   |   /                                        \   |   /
                      \ | /                          ROUNDHOUSE/       \ | /
  WALK BACKWARDS -------   ------- WALK FORWARDS     ABOUT-FACE --------   -------- MID KICK
       /BLOCK         / | \                                            / | \
                    /   |   \                                        /   |   \
               BACK     |   JAB                              BACKWARDS   |   SHORT JAB KICK
            SOMERSAULT  |                                      SWEEP     |
                        |                                                |
                     CROUCH/                                          FORWARD
                    LOW PUNCH                                          SWEEP

Controls with keyboard:
 Q  W  E          P  @  *
 A     D          L     ;
 Z  X  C          ,  .  /
  Fire:            Fire:
 Shift left      Shift right

Strategy and tactics by Nele Abels:
The strategy: there are the usual kicks and punches, which appear in every karate game. If you want to get many points, there are only three of them sensible; high punch (top right), the jab (bottom right) and low-kick against the leg (bottom right with fire). These three techniques are the fastest, all the other kicks need too long until they are conducted, a time in which you are vulnerable for the enemy.
Distance is very important. You must not stand so close to the opponent, that you can be hit with a fast technique, because you cannot defend yourself against it. If you stand too far away the enemy has time to parry a counterattack and you are suddenly in a dangerous, because uncontrollable close combat. The right distance are 4 to 5 pixels between the hands of the sprites.
Very important: never let techniques "stand around" by keeping the fire button pressed. You are vulnerable with a leg or an arm in the air. Equally important: always hit or defend only once, permanent fire orgies are only suicide.
Mostly the enemy tries to attack with two combinations: the jumped foot kick is easy to counterattack. As soon as the opponent jumps, defend (step to the left). As soon as the opponent lands you can knock him out with the fist punch. The other technique is a foot sweep. The opponent knees and pulls your feet off the ground. This technique is not hazard-free, as it has a great reach. The counterattack, however, is actually rather simple. If the distance is right, you just have to go one step away from the enemy, as soon as he kneels down and then charge again. While he is getting up, you can then knock him out with a low-kick.
In close combat you should change between attack and defense quickly and in the right rhythm. The aim is to safely gain distance. As long as you stay cool, you can relatively easily manoeuvre yourself into a good fighting distance and can let the opponent come. In "The Way of the Exploding Fist" you are more successful when fighting from the defensive.
After each last opponent in front of the Buddha statue, a buffalo comes stomping through the scene from the right. You can either jump over it with a salto or sent it to buffalo-sleep with a well-aimed low punch.
Fist 2: POKE 6701,255
Voting of the C64-Wiki users (10=the best vote):
8.06 points at 54 votes (rank 92).
You need to be logged in to cast a vote.
C64Games
9
4th April 2015 - 9 out of 10 points - 21249 downs
Lemon64
8
4th April 2015 - 8,3 out of 10 points - 234 votes
C64.com
8
4th April 2015 - 8 out of 10 points - 22464 downs
Ready64
8
4th April 2015 - 8,21 out of 10 points - 26 votes
Kultboy
8
4th April 2015 - 8,34 out of 10 points - 23 votes
The Legacy
8
4th April 2015 - "very good" - 17 votes
GameBase64
9
23rd Juni 2004 - 5 out of 5 points
Happy Computer
-
Special Issue March 1985 - Article without rating
Issue October 1985 - Article without rating
Computer & Videogames
9
Issue August 1985 - 9 out of 10 points - p.21
Commodore Force
9
Issue January 1993 - 91% - p.19
Issue June 1993 - 89% - p.58
Commodore User
10
Issue July 1985 - 5 out of 5 points - p.27
Home Computing Weekly
8
Issue June 1985 - 4 out of 5 points - p.14
Your 64
10
Issue August 1985 - 5 out of 5 points - p.42
Your Commodore
8
Issue December 1990 - 82% - p.52
Your Computer
10
Issue August 1985 - 5 out of 5 points - p.25
ZZap64
9
Issue August 1985 - 93% - p.30
Nele: "The Way of the Exploding Fist" is in my opinion quite the best beat'em up of all, because here it does not depend on joystick stirring, but on good timing, chosing the appropriate punches and kicks and the right strategy. Furthermore, it's one of the very few beat'em ups where the defense (just going one step away from the opponent) actually works and can be used sensibly. Voting 9 (for 10 I would have wanted a few more backgrounds and more sophisticated computer tactics.
FXXS: "I cannot see the big difference to International Karate, I find graphics and music a bit worse and the controls take getting used to... therefore good 8 points."
mombasajoe: "A much better atmosphere than in International Karate is unfortunately clouded heavily by the slow animation and controls. What a pity 6/10!"
Shakermaker303: "Very pleasant design, the backgrounds are designed nicely, the music is promsing, diversified and partially "ruminant" - appropriate for a karate game. The moves are specific, however, only the courses of movement - in comparison to Int. Karate (for me THE benchmark concerning martial art games on the C64) and a few other good karate/Kung Fu games a bit too slow. Therefore "only" 9 out of 10 points."
Blubarju: "Atmosphericaly the best fighting game on the C64. Even though the gameplay is a bit slow. 8 points."
Parts of the SID stem form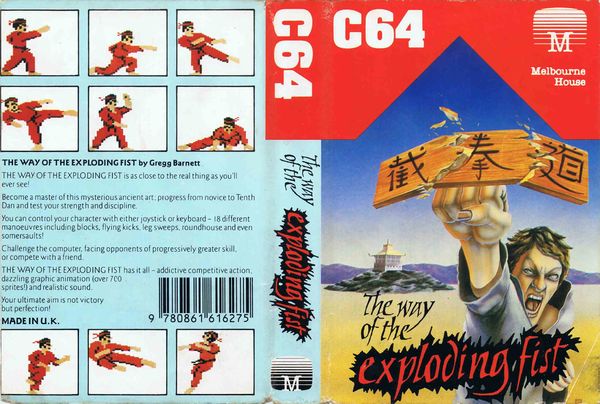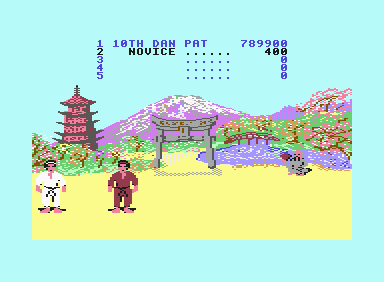 PAT - 789.900 - 10th DAN (04.04.2015)
Equinoxe - 105.000 - 10th DAN (14.02.2015)
Blubarju - 89.400 - 10th DAN (07.03.2013)
Nele - 49.500 - 8th DAN (08.04.2004)
Worf - 47.500 - 8th DAN (02.05.2004)
Marvin - 46.000 - 7th DAN (09.03.2014)
mombasajoe - 36.100 - 5th DAN (02.10.2012)
TheRyk - 31.500 - 5th DAN (19.06.2011)
FXXS - 14.300 - 2nd DAN (13.10.2006)

Videos