Lemmings
From C64-Wiki
Jump to navigation
Jump to search
Lemmings

Game No.
248
Voting
8.51 points, 45 votes
Developer
Thomas Mittelmeyer, Leon van Rooy, Alain Jansen, Greg Duddle
Company
DMA Design
Publisher
Psygnosis, E&E Software
Musician
Jeroen Tel
HVSC-File
/Tel_Jeroen/Lemmings.sid
Release
1994
Platform
Amiga, Atari ST, C64, MS-DOS, NES, SNES, Sega, Lynx
Genre
Logic, Strategy
Gamemode
Single player
Operation
Media
Language
The game was released for the first time in 1991 for the Amiga and was after that converted to almost all well-known platforms.
Game principle:
In Lemmings you cannot control the actions of your small friends directly. Instead, you need to lift up some of them to a higher level of the lemming-being by giving them useful skills and talents. Only this way you will succeed in bringing these lemmings (and its friends) unharmed to the exit. To be able to allocate the different skills, choose the corresponding icon from the bar and assign it to the lemming of your choice.
As lemmings are not very intelligent, they always walk into the same direction until they meet an obstacle. Then they walk into the opposite direction. The player has eight options with each a certain number to influence the lemmings.
Climber: can climb up walls. The corresponding lemming gets sticky shoes and gloves and is this way able to climb even vertikal plains. Note: A climber stays a climber for the rest of the corresponding level. (The super-sticky shoes and gloves keep sticking to its paws...)
Floater: A lemming equipped with an umbrella can float savely down from any height. If a lemmings has been allocated the umbrella once, it will use it at any appropriate or inappropriate occasion (or sometimes not...).
Bomber: You activate the self-desctruction mechanism of the chosen lemming. Above the head of the unlucky lemming a 5 second countdown clock is shown and finally the lemming explodes and leaves behind a cloud of confetti. The lemmings do not like that. Note: This is a possibility to remove a blocker.
Blocker: This lemming stands around with arms stretched and blocks the way for its fellow lemmings. Blockers are very patient. They fulfill this function until the time has run out, if you let them.
Bridge Builder: Such a lemming builds bridges that always go up into the direction into which the lemming walked when you turned it to a bridge builder. Each bridge builder has 12 bricks. When they are used up, the lemming turns to a walker again, unless you allocate it another task (e.g. go on building). The bridge builder immediately stops building when all bricks are used up, when the bridge meets an obstacle or it bangs its head against something. Btw, you cannot build a bridge downwards...
Basher: Such a lemming digs forwards, but only if there is a suitable area in front of it. If it has dug trough a wall it turns to a walker again. (If it meets material that it cannot dig through it stops digging and just turns around.)
Miner: This lemming instantly generates a pickaxe and starts to dig diagonally downwards into its original moving direction and this until the tunnel is done and it falls out of it. Hopefully onto solid ground. The miner cannot dig through steel.
Digger: The chosen lemming instantly starts to dig vertically downwards. When it is throught it falls out of the digged hole. But this lemming cannot dig through steel.
Aim of the game:
A certain number of lemmings needs to be directed into the goal within a certain time.
Difficulty grades:
Fun - relatively easy, to learn the game principle
Tricky - a bit more difficult
Taxing - for prospective pros
Mayhem - for brain acrobats
2D screen that scrolls to the left or right when the cursor adjoins the border of the game section. The width of the section was minimized a bit to avoid time problems during the screen buildup. Great graphics with many animated lemmings and fitting music. Well solved controls by mouse + keyboard or joystick + keyboard.
Keys in the menu:
1

  = start the game

2

  = show intro

3

  = enter password for levels

4

  = change between music and sound effects

CRSR ⇑ ⇓

  = difficulty grade
Keys in the game:

-

  = reduce the number of lemmings that enter the level per time unit

+

  = raise the number of lemmings that enter the level per time unit

1

  = climber

2

  = floater

3

  = bomber

4

  = blocker

5

  = bridge builder

6

  = basher

7

  = miner

8

  = digger

Shift-Lock

  = pause

Inst/Del

  = (pressed twice)- bombs up all lemmings
Run/Stop

  = back to menu
further info:
You allocate a skill to a lemming by picking the corresponding icon with a press on the key, then moving the cursor with the help of the joystick or the mouse to the desired lemming and finally pressing the fire button. The corresponding lemming will then start immediately with the allocated activity (e.g. starts to dig immediately etc.). The only exceptions of this rule are the skills of the climber and floater. A lemming that has been allocated one of these skills does only use them when it meets a vertical wall or respectively a cliff.
You only have a limited supply of these skills per level. It is shown by the number above the corresponding icon. If the number is 00 you have used up all the supply of this skill.
Above the icon bar you see displayed from left to right the lemming type below the cursor, lemmings already freed and still to be rescued, solution in %, minutes and seconds left.
After solving a level a password is shown. Write it down, you will get back to this level by entering the password (key "3" in the menu) and you will not have to play the previous levels again.
Passwords for the single levels:
Fun
Level
Code
1
–
2
GEDGILBFIE
3
BLIJKJAJDB
4
KJGHALBDDE
5
JIDJGHGFCL
6
LEHIHBEBJC
7
GCAAFKJLAD
8
HJBHFKDIJJ
9
IBBHHBLDHK
10
FJBHHKHAKH
11
HHEBFEJAKI
12
AFCCIJLIIH
13
JGFEEDDEHA
14
KKIHCKAGBB
15
EAFALALDCC
16
AFIBLCHEHC
17
JIFAHKBDIA
18
FFIBDFEBJC
19
FJCAJGLBBL
20
GHHILIKBAB
21
JCCLCADGAH
22
FDIKBBKDGC
23
BIKDLHEDIL
24
KDCAJKAKFG
25
KJEDHGCDCK

Tricky
Level
Code
1
DJKALCDKLJ
2
FHIBDFEDGF
3
JFIBLACJCL
4
HEEBEDIGHI
5
FADGGFADKJ
6
ECHGGDEDID
7
LEDBFKJABF
8
IBGHDGFEHI
9
IHKBBDKJDJ
10
EADGGDIFAH
11
ALALALHGBB
12
FDJCKJHGDA
13
AHLGDEDLHI
14
ECBIFCJKBB
15
LKJIFEBLAJ
16
CKLAGFKAJH
17
BHFGGAJLAE
18
LAFGFKLADA
19
ELLISAAAAH
20
EAHGAKBDCD
21
LAGBABCIEA
22
HALGFEDFLK
23
BHLDLEJGDE
24
DFIJFJIKLE
25
DHKHBKDIFK

Taxing
Level
Code
1
IGDGKDIJFA
2
CCHALCJGBB
3
CACAGJGAFA
4
JFIBIEJLAF
5
HDCGLGFELF
6
JILKFECIEK
7
HILILAIHEL
8
GELEEAHGCC
9
JKFGGLBDGH
10
JKFIFCKKBB
11
LKJIGFCDIH
12
JAHEEDEBDE
13
CAJDJKILAC
14
JAICIFCHAD
15
GCCKHEDICG
16
IHCGCJLIGB
17
GIIHGFAIJG
18
CAJCIKFEBH
19
GDALLDJLKD
20
AHAFKJLCBL
21
CGDHAKBDCC
22
LKLGGBFKIH
23
KLIAAHAJJI
24
HAFGKGLDHK
25
JIFKIEDLEJ

Mayhem
Level
Code
1
BCHIAFKCIG
2
JCADJFEDFC
3
GKFGJLDJLE
4
IJCFFEDALI
5
EACJALHACG
6
KJKFEJCBDH
7
CABDJGHFDG
8
GJGGLCJAJC
9
LKAFLBFGJA
10
FDKBDHAGHC
11
FAFGGAHIIH
12
LEFGEJCJKI
13
KHKBLEDIHI
14
DHKIKBCABJ
15
CGFEEDCEHC
16
AHEFFAHHEA
17
EFGHFKCGDH
18
GJEBAKBDAC
19
EAJACHGBJK
20
AJGBDJLIIG
21
GFDILCDHEL
22
KDJAKGFCHG
23
BIDAJIKBIB
24
JIEEKAAJDG
25
FCELKBBLLK
Cracks with training mode:
Voting of the C64-Wiki users (10=the best vote):
8.51 points at 45 votes (rank 28).
You need to be logged in to cast a vote.
64er
9
Issue 2/94
C64Games
10
2nd May 2010 - "Highlight" 12941 downs
Lemon64
8
2nd May 2010 - 98 votes
Kultboy.com
8,91
2nd May 2010 - 22 votes
ZZap64
97%
Issue 93/11
Werner: "Top class puzzle game!"
FXXS: "Is as much fun as on the other systems."
TheKills: "I have to confess that this part is miles better than many followers... as e.g. Lemmings 3D ;) There all the charme got lost."
Ragnarok: "Highlight! To rescue (or bomb, har har) the hairy bustling lemmings is also loads of fun on the C64 - mouse urgently recommended."
Cover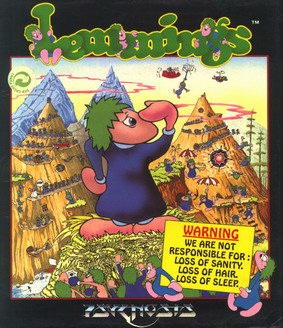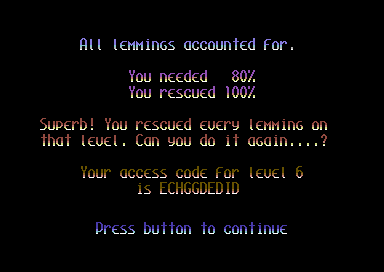 FXXS - Level 30 (25.10.2013)
Werner - Level 23 (22.06.2006)
Nobody - 0 (dd.mm.yyyy)

Videos