Auf Wiedersehen Monty
From C64-Wiki
Jump to navigation
Jump to search
Auf Wiedersehen Monty

Game No.
354
Voting
6.90 points, 10 votes
Developer
Peter Harrap, Shaun Hollingworth, Chris Kerry, Collin Dooley, Greg Holmes
Company
Gremlin Graphics
Musician
Rob Hubbard, Ben Daglish
HVSC-File
MUSICIANS/ H/ Hubbard_Rob/ Auf_Wiedersehen_Monty.sid
Release
1987
Platform
C64, ZX Spectrum, Amstrad, Plus/4
Genre
Arcade, Platformer (Multi-Screen)
Gamemode
Single player

Operation
Media
Language
Information
Forerunner: Monty on the Run
Follower: Impossamole


Auf Wiedersehen Monty is a 1987 multi-screen platformer from Gremlin Graphics. It is the third episode in the four-part Monty series about an outlaw mole.
The player must guide Monty through about half of Europe (back then, the communist's iron curtain remained closed, even to moles). He needs enough money to buy the secluded island of Montos (which lies between Lesbos, Mentos, and Domestos), where he will finally be able to retire in peace. But a ritzy place like Montos doesn't come cheap, and Monty must collect 180 traveller's cheques scattered around Europe and an assortment of valuables that he can convert into cash. His travels lead him from Gibraltar through about a hundred locations, including Spain, France, Germany... and even fantasy countries, such as Moledavia. To speed up his travels, Monty can fly out from various airports. First, he must collect enough plane tickets. As he can only carry four valuables or tickets at a time (damn balloon pants!) he must carefully plan out his route. A graphic in the lower part of the screen tracks Monty's progress – the more money he collects, the more he sees of his longed-for paradise island. Hampering the kleptomaniac mole's progress are various wacky enemies that he must face to get the loot. After bagging 18,000 in cash, Monty can finally jet off to the good life.

Like Monty on the Run, Gremlin dished up familiar Spectrum-style graphics, meaning mostly hi-res on a black background. But considering that two years passed between the two games, the graphics improved disappointingly little:
The hopping ticker on the title screen / lower game screen is the most obvious addition.
Greek columns with flowerpots and bowls frame the game screen.
Most striking are the brightly coloured, endlessly rolling animated wallpapers, which have a mildly psychedelic effect.
Monty's enemies are even crazier than the last outing and appear in the shape of crooked mutants, skulls from hell, weird items, mythical creatures (the list goes on!). This hefty dose of surrealism is a nod towards those earlier groundbreaking games, the legendary Manic Miner and Jet Set Willy.
Rob Hubbard visited Gremlin Graphics for two days to collaborate with Ben Daglish on the title theme. Together, they created a dramatic six-minute tune with wailing SID-guitar. Hubbard also knocked out a dozen national anthems, which play whenever Monty crosses a country border. He obviously had fun doing it: When Monty arrives in Sweden, the Muppet Show chef's "Smørrebrød" song blares out. In the Netherlands, the famous "Tulips from Amsterdam" plays but comically chokes off. (To hear these anthems, first turn off the music at the title screen.)



Keys
Joystick controls

F

 : left,

G

 : right,

P

 : up,

L

 : down

: move character

Space

 : jump
: jump

C=

 : redeem ticket at the airport
: switch off music in the title screen and sound effects on.
Map of the game and the routes
[
edit
|
edit source
]

The extremly reduced map for the game. A hugely big map can be found here.
The western loop

The south-middle line

The north-east connection

Airport, Spain

Bonn, W. Germany

Moledavia

Paris, France

West Berlin, W.Germany

Copenhagen, Denmark

Antwerp, Belgium

East Berlin, E. Germany

Borg, Sweden

Luxembourg

Airport, Yugoslavia

Copenhagen, Denmark

Amsterdam, Netherlands

Rome, Italy

Airport, Spain (s.o.)

Olympus, Greece
The white airports in Prague and Yoguslavia
destroy all tickets!

Bern, Swiss

Yugoslavia (defect!)
List of collectable objects
Ticket

(19x)
is redeemed at the airports


with the key

C=

 
Traveller cheques

(180x)
35 points; 50 Money
Machine gun

(Gibraltar)
75 points
Bottle "Chateau Blanc"

(Brest, France)
300 Money when entering Germany
Wine bottle

(8x)
412 points

Monty is drunk for a few
seconds after that!

Flower pot

(Dijon, France)
300 Money when delivering
to Amsterdam, Monty gets
tulips in exchange
Cocktail

(5x)
116 points
Tulips

(Amsterdam)
600 Money when giving to Julia, the "Mole fatale"


in "Pizza" (Nizza)

Garlic clove

(4x)
112 points
Wheel

(Borg, Sweden)
1000 Money when delivered in "Monaco"
Beret

(3x)
124 points
Football

(Resort, Spain)
750 Money when delivered in "Juventus, Italy"
Beer glass

(Dortmund)
1038 points

s. wine bottle

Chef's hat

(Byorn, Sweden)
192 Money
Record

(Luxembourg)
191 points

Monty gives a short
dance performance.

Tennis ball

(Byorn, Sweden+


Borg, Sweden)

184 Money
Pig's head

(2x)
104 points
Image of "Gorbatschow"

(East Germany)
160 Money
Tennis bat

(Byorn, Sweden)

177 points
(the two bats
in "Borg" are
deadly!)
Bacon

(Copenhagen,


Denmark)

24 Money when delivered in "Praha" (Prague)
Cheese

(Bern, Swiss)
120 points
Packet

(2xPraha + Italy)
200 Money
Cuckoo clock

(Bank, Swiss)

24 points
Crown

(Moledavia)
112 Money
Tools

(Bonn)
Is needed,
to repair the ski lift
in "Dodgy Austria"
Mona Lisa

(Nantes, France)
5000 Money when delivered


to the fence (Pun!)
in "Itsadaboss, Italy"

Cape


Resort Spain
Monty is trampled to death by a bull.
Bunny, cherries, ice cone
(6x)
Extra life

Sunny Spain, East Germany, Hannover W.Germany,
Graz Austria, Itsadaboss Italy, unnamed Italy)
These special plaftorms and walls can appear in different colours and slightly changed appearance.
Plonk

Hooks

Electro

Trampoline

Ice

Crumbles

Mine

Strange

Monty jumps unpredictably.
If Monty jumps at the
hooks, he can move
along them upside down.
Monty gets harmless electric shocks.
If the fire button is pressed,
Monty takes swing for a high jump.
Monty slides without control over the ice.
These structures dissolve when touched.
Better not jump on it!
Very rare! Very hard to recognize! Very deadly!
After collecting all the items, Monty leaves Greece at the lower right of the map, leaping to freedom through the left screen border. In the final scene, we see our hero finally getting to relax on Montos with a bikini-clad hottie, knocking back the cocktails and enjoying a well-earned retirement.
The version by Lucid & Tricycle has trainer options and an subsequently built-in highscore saver.
Voting of the C64-Wiki users (10=the best vote):
6.90 points at 10 votes (rank 458).
You need to be logged in to cast a vote.
C64Games
6
17th June 2014 - "good" - 19.017 downs
Lemon64
7,2
17th June 2014 - 71 votes
C64.com
8,5
17th June 2014 - 7584 downs
Kultboy.com
7,17
17th June 2014 - 6 votes
The Legacy
-
17th June 2014 - 0 votes
ZZap!64
46%
58%
79%
Issue 06/87 - p.32
Issue 01/90 - p.49
Issue 05/92 - p.49
C&VG
9
Issue 05/87 - p.18
Commodore Force
72%
Issue 09/93 - p.16
Commodore User
8
Issue 05/87 - p.18
Your Commodore
9
Issue 07/87 - p.55
Robotron2084: "I like Auf Wiedersehen Monty much better than the forerunner, because it is not so brutely linearly designed and the flying sequences mix up the game again and again. Also the music is in my opinion much more catchy than the nervous track in MotR, although I always switch it off to hear Hubbards sometims hilarious "national anthems". "O Tannenbaum" as recognizing melody for the Eastern Bloc, awesome! I also liked much better that you did not have to put together a silly Survival Kit without which you at some point in the game were not able to proceed, and this impression of the game stayed until today. The topic of a journey through Europe and the many cute country-specific details and sprites that fill the screen give the game a significantly more causual note. AWM is of course sometimes as unfair as MotR, which is on the main part caused by the still existing "crushers" in the game, which are unpredictable and which you need to avoid if you do not plan to play the game to the end, but there is nobody that crazy (or is there?). For all I care there could have been a further sequel in this style, but there wasn't, because for "Impossamole" were other paths chosen concerning the design. Together with Wizard and Impossible Mission is AWM at the very top of my top list of platformers and I give 8 out of 10 points."
pj64: If you bought a Commodore Plus/4 back in the day, this was probably the best platformer you could hope for! But for my money, "Monty on the Run" is the best of the Monty series.
Enclosed to the game was a button which you could stick amongst others to the Lacoste polo shirt, to the ear or to the hat (or where the sun does not shine), to set a new course.


As the C64 version of the game - in contrast to the versions for ZX Spectrum and Amstrad CPC - did originally not contain a loading screen, DATA-LAND retrospectively created one for the game in February 2010.

The HiRes graphic is a direct port of the loadings screen in the ZX Spectrum version. Unfortunately, there is no version of the game where the graphic was integrated.
The title of the game is an allusion to the TV series "Auf Wiedersehen, Pet!" from the 80s by the British channel ITV, which is about the adventures of British foreign workers in Germany.
For the title to be recognized by speakers of a dead and long forgotten language, the game was renamed in France to "Au revoir, Monty".
Screenshot comparions of different conversions
[
edit
|
edit source
]
Longplay through the game, but with sprite cheat...boo!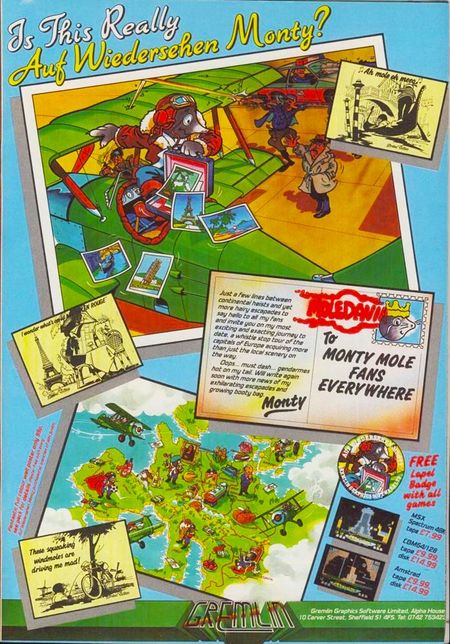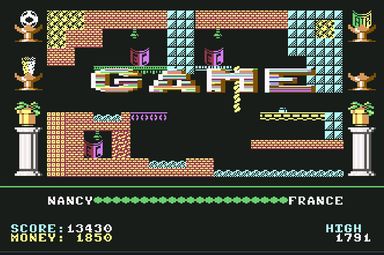 Ivanpaduano - 13.430 (31.01.2021)
Robotron2084 - 12.486 (17.06.2014)
FXXS - 4.697 (24.06.2014)
TheRyk - 3.013 (18.06.2014)