Airborne Ranger
From C64-Wiki
Voting of the C64-Wiki users (10=the best vote):

7.78 points at 32 votes (rank 139).


You need to be logged in to cast a vote.
C64Games
8
30th March 2008 - "super" - 9918 downs
Lemon64
8,5
04th January 2011 - 108 votes
Kultboy.com
8,26
28th July 2008 - 15 votes
Gamebase64
10
"Classic!"
ASM
10/12
Issue 12/87
Happy Computer
70%
Games Special 2/88
ZZap64
73%
Issue 1/88
Description
[
edit
]
In "Airborne Ranger" you walk in the footsteps of a lone fighter. After deciding whether you want to train or create an own soldier, you choose either a mission or even a full campaign. The missions consist of tasks as e.g. "destroy a SAM unit", "rescue prisoners", "steal a code book" or "kidnap a hostile officer". Despite the diversity of the tasks, all missions start equally: you steer an airplane over the operation area, drop three bags with ammunition and first-aid kits at strategically clever places and finally - the name of the game makes you hypothesize - jump behind them with the parachute. Now you have 600 seconds and fight or respectively creep the whole way through hostile area to the top again to finally accomplish the mission. In this you should proceed silently and inconspiciously, otherwise you have half the opposing army at your heels. The preferred weapon should be the silent knife with which you elaborately crawl north through the trenches. When the deed is done, the meeting point with the rescuing helicopter is shown on the map. When the timer has run down to "000" - you can also call the helicopter before that - the helicopter will let down a ladder which you should quickly touch. If you make it, you get drawn up with the ladder and can shortly after that read the debriefing.
The graphics are more functional than nice. The levels are generated randomly, therefore all objects as fences, trenches or bunkers are put together module-like. For a change, the game has different climatic zones, which however have no influence on the gameplay except for the winter scenario. In winter the ponds are frozen and you can walk over them ... as long as you do not find some broken ice. The sound is limited to shooting or walking sounds and explosions during the game. Tootling background music would have been rather disturbing here, as you need to harken if enemies are near.
Displays
[
edit
]

At the upper left are the displays. At the very left the current weapon is shown by an image, below that the ammunition that is left (for the assault rifle the number of magazines, for the knife always "00", for all other weapons the actual number). Below that runs a timer, that shows when the helicopter will arrive at the meeting point. At the right next to it is the bar, which shows the ranger's endurance. It rises when you run and changes from green to blue and finally red. Then the ranger can only walk normally. The three boxes next to it show how many hits you still can take. For every efffective hit (sometimes a hit does not cause damage) a box is filled with white. With three white boxes you get the addition K.I.A (Killed in Action) to your file. With each first aid package you can remove one white field.
Controls
[
edit
]
←

  call helicopter

SPACE

  lay down/stand up

INST/DEL

  use first aid kit

F1

  assault rifle

F3

  hand grenades

F5

  missile launcher

F7

  knife

5

  bomb with 5 sec. timed detonator

6

  bomb with 10 sec. timed detonator

7

  bomb with 15 sec. timed detonator

RUN/STOP

  map

Cursor UP

  run/walk
Private First Class (PFC)
Corporal (CPL)
Sergeant (SGT)
Staff Sergeant (SSG)
Platoon Sergeant (PSG)
Sergeant Major (SGM)
Second Lieutenant (2LT)
First Lieutenant (1LT)
Captain (CPT)
Major (MAJ)
Lieutenant Colonel (LTC)
Colonel (CCL) (after a successful campaign)
Commendations
[
edit
]
Commendation 1 (COM1)
Commendation 2 (COM2)
Bronze Star (BSTR)
Silver Star (SSTR)
Distinguished Service Cross (DSC)
Congressional Medal of Honor (after a successful campaign)
Solution
[
edit
]
Create a Diversion: The mission Create a Diversion is not about destroying as many bunkers as possible. You are rather supposed to simply make noise and this constantly. This is best done with the MG, so every now and then you need to shoot around into nothing when no enemy is around. If you do not do anything for too long, a signal sounds that hints to a lost mission.
Cut a Pipeline: In the probably hardest mission it is the mini tanks that quite pester you. The only thing that helps is short sprints and a well-aimed grenade or missile to eliminate them. If you are lucky, the hostile soldiers also accidentally bomb the tanks. There is no use in hiding in the trenches because the things also chase you there. But with a skilled use of cover you can also outdistance them.
Generally: In some missions you can grab a hostile uniform. Just walk into a building and wait until a heedless soldier follows and attack with the knife as soon as he is inside. Now you have the hostile uniform and can move freely. But as soon as you make an action you will get "green" again.
The following pokes facilitate life as an Airborne Ranger ;)
Poke 61467,173 unlimited missiles
Poke 61647,173 unlimited ammunition
Poke 3192,173 unlimited hand grenades
Poke 2270,173 unlimited first-aid kits
Critics
[
edit
]
Rockford: "Airborne Ranger has fascinated my for along time in those days and also today I find it rather complex with its strategic component. The crawling was exciting in the past, now it is rather tiring and it was released more or less at the same time as Metal Gear. I still find the idea with the supply bags totally great. However, the whole different missions cannot hide the fact that the course of each mission is always the same. Also do the hostile soldiers sometims react dubiously. 7 points from me, there is not more due to the repeating course. Edit: Because I constantly play Airborne Ranger after writing this article, I feel impelled to raise the vote to an 8. ;)"
Shmendric: "Great game, at least for some weeks. Different weapons, different missions, different difficulty grades and enemies.... I liked it all around."
Bamse: "This is probably my longest played "military career game", together with Steel Thunder. Unfortunately I was always denied the last promotion at that time, because a mission always crashed and the game was unplayable."
Bambus77: "What was good were the difficultry grades, whereby the last was just too difficult. It is a puzzle for me still today how one can succeed in even one mission in this difficulty grade."
mombasajoe "I could basically write the same as Rockford. One exception: The game has crashed my score after 5 missions and approx. 50 thousand points. This is for me as a weekend player - if at all - really awful and therefore I stay with the 7 points."
Miscellaneous
[
edit
]
Versions
[
edit
]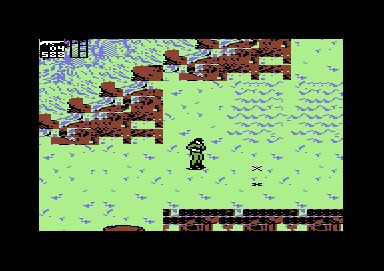 Currently no bugs found
Currently no bugs found
Currently no bugs found
Currently no bugs found
Bug 1: random mission instead of mission "Disable Enemy Aircraft"
Bug 2: destroyed game area in mission "Create a Diversion", therefore this mission and unfortunately the "Campaign" cannot be played!!
The same bug as in the "Nostalgia"-v1 version: The mazy graphic blocks form an insurmountable barrier towards the end of the "Create a Diversion" map.
Highscore
[
edit
]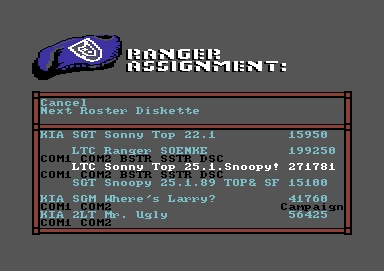 Bamse - 271.781 (25.01.1989)
Rockford - 74.050 (26.04.2008)
mombasajoe - 49.950 (11.06.2012)
Werner - 200 (07.04.2012)

Videos