West Bank
From C64-Wiki
Jump to navigation
Jump to search
Description
The game takes place at the time of the gold rush in the Wild West. You guard the money storage of the West Bank, into which a great number of customers put their money. The West Bank has 12 doors, and each of them needs to get one incoming payment per day. To aggravate this bandits try to rob the money from the bank. In the first days they are easy to defeat. Just draw the gun early enough. In the following days also gunslingers appear next to further bandits. Here, you are only allowed to shoot when the enemy draws his pistol. Some of the opponents simpy just put in money. The small man with the many hats brings money or a bomb to the bank. So pay attention well, because you will also lose one of your three lives if you shoot innocent people. Between each new day there is a duel against three bandits. Here you are only allowed to shoot when the corresponding opponent draws. The faster the better. Beware, you can also get shot or lose a life here, if you shoot too early.
Design
Screen with a view on 3 doors of the bank. Here the customer, bandits and other persons appear randomly. Controls can be done either by keyboard or joystick. Sound and music fit the game.
Hints
Controls
Keyboard
Joystick
Effect

1

 
shoot at the left door

2

 
shoot at the middle door

3

 
shoot at the right door

O

 
move doors to the left

P

 
move doors to the right

H

 
pause game

SPACE

 
resume game

RESTORE

 
abort game
The people
Green Jordan (farmer) brings money.
Jack Vicious (bandit) – shoot instantly
Daisy (daughter of a jeweller) brings money.
Alfred Dalton (gunslinger), do not shoot before he draws.
Bowie the Dwarf, shoot at his many hats to maybe find money.
Joe Dalton (Alfred Dalton's brother) – shoot instantly.
Mackeyham (gunslinger), do not shoot before he draws.
Julius the Dandy, he brings money or draws the gun.
Unknown person: watch what he is doing and if necessary shoot at him as fast as possible.
Only when all doors are closed you can move to another door.
You can win extra lives in the intermediate sequences (duel with three gunslingers), if you draw almost at the same time as the bandits. In the optimum case, there are 3 extra lives each possible, but that is more an exception.
Solution
Cheats
To get training the version by Remember is suitable. Here different trainer modes are available (unlimited lives, bombs without harm, level jump and invulnerability).
Voting
Voting of the C64-Wiki users (10=The best vote):
7.33 points at 30 votes (rank 313).
You need to be logged in to cast a vote.
C64Games
8
14th September 2006 - "super" 3760 downs
Lemon64
7,5
04th January 2011 - 62 votes
Happy Computer
74%
Games Special 3/86
Kultboy.com
7,35
26th June 2011 - 14 votes
ZZap64
60%
Issue 87/04
Reviews
Sledgie: "By accident I have found the game in the Forum64. It was one of my favourite Western Games in the old days. High concentration and fast reaction are required and trained. It is a shooter but one that I like playing. Music and sound are flawless. My vote: 10 of 10."
Klaws: "Technically a rather simple game, but that does not mean that it is daft! Not at all! It needs some concentration and is enormously fun."
Jodigi: "Also one of my first games that I knew from the arcade machine before I could play it on the C64. From this simple, but interesting game principle nothing was slimmed and therefore full points."
Robotron2084: "Nice graphics, at the beginning a nice background music which later gets only on your nerves and virtually no content. The only difficulty is not the fall asleep during the game. But it was realised convincingly concerning the technique, which saves the game from fading into oblivion. 6 out of 10 points."
Rockford: "I usually like simple games, but this just does not challenge me eventually. Robotron2084 has put that pretty well. No new enemies and no rising difficulty grade and this very early in the game. My heart beats maybe half a beat faster, if three villains draw at the same time, but this happens seldom. There are only lost lives by misplaced shots which unfortunately cannot be avoided due to the sometimes imprecise controls. It is not very nice to play with the keyboard and you even can't get upset about the controls. I like the graphics and this stupid music and also give 6 points."
Miscellaneous
Cover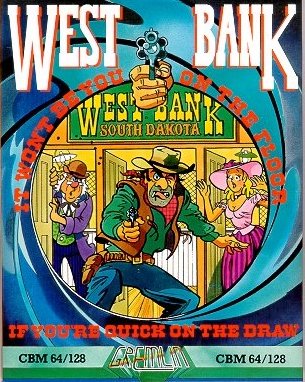 Highscore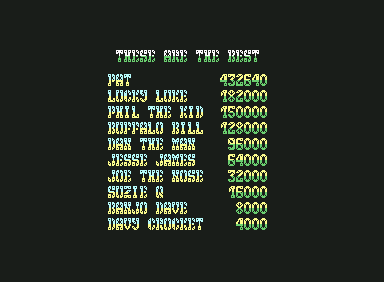 PAT - 432.640 (16.04.2015)
TheWonderer - 326.530 - Day 34 (05.03.2007)
Rockford - 291.490 - Day 31 (28.09.2008)
C64Freund - 152.460 - Day 15 (27.07.2004)
Helmutx - 107.690 - Day 12 (24.10.2010)
TheRyk - 105.460 (29.04.2016)
7köpfigeRaupe - 98.490 - Day 12 (11.12.2004)
Dante - 59.540 (04.02.2004)
Pohli - 56.410 (22.07.2004)
Sledgie - 43.520 (22.05.2004)
Scarecroe - 35.230 (15.02.2004)
Links

Videos