MONITOR
From C64-Wiki
Jump to navigation
Jump to search

Remark: This article describes the BASIC command MONITOR in Commodore BASIC V3.5 or higher.
Type: Command
General Programming-Syntax: MONITOR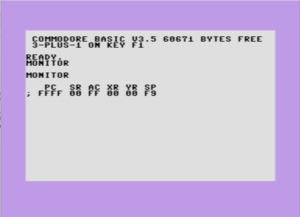 The MONITOR command is a BASIC command that launches TEDMON, the machine language monitor of Commodore's 8-bit systems, starting from the TED (Plus/4, C16, C116, etc.) series.
Example of calling the monitor and what the entry reports (on a C128 as an example):
MONITOR
    PC   SR AC XR YR SP
; FB000  00 00 00 00 F8

Furthermore, entry into the monitor is triggered by a BRK-machine code command (possible with any memory location containing the value 0). In that case the monitor reports following output:
BREAK
    PC   SR AC XR YR SP
; F0025  B1 CF 00 00 F4

On the C128 the monitor could also invoked by pressing RUN/STOP  during a reset, in which case only a partial initialization occurs.
---