Castle Master
From C64-Wiki
Jump to navigation
Jump to search
Castle Master

Game No.
487
Voting
7.00 points, 2 votes
Developer
Chris Andrew, Ian Andrew, Paul Gregory, Sean Ellis
Company
Incentive Software
Publisher
Domark
Musician
Matt Furniss
HVSC-File
/MUSICIANS/F/Furniss_Matt/Castle_Master.sid
Release
1990
Platform
Amiga, Amstrad CPC, Atari ST, C64, IBM-PC, ZX Spectrum
Genre
Adventure, 3D
Gamemode
Singleplayer
Operation
Media
Language
Castle Master is a 3D adventure game created entirely in vector graphics. You play either a prince or a princess and have to solve various puzzles and overcome enemies within a castle to free your beloved princess or prince (depending on whether you have chosen a male or female character).
On the quest inside the castle you have to trigger mechanisms and traps, fight ghosts and find keys to open locked doors. The final boss can only be defeated if all the ghosts have been eliminated first. Finding and defeating the ghosts is an essential part of the adventure. If you are in a room with a ghost, the screen lights up red.
The game is completely designed in a calculated 3D vector landscape, which is displayed in the middle of the screen and through which the player moves in the first-person perspective. In the lower part of the screen there is a text field with short room names as well as the display of heath. A logo with the title Castle Master is displayed at the top, while the game section is bordered by two graphic towers on the right and left.
Joystick movement

| Bewegung | Aktion |
| --- | --- |
| | Move forward |
| | Turn right |
| | Turn left |
| | Move backwards |
| | Throw rock, fire, trigger action |
Keys in menu
Key
Action

1

  -

3

 
Choose language and character

L

 
Load game

S

 
Save game

Q

 
Quit game

RETURN

 
Confirm selection
In-game keys
Key
Action

W

 
Rennen

U

 
Umdrehen, nach vorne oder hinten blicken

I

 
Menü aufrufen

P

 
Nach oben blicken

L

 
Nach unten blicken

C

 
Kriechen, Langsam laufen

SPACE

 
Fadenkreuz steuern, Aktion, Waffe
On Lemon Amiga you can find a detailed walkthrough of the game and directions to all keys in English.
Basic layout of the castle
[
edit
|
edit source
]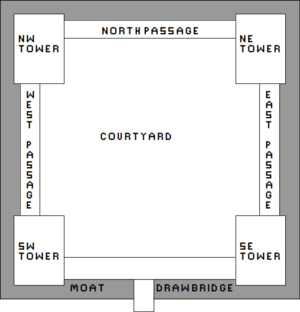 There are currently no known cheats.
In the CSDb there are cracks with trainers.
"Inbound" cheat: after collecting the drink in the guard room, you'll be able to pass an open door by throwing a stone through it.
Voting of the C64-Wiki users (10=the best vote):
7.00 points at 2 votes.
You need to be logged in to cast a vote.
C64Games
6
25. June 2021 - 23874 downs
Lemon64
7,6
25. June 2021 - 50 votes
Commodore Format
87
July 1992 - "Readers' Top 100"
Zore: "Interesting puzzle adventure in 3D design. The controls are correspondingly clumsy, but the game is nevertheless interesting. Castle Master is one part of a whole series of adventures in this style by Incentive Software."

Castle Master Longplay
Castle Master is the fourth game that [Incentive Software]] produced on the Freescape engine. The direct successor, Castle Master II, was released the following year. Although the game is based on the same technology as the companies 3D Construction Kit, it was not made with this tool.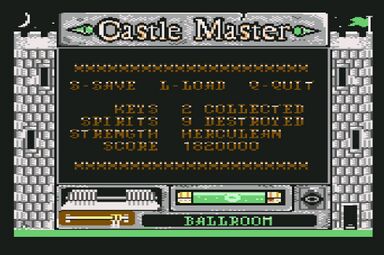 Ivanpaduano - 1.820.500 (15.07.2021)
No One - 237500 (26.05.2021)
Nobody - 0 (dd.mm.yyyy)

Every player can only be in the table with one score. The table should not have more than 10 entries.

Example:
Videos