5th Gear
From C64-Wiki
Jump to navigation
Jump to search
In 5th Gear you take part in an illegal race, where every resource can be used to gain the victory. You drive in three different levels against the clock and you have to avoid obstacles and rivals. You receive points if you shoot other cars, boats, walls etc. or if you jump on a hill. But you have to watch out for helicopters and hostile flak. Different modifications (initial equipment, weapons, fuel, new car) can be purchased in the corresponding store. As the start is at the same time the finish you have to drive through completely to the "TURN HERE" and circle it, to drive back again.

The gaphics is appealing, the instruments are easy to read, but unfortunately there was too little space admitted for a proper natural scenery, whereby the range of sight to the front gets too small to react to unforeseen events. The tunes in between for the levelstart, shop visits and Game Over fit very well and are stirring. Outstanding is the animated start screen with the theme melody with "asiatic" touch.
Basically everything that moves can be shot and everything that is static should be avoided. Bushes and shots each damage the car about a fifth, collisions with walls, other vehicles and cars are deadly and baths in the water result also in total loss.
At the beginnig you own 10.000 Dollars and 5 cars that are equipped with a machine gun which can shoot cars and boats.
The game is operated with the joystick in port 2
Up = speed up
Down = break/backwards
Left = turn the steering wheel to the left
Right = turn the steering wheel to the right
Fire = use weapon (gun, rocket, turbo drive) or enter store
Space = choose weapon

To enter the stores you have to park in the skidmark next to the store and then press fire. With up/down you select the item and with fire you confirm the choice. To leave the shop choose EXIT. In the skidmark you can see what the shop has to offer:
WEAPONS
$...200 Missiles: Munition for the rocket launcher. Destroys bushes, walls and bunkers.
$1.000 Missile Launcher: Enables the shooting of rockets.
$...200 Rapid Fire Equipment: Repeated shooting (auto fire)
EXTRAS
$5.000 Turbo Boost: Jump with the push of the fire button over obstacles.
$4.000 Watertight Chassis: Drive through deep water.
$1.000 Helium Tyres: Jump over long distances.
$6.000 Propulsive Side Motor: Steer while in a jump.
GARAGE
Here the car can be repaired or you can buy an additional car for $ 10.000.
FUEL
Here you can buy more fuel.
Preset time:
Race 1: 5.0 minutes
Race 2: 5.5 minutes
Race 3: 6.0 minutes

After a successful race you receive points and money for the time left:
Every minute gets you 5.000 Dollar and points.
Every second gets you 50 Dollar and points.
Every tenth of a second gets you 5 Dollar and Punkte.

Type POKE 15171,173 before the start of the game.
In the crack version by REMEMBER (release 106) you can save the highscore table. You have the following 17 modification options:
Unlimited number of cars
Unlimited time
Unlimited fuel
No increasing damage
Unlimited money
Unimited number of rockets
Start the game with:

Rocket launcher, turbo drive, "Rapid Fire Equipment" (auto fire), "Propulsive Side Motor" (steer while in a jump), "Watertight Chassis" (drive through deep water), "Helium Tyres" (jump over long distances), 10 rockets

No Sprite collision
No sprite-background collision
Start level (1-3)
Commodore key for jumping a level
Voting of the 64-Wiki users (10=the best vote):
6.20 points at 20 votes (rank 716).
You need to be logged in to cast a vote.
C64.com
8.50
21st July 2013 - 5370 downs
C64Games
7
30th April 2007 - 6671 downs
Commodore Format
4/5
Issue 33 6/93
Lemon64
5.70
21st July 2013 - 37 votes
Kultboy.com
3.30
21st July 2013 - 10 votes
Ready64
8.00
21st July 2013 - 3 votes
Zzap!
78%
Issue 44 12/88
FXXS: "5th Gear is an extraordinary race game, whose (almost) only disadvantage is the much too small field of view. If you know the track well, it is again and again fun to play, for newbies it is because of the limited sight impossible to bomb down the track. Just the same, 9 points from me, partially because I was fascinated by the game (and the title melody) in 1988.
TheRyk: "Playable race and shoot game though 'racing' is a little euphemistic, because the dangerous course rather forces you to crawl. Many aspects are really well done such as the music, the jumping or the upgrade via shopping. Sadly you have to trust to luck in unknown terrain, since you cannot see very far ahead and have no radar system, so I rate it 'good' 6 points."
Cover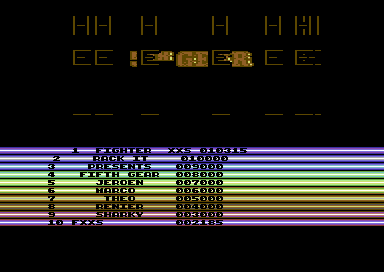 FXXS - 10.315 - 2 (22.08.2010)
TheRyk - 3.045 - 1 (20.10.2010)
Robotron2084 - 2.905 - 1 (30.03.2009)
Ivanpaduano - 1.930 - 1 (14.02.2019)
Werner - 1.475 - 1 (27.12.2006)
Keule - 1.355 - 1 (30.09.2012)