4x4 Off-Road Racing
From C64-Wiki
Jump to navigation
Jump to search
4x4 Off-Road Racing

Game No.
9
Voting
6.00 points, 25 votes
Developer
Paul Vernon, Paul Nickels, Joe Simka, Ed Schoenberg, Steve Thomas, K-byte, Paul Jaquays
Company
Epyx, Ogdon Micro Design, Inc.
Publisher
Epyx, U.S. Gold
Musician
Paul Jaquays
HVSC-File
GAMES/0-9/4x4_Off-Road_Racing.sid
Release
1988
Platform
Amstrad CPC, Amiga, C64, MSX, PC-DOS, Sinclair Spectrum
Genre
Racing, Cars
Gamemode
Single player

Operation
Media
Language
In 4x4 Off-Road Racing you need logical reasoning and driving skills. Before you start you can choose between several cars, which vary by weight and power. There are many routes to choose from where the "hard-core" race is then carried out. Before it finally comes to the start, you have to choose from a pool of provided tools and extras for your car. E.g. your car can be equipped with a bigger tank, bigger tyres and a cable winch to get easier through the race. The tank allows you to fuel more gas, to make less stopovers. The "A/T tyres" help you, to get safely through the quicksand and the cable winch helps you with steep slopes. When you have retooled your car accordingly, you go on to the supermarket where you can buy things like fuel, oil, coolant, gear oil, spare battery, spare tyres, tools, mechanics, map, food&drinks and so on. But you have to be careful not to buy too much, as you have only limited space in your car.
The game is, as already mentioned above, obviously desgined with much attention to detail. There are realistic sequences built in as e.g. that the player has to buy important things as fuel, oil or coolant before the game to avoid getting disqualified later. Operation is done fully by joystick. However, the design of the tracks are rather simple and monotonous and the loading times are extremely long.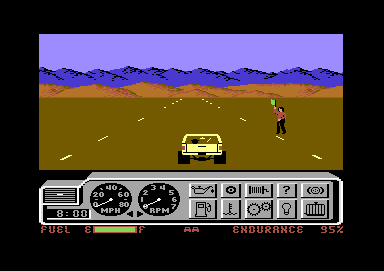 For each truck seven factors are shown:
Power: a mixture of HP and acceleration
Weight: the less weight, the better are the speed, MPG and the better it can be manoeuvred. A heavy truck needs more fuel.
Gas Mileage: These are the estimated miles per gallon (MPG). But if your truck is loaded with lots of equipment, it will need more fuel and reach a lower MPG than given.
Endurance: how much the truck can bare before it needs to be repaired.
E.R.F: how complicated it is to repair a truck and with this how long it takes to repair it.
Payload without Cap: how much the truck can load without additional cargo area.
Fuel Capacity: the capacity of the tank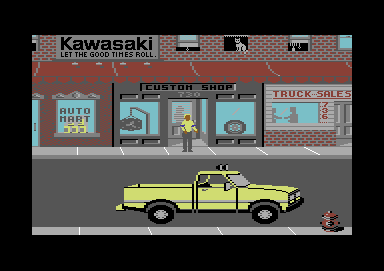 The most important thing is the fuel, as the race is over if you have not thought of a reserve and the tank is empty.
If the truck stops for repair, the repair window with the required repair equipment is shown. If you don't have it with you, you still can choose the hammer and the repair is still possible. However, the overall state of the truck is diminuished.
Voting of the C64-Wiki users (10=the best vote):
6.00 points at 25 votes (rank 775).
You need to be logged in to cast a vote.
64er
3
Issue 7/89
C64Games
7
2nd July 2006 - "very good" 4685 downs
Commodore User
6/10
Issue 61 10/88
Kultboy.com
5.67
21st July 2013 - 12 votes
Lemon64
6.70
13th January 2021 - 54 votes
Powerplay
30%
Issue 3/88
Ready64
5.40
21st July 2013 - 5 Votes
Zzap!
56%
Issue 43 11/88
Zzap!
41%
Issue 89 10/92
Alexvf:"This game is one of the best games I have ever played. Both the graphical implementation and the fun of the game are very convincing. Personally I give the game a 10 and it is for me personally one of the best games for the C64. (There are also game versions for the PC,Amiga, Amstrad CPC, Sinclair Spectrum and for MSX)."
mombasajoe: "The possibilities of adjustments are great. The things you can buy and build in: Amazing! After intensive testing, I observed: The chosen vehicle and the bought extras actually have a significant influence on the race. Basically: slow and secure hits fast and risky. It was at that time [tm] relatively new for a racing game and offered basically much potential for a hit. Unfortunately, the race itself is less successful. Too less diversity, and mainly too bleak in the design - although technically without defects. So the well-prepared trip into the pampas presents itself as an interminable snoring tour. Incomprehensibly, it does not matter at all, with which positions you reach the finish line. What a pity!"
TheRyk: "This game amazes the player with a nice title screen, four seemingly endless tracks and a zillion possibilities to equip the drive. Unfortunately, after only a few games, all the equipment - except for fuel - turns out to be only redundant ballast or useless false fronts. Despite the boring and empty highways, the race itself is actually a bit of fun, but not enough to justify the vast loading times. A rather mediocre racing game, which I rate 4 points and cannot really recommend, since there are at least a dozen better games of this genre on the C64."
Cover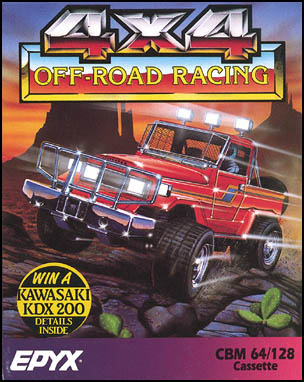 mombasajoe - 4/0/0
Equinoxe - 0/2/0
TheRyk - 0/1/0
Jakuchu - 0/0/1
H.T.W - 0/0/0
The level "Amateur" needs to be set for this highscore list!!
Version
1st place
2nd place
3rd place
further places
Baja
11.23 - mombasajoe - 12.10.2012

11.36 - Equinoxe - 26.03.2011

11.47 - Jakuchu


4) 15.47 - H.T.W
5) xx.xx - Name
6) xx.xx - Name
7) xx.xx - Name
8) xx.xx - Name


Death Valley
09.29 - mombasajoe - 11.10.2012

11.11 - Equinoxe - 27.03.2011

xx.xx - Name


4) xx.xx - Name
5) xx.xx - Name
6) xx.xx - Name
7) xx.xx - Name
8) xx.xx - Name


Georgia
10:43 - mombasajoe - 11.10.2012

15.03 - TheRyk 03.06.2011

xx.xx - Name


4) xx.xx - Name
5) xx.xx - Name
6) xx.xx - Name
7) xx.xx - Name
8) xx.xx - Name


Michigan
12:15 - mombasajoe - 15.10.2012

xx.xx - Name

xx.xx - Name


4) xx.xx - Name
5) xx.xx - Name
6) xx.xx - Name
7) xx.xx - Name
8) xx.xx - Name