Frogs
From C64-Wiki
Voting of the C64-Wiki users (10=the best vote):
7.25 points at 4 votes (rank 276).


You need to be logged in to cast a vote.
Description
[
edit
]
Frogs is a 4-player frog pond game for 2 to 4 players at a graphical designed frog pond with cool party music. There are 3 game modes with different tasks to solve. Lily pads are very dangerous, because sometimes they dive down...
...also the players themselves should should be carfeul where their frogs jump.

The three game modes (jobs):
Countdown: The players must push the opponent's frogs (each 1 point) into the water. The player with the last frog left wins. Here the end score is counting downwards!
Battle: The players must push the opponent's frogs (each 1 point) into the water. The first player who reaches the end score, wins.
Bug Hunt: The players must collect the previoisly set score of random appearing bugs (each 1 point). The first player who reaches this score, wins.
The game supports the classical games 4-player interface, it is, however, also playable as a 2-player game if the interface is unavailable. It was nevertheless designed explicitly as a 4-player game and it provides the most fun in this mode.
An interesting designed frog pond (level or pond A - F) with good animated, happy frogs.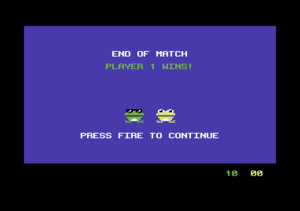 Controls
[
edit
]
The game is controlled with 2 to 4 joysticks using a 4 player interface in user port or one joystick in port 1.
In the main menu the following options can be set using the joystick:
Players: 2 - 4
Game Mode: Countdown, Battle or Bug Hunt
Score: 10 to 50 (in 10 steps)
Pond: A - F (level selection)
Music: on/off
Start Game
Solution
[
edit
]
None known.
Critics
[
edit
]
Jodigi: "A funny 'push a frog into the lake game' for a few friends in a nice meeting..."
Miscellaneous
[
edit
]
Easteregg
[
edit
]
The author said, there are eastereggs inside. If you found one, please tell us here about that.
Highscore
[
edit
]
No highscore possible in this game. The winner has always the score chosen in the settings when winning.
Cracks