Multiplayer Interface
From C64-Wiki
Jump to navigation
Jump to search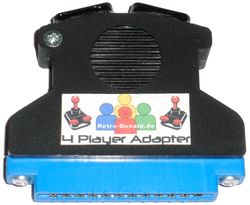 A multiplayer interface is an interface for additional standard joystick ports. The interface must be plugged into the user port or control port and extends the computer to 2 or 8 additional joystick ports generating a total of 4 to 10 joysticks that can be used simultaneously. These are not usually compatible with each other and need to be supported by the game.
For the C64/128 a selection of interfaces and games exist, which are listed below. One interface and game for the VIC 20 also exists, called 8 Player Panic which supports up to 9 players simultaneously.[1]
4 Player Interface Using WinVICE
[
edit
|
edit source
]
VICE v2.4, v3.1 supports the following adaptors:
CGA - (Classical Games / Protovision), PET, Hummer, OEM, HIT - (Digital Excess / Hitmen), Kingsoft, Starbyte
Selectable via "Userport Joystick Settings".
Pictures of other Multiplayer Interfaces
[
edit
|
edit source
]
Multiplayer Interface Games
[
edit
|
edit source
]
These games support a multiplayer interface:
| Title | Year | Description | # Joysticks | Adaptor | adapted by | VICE |
| --- | --- | --- | --- | --- | --- | --- |
| Tie Break | 1990 | original | 1-4 | S | Starbyte | x |
| Bug Bomber | 1992 | Bomberman clone | 1-4 | K | Kingsoft | x |
| Bomb Mania | 1997 | Bomberman clone | 2-4 | C | Protovision | x |
| Bomb Mania patch | 1998 | Bomb Mania (1997) patch | 2-4 | C, N | Da!NyL | x |
| Space Balls | 1998 | original | 2-8 | B | Pantorotto | |
| Quadris | 1998 | Tetris clone | 1-4 | C | Protovision | x |
| Bomb Mania patch | 1999 | Bomb Mania (1997) patch | 2-4 | C, D | DXS & HIT | x |
| Pac It (Demo) | 2000 | Pacman clone | 1-4 | C | Protovision | x |
| Quadtron | 2000 | Snakes clone | 2-4 | C | Protovision | x |
| IK+ Gold | 2001 | International Karate + (1987) hack | 1-3 | C, D, N | The Dreams | x |
| Thrust Gold | 2001 | Thrust (1986) patch | 1 | N | Ninja/The Dreams | |
| Snakes 4 Snakes | 2002 | Snakes clone | 2-4 | C | Protovision | x |
| Rampage Gold | 2003 | Rampage (1987) hack | 1-3 | C, D, N | The Dreams | x |
| Grubz (preview) | 2004 | Worms clone | 2-4 | C | Singular Crew | x |
| Hockey Mania | 2004 | original | 2-4 | C | Protovision | x |
| Marble Madness (Nostalgia-Version) | 2004 | Marble Madness (1986) hack | 1-4 | C | Nostalgia | x |
| Phong | 2004 | Pong clone | 1-4 | C, N | Instinct/Triad | x |
| Amazing Maze | 2005 | Amazing Maze (1983) hack | 1-3 | C | Triad | x |
| Team Patrol | 2005 | original | 2-4 | C | Protovision | x |
| Tour de France 2005 | 2005 | original | 2-4 | C | Hack n' Trade | x |
| Tanks 3000 | 2006 | original | 2-4 | C | Protovision | x |
| Garrison (Nostalgia-Version) | 2007 | Gauntlet (1986) hack | 1-4 | C, D | Nostalgia | x |
| Ivan 'Ironman' Stewart's Super Off Road (Nostalgia-Version) | 2007 | Super Off Road (1990) hack | 1-3 | C, D | Nostalgia | x |
| Alone in the Green | 2009 | original | 1-4 | C | Edikles | x |
| M.U.L.E. (Peiselulli-Version) | 2011 | M.U.L.E. (1983) hack | 1-4 | C | Peiselulli | c |
| Space Lords | 2011 | Pong clone | 1-4 | C | P1X3L.net | x |
| Square Attack | 2011 | original | 4 | C | Prof. Pi^2 | x |
| Icon Run | 2012 | original | ?-4 | C | Evil Joe | x |
| Bomberland | 2013 | Bomberman clone | 1-4 | C | Samar Productions (SMR) | x |
| Octron | 2013 | Tron clone | 2-8 | C+C | enthusi of Onslaught | x |
| Schlimeisch Mania | 2013 | Snakes clone | 1-8 | I | Unreal | |
| Race | 2014 | Car race original | 1-8 | C, I, P | Sokrates | x |
| Kim Pong - the Fair and Democratic Tele-Football | 2015 | Pong clone | 1-4 | C | Technische Maschinenfabrik | x |
| Jam It | 2015 | Basketball original | 1-4 | C | Throwback Games | x |
| Snafu'64 | 2016 | Snafu clone | 2-4 | C | Megastyle | x |
| Tiger Claw (C64 in Pixels Edition) | 2016 | original | 1-4 | C | Lazycow | x |
| Shotgun | 2016 | original | 2-4 | C | Dr. Wuro Industries | x |
| Frogs | 2017 | original | 2-4 | C | Dr. Wuro Industries | x |
| Race+ | 2017 | Car race original | 1-8 | C, I, P | Sokrates | x |
| Zatacka | 2017 | Tron clone | 2-4 | C | Rabenauge | x |
| Schlimeisch Mania II | 2018 | Snakes clone | 1-8 | I | Unreal | |
| The Walking Death | 2018 | original | 2-8 | I | Unreal | |
| Mashed Turtles | 2018 | original | 2-8 | C, M, I | Angelsoft | x |
| Space Moguls | 2018 | original | 2-4 | C, I, P | Protovision | x |
| Dice8 | 2018 | original | 2-8 | I, M | Unreal | x |
| Bruce Lee - Return of Fury‎‎ | 2019 | Bruce Lee clone | 1-4 | C | Protovision | x |
| Straight Up | 2021 | original | 1-4 | C, P | Dr. Wuro Industries | x |
Adaptor: S = Starbyte, C = Protovision / Classical Games (CGA), D = Digital Excess & Hitmen (HIT), N = Ninjas SNES pad, K = Kingsoft, B = Space Balls, I = Inception, M = Multijoy, P = SuperPad
Description: original/clone = new implementation, patch = patch for existing game, hack = not authorized release based on an existing game