Frankie goes to Hollywood
From C64-Wiki
Jump to navigation
Jump to search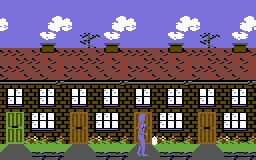 Frankie has provided over 60 tasks for your travel from Mundanesville through the Pleasuredome. The task consists mainly of a lineup of simple and trivial activites to the brave heroic deeds, which need skill and intelligence. After each finished task, an evaluation table shows you the increase in the different elements of your personality and pleasure points are given.
Your aim is to become a full person. To achieve this, you need to reach the summit of the evaluation table (when the word "BANG" alights above the personality factors) and 87.000 pleasure points. This combination enables you to look for the special door - the door to the greatest experience - the center of the Pleasuredome.
You start your adventure without personality in a surrounding of suburban boredom. But do not let yourself be misled by the peace! There are different streets and houses. Touch everything, explore, experiment! Your curiosity will pay off. Collect items. Some of them will help you immediately and you will need others to survive in the Pleasuredome. The cat, e.g., drinks the milk. With rising familiarity with the Pleasuredome and its borders to the usual world, you learn the pattern of the game and you will be able to move from one element to the other without difficulties by using the Corridors of Power or other methods that you will discover.
Remember, to complete your personality you need to finish all tasks, only then you get the possibility to search for the door behind which lies the secret to self-discovery!
Do not forget that you can only carry 8 items at the same time. Therefore you have to choose wisely the items that you take with you. Items that you do not pick up cannot be used any more. Beware of surprises while exploring the aspects of daily life, because sooner or later you will stumble over a...


You will discover a body. Who is the murderer? Solve the puzzle systematically. Try to find the 23 solution keys that appear in the windows. Return to the crime scene when a window appears that shows all possible suspects. Point with the cursor finger on the murderer.
Tip: Note down all the hints that could be helpful for your investigation. On the search for your personality you have to use what you can take from the daily life. These elements are connected by a system of aisles within the dome, the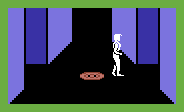 You can move freely through this labyrinth inside the dome and it is connected to Mundanesville (other routes can also be discovered). It can be charted precisely due to the colours of the manhole covers that are spread along the path. Fire balls come out of the covers, if you hit them you can create new exits. The entrances appear during the game. Learn how to use the corridors to your favour, as they will be very useful in the following elements and in it the door to the marrow of the Pleasuredome will appear (when both primary aims have been reached).
In the Pleasuredome a series of games and puzzles awaits you, which you have to finish to reach enough points and to form your personality. There are main entrances into this world of thoughts. These entrances and those which appear in the Corridors of Power, take you to the arcade elements.
In the right area of the screen the four personality bars are always shown. The rest of the screen (256x160 pixel) is used for the game. A special technique for displaying message windows was implemented. Numerous background tunes accompany the game.
Precondition
Function
always available
open inventory window
Viewing direction forwards
(neutral position)
open door and walk through
Viewing direction to the right
go to the right
raise arms to shoulder height to pick up item
raise arms to head height to pick up item
places figure in neutral position (short press)
go to the left (backwards)
Viewing direction to the left
go to the left
raise arms to shoulder height to pick up item
raise arms to head height to pick up item
places figure in neutral position (short press)
Go to the right (backwards)
F7

 

1 2 3 4 5 6 7 8 9 0 + -

 

£

 

HOME

 

DEL

 

F5

 

Q W E R T Y U I O P @ *

 

F3

 

A S D F G H J K L : ;

 

Control

 

C=

 

CRSR right

 

F1

 

Z C B M .

 

Space

 

Shift right

 

X V N , /

 

RunStop

 

Shift left

 

CRSR up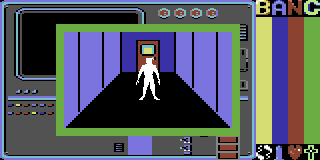 How do you reach 87000 points?
| Points | Activity |
| --- | --- |
| 4.800 | Pick up items: socks, purse, hering, pistol, key, video, milk, cat, protective vest, disk OK, faulty disk, security pass, (12x400) |
| 4.200 | Pour milk in bowl (2000), let cat drink milk (2000), touch door with cat flap (200) |
| 2.000 | Use video cassette (at television set) |
| 2.000 | Open locked door with key |
| 1.600 | Pick up pills (valid for all 4 symbols (4*400)) |
| 8.000 | Eat pills (valid for all 4 symbols (4*2000)) |
| 3.200 | Success at mini game: War Room (valid for all 4 symbols (4*800)) |
| 6.000 | Success at mini game: Cybernetic Eruption (valid for all 4 symbols (4*1500)) |
| 15.000 | Success at mini game: Sea of Holes, Flower Power, Talking Heads, Arrows, Shooting Gallery, Attack over Merseyside (6*2500) |
| 10.500 | Success at mini game: End Room (3xdisk (3*2000), 1x Security Pass (2000), 4. insert disk (2500) |
| 7.600 | Success at mini game: ZTT Room: wear protective vest (2000), destroy wall (2500), 3 points next to lift (100), solve puzzle (3000) |
| 0.800 | Find body |
| 5.600 | Find hint to murder (7*800) |
| 3.000 | Solve murderer puzzle |
| 12.000 | Shoot eight fire balls in the Corridors of Power (8*1500) |
| 0.100 | Let duck fly |
| 0.200 | Trigger light switch |
| 0.400 | Touch picture (Merseyside and Arrows (2*200)) |
Voting of the C64-Wiki users (10=the best vote):
7.54 points at 24 votes (rank 239).
You need to be logged in to cast a vote.
C64Games
8
14th July 2008 - "super" - 4298 downs
Lemon64
8,2
14th July 2008 - 59 votes
Kultboy.com
8,67
14th July 2008 - 3 votes
ZZap64
97%
Issue 9/85
Werner: "A very diversified game with detailled graphics. The better mini games are "Attack over Merseyside", "Arrows", "Talking Heads" and the shooting gallery. The other mini games are unfortunately only obligatory tasks. The murder puzzle can also be solved easily without much knowledge of the English language. When you have found all the hints, just try all eight names in the list one after the other (leave the room and enter again). I thought the best were the numerous music pieces which fit the game well. As soon as you have understood the course of the game, it can be very motivating until you have played it through. For a bizarre game idea and the fact that the game does not reload (onefiler) I give 9 points."
Robotron2084: "FGTH looks really great and sounds brilliant, technically it is really impressive what has been stuffed into it. But unfortunately the game suffers - I think - from the Lazy Jones-syndrome: many small and often petty mini games that at the worst have also to be played through several times. FGTH is creative, that is beyond question, but the fun runs dry rather fast after you have seen almost everything and then boredom soon spreads itself. It is boredom with high-finish polish, but still boredom. But to be honest, I am not that much into action adventures. 7 out of 10 points (bonus point for the music already included)."
Graphic Artist Karen Davies about the game
[
edit
|
edit source
]
"I remember working on Frankie Goes to Hollywood quite clearly. Ally Noble and myself sat opposite each other, being girlies we wanted to do a game that had nothing to do with shooting, killing or blowing up things. We wanted to do something a bit different. I remember I wanted to put a talking moose head in the mystery level, but Paul Morley who was representing the band wouldn't let me. Even to this day I feel Frankie lacks a talking moose head." (Interview from 2012)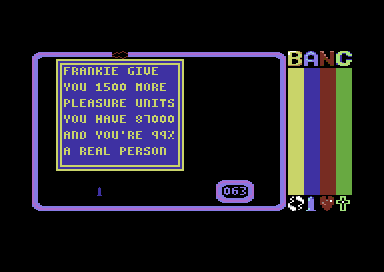 Werner - 87.000 - 99% / durchgespielt (14.08.2010)
Robotron2084 - 79.500 (08.08.2010)
Nobody - 0 (dd.mm.yyyy)
---

Videos