Eon
From C64-Wiki
Jump to navigation
Jump to search
| | |
| --- | --- |
| TO | This article has recently been imported from the German C64-Wiki and not been translated yet. Please come back at a later time to read the English version of this article or help us. |
Description
[
edit
]
Eon is a shoot'em up by X-ample Architectures, which scrolls in both directions horizontally. It was released by Kingsoft in 1993.

The Story
In the year 2010, a giant asteroid draws near to earth and circles around it. Es stellt sich heraus, dass sich im Inneren des Asteroiden fünf Höhlen befinden, in denen Außerirdische wertvolle Artefakte lagern. Die Höhlen sind allerdings durch ein Sicherheitssystem geschützt. Ein Pilot wird im modernsten Raumschiff der NASA losgeschickt, den Asteroid zu erkunden und das Rätsel der fünften geheimnisvollen Höhle zu lösen. Dazu müssen beim Hinflug und in den ersten vier Höhlen alle Energiereaktoren zerstört werden und danach der Levelendgegner der jeweiligen Höhle (auch beim Hinflug) vernichtet werden.
Das Spiel verfügt sowohl im Intro als auch während des Spiels über Musik. Im Spiel gibt es zusätzlich noch Soundeffekte. Die Musik kann auch deaktiviert werden. Es gibt eine Intro-Story, 5 Level und eine Endsequenz. Die Highscore-Liste wird im Original nicht gespeichert.
Controls
[
edit
]
: Move ship.
: Fire weapon.
+ Joystick in flight direction: 180 degree turn.

F1

 : Activates den Laser (standard weapon).

F3

 : Activates laser beam (slower and stronger).

F5

 : Activates disintegration shield.

F7

 : Activates reactor bombs (required to destroy enemy reactors).

SPACE

 : Smart Bomb

F2

 : Pause

F4

 : Smart Bomb

F6

 : Music off.

F8

 : Music on.
Display
[
edit
]

1 = Dialogue screen
2 = Energy reserve
3 = Weapons display
4 = Reincarnation rate
5 = Number of remaining rectors to destroy
6+7 = Blinking lights which indicate the direction to the nearest generator
Um zum Levelendgegner zu gelangen, müssen alle Reaktoren des aktuellen Level zerstört werden. Dazu ist eine vorgegebene Reaktorreihenfolge einzuhalten.
Das blinkende, weiße Licht am linken und rechten Rand der Anzeige, zeigt die Richtung des nächsten zu zerstörenden Reaktors an. Wenn der richtige Reaktor erreicht ist, wird in der Punkteanzeige das Wort "REAKTOR !!" angezeigt.
Nur mit Reaktorbomben können Reaktoren zerstört werden. Diese sind aber wirkungslos gegen andere Gegner.
Um zum nächsten Level zu gelangen, muss noch der aktuelle Levelendgegner zerstört werden, der erscheint, wenn alle Reaktoren zerstört worden sind.
Es gibt fünf Level (Hinflug und vier Höhlen), danach folgt die Endsequenz.
Solution
[
edit
]
Bei der Zerstörung von Kommunikations-Türmen (mit Reaktorbomben) wird Energie frei, die die Energie des eigenen Gleiters auffüllt.
Bei der Explosion eines Reaktors wird Strahlung frei, die Laser verbessert und Schilde auffüllt.
Reaktorenanzahl: Level 1 = 4 Generatoren, Level 2 = 8 Generatoren, Level 3 = 8 Generatoren, Level 4 = 8 Generatoren, Level 5 = 7 Generatoren
There are several cracks. The version by "Airwolf-Team" has 3 trainers, and aside from that a highscore saver, as well. The version by RSI (Red Sector Inc) has got more than 5 trainers. Both allow a full playthrough.
Voting of the C64-Wiki users (10=the best vote):
7.83 points at 6 votes (rank 136).
You need to be logged in to cast a vote.
C64Games
7
15. Juli 2018 - 20121 downs
Lemon64
7,1
15. Juli 2018 - 14 votes
64'er
8/10
October 1992
Critics
[
edit
]
64'er (Issue October 1992): "Besonderes Lob an die Grafiker und Musiker, denn ihre Arbeit ist einfach super und erfreut das Spielerherz. Die Hintergrundbilder der Levels, die Gegner und das Raumschiff sind sehr gut gestaltet. Die Musik im Intro und während des Spiels ist vom Feinsten und kann überzeugen. Trotzdem hat der Spieler mit einigen Problemen zu kämpfen. Man kann nur nach einigen Proberunden erkennen, welche Gesteinsbrocken und Hindernisse dem Schiff Schaden zufügen. Nebenbei muß man einen flinken Finger am Feuerknopf haben, da die Gegner zahlreich sind. Deshalb ist das Spiel nur für Fortgeschrittene und Profis, die genügend Erfahrung und Übung haben." (Jörn-Erik Burkert)
Miscellaneous
[
edit
]
Cover
Highscore
[
edit
]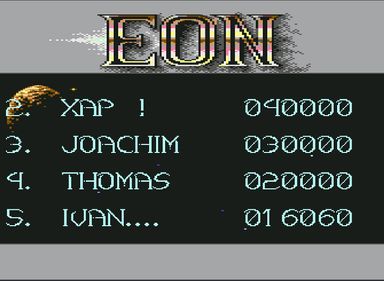 Ivanpaduano - 16.060 - 2 (31.07.2019)
Werner - 13.520 - 2 (21.07.2018)
H.T.W - 6.450 (17.07.2018)

Videos