Commodore 16
From C64-Wiki
Jump to navigation
Jump to search
The Commodore 16 (also known as the C16) was part of Commodore's budget 264-series of home computers (including the C116 and Plus/4). Commodore sold the C16 from 1984 to 1985, intending it as the VIC-20's successor, hence the budget price of just $99. In Argentina, the computer company Drean produced the C16 under license, as did Sigma in Mexico, and in total 1,266,000 C16s shipped worldwide.
The C16 resembles the C64 but colored black. It comes with an advanced version of BASIC (v3.5) onboard. This stops the C16 using the C64's massive hardware and software base. The C16's datasette 1531, joysticks, and disk drive 1551 connect only to the Commodore-264 series computers, though connectors are available for use with other Commodore equipment.
Two joystick connectors (Joy1 and Joy2, round mini DIN, 8-pins, I) to connect a joystick
On/off switch
Power connector (power; 2 pins) for the power supply unit
CPU: MOS 7501 or 8501 with 0.885/1.76 MHz clock frequency (controlled by TED) - average approx. 1.1 MHz.
Memory: 16 KByte RAM, with 12277 free usable under BASIC, expandable to 64 KByte.
ROM: 32 KByte in total, consisting of:
Graphics: TED 8360

Display in text mode (either capitalization / graphic characters or uppercase / lowercase) 40 (columns) × 25 (lines) characters or in graphic mode (HiRes) 320×200 pixels or 160×200 pixels, as well as graphics with 5 lines text mode at 320×160 or 160×160 pixels
Colors: 121 (15 colors in 8 shades and black)

Sound: TED 8360 is also used to create sounds and can form 2 independent voices with tones of over 4 octaves (about 28 notes without overtones) or noises.
Keyboard: 66 keys (QWERTY), multi-assigned, function keys are already predefined.
Other:

Dimensions: 407 mm × 77 mm (Series PCB)
Weight: 0,357 kg (Assy No. 250443)
Power Supply: 9 V DC provided by power supply unit with 220 V at 50 Hz
Power consumption: 0,8 A / 7,6 W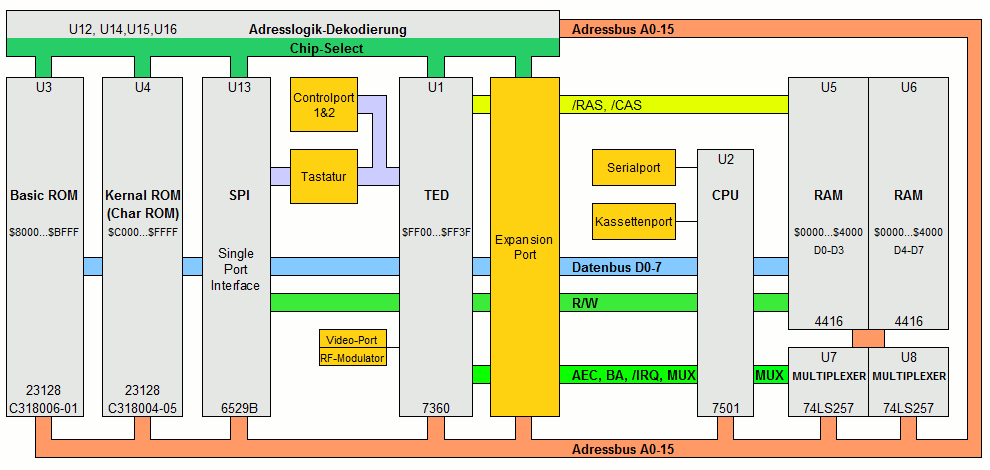 Memory addresses          | Description
Hexadecimal | Decimal     |
$0000-$07FF | 00000-02047 | zero page, system RAM
$0800-$0C00 | 02048-03071 | color RAM
$0C01-$1000 | 03072-04095 | video RAM
$1000-$3FFF | 04096-06143 | BASIC RAM (if using graphics this area will shrink!)
$1800-$1BFF | 06144-07167 | luminance (if using graphics)
$1C00-$1FFF | 07168-08191 | color table (if using graphics)
$2000-$3FFF | 08192-16383 | video RAM for graphics (if using graphics)
$4000-$7FFF | 16384-32767 | free (for memory extensions)
$8000-$BFFF | 32768-49151 | BASIC 3.5 ROM
$C000-$CFFF | 49152-53247 | free for BASIC extensions
$D000-$D7FF | 53248-55295 | char set ROM
$D800-$FBFF | 55296-64511 | KERNAL ROM
$FC00-$FCFF | 64512-64767 | ROM banking routines
$FD00-$FEFF | 64768-65279 | I/O addresses
$FF81-$FFF9 | 65409-65529 | KERNAL
$FFFA-$FFFB | 65530-65531 | NMI vector
$FFFC-$FFFD | 65532-65533 | RES vector
$FFFE-$FFFF | 65534-65535 | IRQ vector

Deviations of color table and control characters
[
edit
|
edit source
]
The commodore colour table deviates at the TED after the 9th color (brown):
Color       | Key com-   | Color value  | In program:   | Or by PRINT "control character"
            | bination   | for POKE     | PRINT CHR$(X) | (in quotes!)  
yellow-green| <C=>+<3>   | 090          | 150           | inverse graphic-X  
pink        | <C=>+<4>   | 107          | 152           | inverse ring 
blue-green  | <C=>+<5>   | 092          | 151           | inverse clubs
light blue  | <C=>+<6>   | 109          | 153           | inv. vline right    
dark blue   | <C=>+<7>   | 046          | 154           | inverse check  
light green | <C=>+<8>   | 095          | 155           | inverse clubs

Hint: There are some new control characters on the C16:
PRINTCHR$(027) escape key
PRINTCHR$(130) text flashing on
PRINTCHR$(131) text flashing off
PRINTCHR$(140) help key

The C16 function keys are normally:
An overview or modification of the function key binding can be achieved through the BASIC command KEY, either in direct mode or in programs. After a reset or a reboot the normally function key configuration is reset.
In Germany the C16 was first available in a single package and was later sold in a bundle Commodore Computer-Lernkurs BASIC-Programmiersprache.
The purchased parts of a C16 package are (1984):
Computer (C16)
Aerial cable
Commodore warranty card
Commodore extra guarantee
Interference free certificate
Cardboard package
Styrofoam shells top and bottom
Commodore Jack Attack
Commodore Pirate Adventure
Commodore Viduzzles
Commodore Atomic Mission
Commodore Strange Odyssey
Commodore Pirate Adventure
Commodore C-16 Tutor
Commodore Logo
Commodore Diagnostic Test (TED Diagnostic Rev 1.5)
Commodore Script/Plus
Commodore Financial Advisor
For the C16/116 the following memory expansions were available:
16K Expansion (Kingsoft)
64K Extension (ak-tronics)
64K RAM (Kingsoft)
64K RAM memory expansion (Golden Games)
64K cartridgel (LINDY)
DELA C16 memory expansion 64K
REX Datentechnik (9305) 64K
Commodore 16K RAM pack cartridge for the expansion port (Ram Electronics Ltd.)
64K RAM (Stonechip Electronics)
Jureks 64K Memory Expansion
Joystick adapter: To connect common joysticks with the 9-pin sub-D connectors there were adapters or adapter cables, respectively, available plugging these joysticks to the 8-pin, round mini-DIN connectors on the C16/116 and Plus/4.
Datasette adapter: To connect datasette drives with the usual 12-pin connector there were suitable adapters or adaptor cables, respectively, plugging them to the 7-pin, round mini-DIN connector on the C16/116 and Plus/4.