Transformers
From C64-Wiki
Jump to navigation
Jump to search
| | |
| --- | --- |
| TO | This article has recently been imported from the German C64-Wiki and not been translated yet. Please come back at a later time to read the English version of this article or help us. |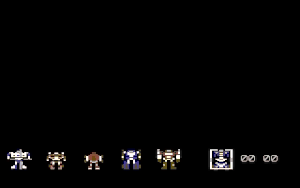 It was the first video game about the famous Autobots, which are fight against the Decepticons. In this game the player controls one of the five Autobots: Optimus Prime, Hound, Jazz, Mirage and Bumblebee. These Deceptions are in this game: Megatron, Soundwave, Starscream, Buzzsaw, Skywarp, Laserbeak, Ravage, Frenzy and Rumble.

Story
The energy of the Autobots are down, but you can they save by collecting four pieces of the Autobot Energon Cube and transporting the complete cube back to their centre. The Decepticons will you attack and try to destroy the Autobots. You can only win a level by playing the five as a team!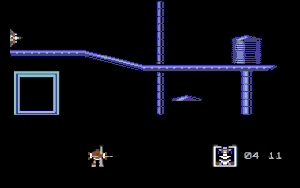 The first C64 game of The Transformers is a hectically shoot'em up.

Screenshots
Map
This level map of the Spectrum version is identical with the C64 version.
Voting of the C64-Wiki users (10=the best vote):
4.82 points at 11 votes (rank 971).
You need to be logged in to cast a vote.
C64Games
7
20. Juni 2006 - 2989 "very good" downs
Lemon64
7,2
9. April 2004 - 66 votes
Gamebase64
10
Mai 2005 - "Classic!"
Rombachs C64 game guide
7
September 1984 - "Rate 3"
Shmendric: "A relatively simple gameplay, but the level of difficulty is really not easy. Especially when flying, it's easy to hit a platform and lose one of its precious robots. This is a very difficult game, especially in breakneck flights due to the lethargic reaction. Converting to a car seems to me to be absolutley useless, because the higher speed does not outweigh the the missing weapon. The very reduced field of view in running, flying or driving direction adds another part to the frustration factor - this game should have been worked on for a while - if some details had been implemented a bit more convenientably for the player then might It's even a bit of fun, but that's the thumbs down."
The Transformers (original: トランスフォーマー, Toransufōmā) are action figures.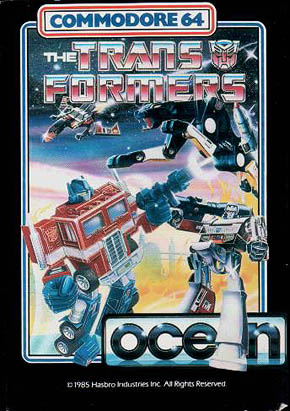 The game cover.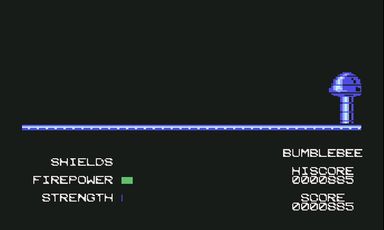 Ivanpaduano - 885 - 1 (21.02.2019)
Nobody - 0 (dd.mm.yyyy)
Nobody - 0 (dd.mm.yyyy)

Every player can only be in the table with one score. The table should not have more than 10 entries.

Videos