Test Drive
From C64-Wiki
Jump to navigation
Jump to search
Test Drive

Game No.
80
Voting
7.62 points, 47 votes
Developer
Don Mattrick, Mike Benna, Bruce Dawson, Brad Gour, Kevin Pickell, Amory Wong, Rick Friesen
Company
Distinctive Software
Publisher
Accolade
Musician
Patrick Payne
HVSC-File
/testdrive/testdrive.sid
Release
1987
Platform
C64, Amiga, Atari ST, MS-DOS
Genre
Racing
Gamemode
Single player

Operation
Media
Language
Test Drive is a driving/racing simulation published by Accolade. You are involved into illegal street races, and the goal is simple: get through the five stages as quick as possible. Before performing your "test drive" you're asked to choose one of the five cars: Lotus Esprit, Lamborghini Countach, Porsche 911, Ferrari Testarossa and Chevrolet Corvette. All of them have their own looks and driving characteristics. One thing these cars have in common: you're asked to shift the gears manually! To avoid speeding tickets (that will cost time!), you have to keep an eye at your radar detector, or just make sure you drive at least 120 mph. But be aware of sharp bends filled with potholes and take care of the oncoming traffic on the left side of the road. A crash easily occurs! Watch your steering, and avoid all obstacles including cliffs on the right and the ravine on the left. When crashing your front window will break, you will loose one of your limited lives, and you will loose time since you have to accelerate again. After each of stages there's time to either measure your heart beat or stretch your legs. Your gas tank is being filled while your racing time, average speed and rewarded points are shown. The first stage is short and easy but the next stages become more difficult. Bends become sharper, while radar detector activity combined with hard traffic circumstances keep you concentrated more and more...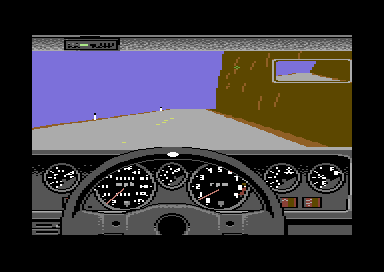 The graphics of this game are advanced for its time and the menu design is very original. While selecting your car, many technical details are provided. While driving, you see a cockpit with a the original dash board, including the original gear-lever in motion.
The game starts with a very decent intro. There's no textual menu. Just the first car appears. If you want to drive with it, you hit the button and it'll drive. Otherwise you can see the other cars by moving left or right. This way of menu construction can be found in other games by Accolade as well. Then directly you're there on the street. The design of the street itself is kept simple. At the right side there always is a mountain, at the left side a ravine. The others cars on the road are different from each other, but not very detailed. Although, detailed enough to recognize a VW Beetle from a truck, and in different colours. When you play the game more often, you will notice that there's no random appearance of the other cars.
Cars
Choose between these 80's sports cars:
| | |
| --- | --- |
| | |
| Lotus Esprit Turbo | Driving the Lotus |
| | |
| Lamborghini Countach | Driving the Lamborghini |
| | |
| Porsche 911 Turbo | Driving the Porsche |
| | |
| Ferrari Testarossa | Driving the Ferrari |
| | |
| Chevrolet Corvette | Driving the Chevrolet |
Controls
D   = Toggle visibility of gear lever
V   = Toggle digital info (MPH and RPM)
S   = Toggle sound effects
Run/Stop   = Reset and return to the setting screen

= Throttle


= Throttle + left


= Throttle + right


= Steer left


= Steer right


= Brake + left


= Brake + right


= Brake
To shift up, push forward and press fire.
To shift fown, pull backward and press fire.
The game ends when you finish the 5th stage, without crashing too often. Crashing the police car will result in an immediate game over.

To get a high score
Theoretically, a high score of more than 50000 should be possible.
First stage: 8512 points can be collected. You should drive either the Lamborghini or Ferrari to do so, without any hesitation. To maximize the score you have to crash just before the gas stop. If you drive one of the three other cars, you're still able to earn at least 7232 points.
Second stage: even more points can be gathered in this stage, since it's a longer stage compared to the first stage. The solution is: full throttle.
Third, fourth and fifth stage: in these stages the corners are tighter, and here it doesn't matter any more if you drive the fastest car or not. Exercise, experience and some luck are the keywords.
Voting of the C64-Wiki-User (10=the best vote):
7.62 points at 47 votes (rank 224).
You need to be logged in to cast a vote.
C64Games
10
26th July 2009 - "highlight" 22166 downs
Lemon64
7.7
26th July 2009 - 100 votes
Kultboy.com
7,59
20th June 2008 - 22 votes
ASM
10/12
Edition 12/87
Powerplay
35%
Edition 2/88
ZZap64
46%
Edition 88/03
Guybrush: "A classic, even though the graphics could have been a bit better in 1987 and the course of the game is a bit monotonous, Test Drive was fun, 7 points from me."
Patrick Rüegg: "I can remember 0this game, it was just great. Memories come out! I don't think that about the graphics, that was absolutely normal for that time. The cars are also classics (Countach, 911), just great, 10 points."
Shakermaker303: "A game with cult status. You were quite hip on the schoolyard, if you could claim to own Test Drive or even have driven to the first filling stations :-). Of course the graphics of the single cars in the menu was breath-taking at that time, the cockpit of the car during the game was individually and nicely designed, however, the mountain road has become a bit too simple. I give 9 out of 10 points - pass any low planes?"
Sometimes suddenly the police car appears in front of you, it comes from nowhere! As quick as it comes as quick as it goes: within a second it has gone, but watch out that you didn't hit it.
The Chevrolet Corvette in driving mode should have - according to the car specifications in the beginning of the game - four gears plus one overdrive. Instead, while driving there are only three gears available plus one overdrive. This can be considered as a bug, because the gears and other details of the other cars are corresponding with the specifications.
Not really a bug but nice to mention: the actual top speed of the cars differ from what is said in the specifications. Most of the cars drive a little bit faster.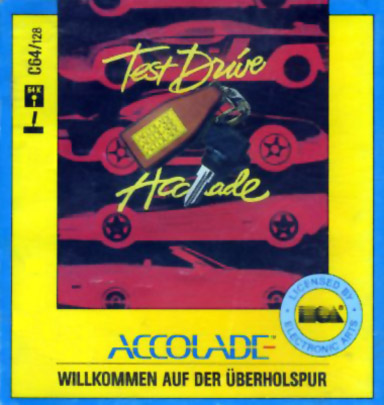 Colt Kahn - 34.936 (08.01.2010)
Ironman - 32.312 (27.07.2009)
mombasajoe - 23.168 (03.10.2012)
H.T.W - 11.060 (08.08.2008)