Snokie
From C64-Wiki
Jump to navigation
Jump to search
According to the story a strange species named "snowbird" lives up in the north far behind the polar circle. Snowbirds are likeable and inspring confident creatures that only get angry when they are compared to their distant relatives, the penguins. They are very intelligent and rather good in jumping, but they cannot fly and they also are afraid of water, as contact with this element can get fatal for them.
A snowbird named Snokie is the hero of the arctic adventure. Snokie has been separated from his girlfriend Cora. Cora was kidnapped by "Grodies", who now keeps her locked in a snow cave. The player has to lead Snokie over an obstacle course and help him to find Cora.
Very simple graphic, smoothly scrolling from left to right. There is no music, only tone sequences and FX can be heard. There is only one level, just the same is the difficulty level very high as the game needs exact timing and pixel-precise jumping.
Controls on the title screen
F1

  = start game with chosen options

F3

  = normal/high speed - Normal or fast speed in the game

F5

  = 1/2 players in turns - both players use the joystick in port 2

Space

  = view highscore list
Joystick controls in the game
F7

  = pause, press again to go on playing
Keys in the game
CRSR ⇔

  = walk right

CRSR ⇑ ⇓

  = walk left

Space

  = jump
F7

  = pause, press again to go on playing
Build into the game is a so-called "just for fun"-mode, which allows one after losing all lives to go on playing from the section where the last life has been lost. For this you press the button number for the corresponding section ( 1  , 2  , ...., 7   ). In this mode no points are counted and you also have only one life.
The version by "Remember" offers next to the different trainers a saveable highscore list and the manual.
Voting of the C64-Wiki users (10=the best vote):
6.00 points at 17 votes (rank 773).
You need to be logged in to cast a vote.
C64Games
5
28th April 2007 - "satisfying" - 1680 downs
Lemon64
7,33
28th April 2007 - 15 votes
Rombachs C64-Spieleführer
7
September 1984 - "Vote 3"
Rombachs C64-Spieleführer: "The graphics is laminar and without depth effect; but anyway nice to look at. It is extremely difficult to manage the obstacle course for only a small part, through which the game gets for some players interesting, but for the most players rather frustrating. Vote: satisfying.".
H.T.W: "This game is a flawless Jump-and-Run of the "computer stone age", here one needs to jump pixel-precise and react fast. A calm hand and a precise joystick are needed! Although you can see the year of creation can be seen by the graphics and the sound does not come out positively, the game somehow creates this "I'll try it once more-feeling" . . .".
Cover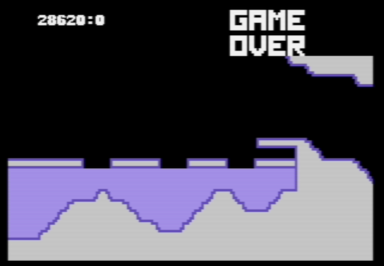 Mindless - 28.620 - Level 3 (24.02.2021)
DrCreep - 22.080 (24.04.2007)
MontyMole - 18.160 (01.05.2007)
Camailleon - 13.640 (02.12.2010)
nczempin - 11.480 (24.04.2007)
Radi1975 - 9.120 (17.07.2017)
Werner - 8.620 (29.04.2007)
Ivanpaduano - 2.580 (25.08.2019)
---

Videos