Skramble
From C64-Wiki
Jump to navigation
Jump to search
Skramble is an early horizontally scrolling shoot'em up game, which was released in 1983. As a spacecraft commander, you have to struggle with your spacecraft through narrow systems of caves and cities, while you are attacked by launching rockets, ufos and other enemies and at times get into meteorite showers. Meanwhile, you have to watch your fuel scale. In order to refuel you have to bomb buildings labeled "FUEL" with a bomb you drop - additionally to your sideways shot - with every klick of the fire button.
Of course you cannot compare the graphics with those of the later 1980s shoot'em ups. If you consider the release year, it is quite okay. There is no music in Skramble, unfortunately, but at least there are nice explosion FX and a hypnotizing humming of the ship.
Only once in the game, at 20.000 points, you are given a bonus life.
No fear of rockets, they appear much more dangerous than they actually are. In the sectors with UFOs or meteors the rockets never start. Don't ignore them anyway, because you easily can ruin your score if you let every rocket escape and only focus on the objects on the ground.
At the beginning your tank seems to be inexhaustible. This changes rapidly after you have played through sector 6 for the first time. So focus on the "FUEL" objects on the ground.
Playing through the complete game once is REALLY easy. It gets a little trickier when the canyons get narrower. But actually there are only a few really challenging points in sector 5, especially if you do not emulate but play with a real C64. You should fly as far right as possible there in order to navigate backwards(left) and upwards/downwards at the same time. Finally drop a bomb and destroy a very last object in sector 6. You will receive 800 for the destruction plus 2.500 bonus and a "congratulations" note, then the game starts anew, theoretically endlessly and with only a slight increase in difficulty, except for the faster consumption of fuel.
Unknown. Trainer Versions (though not really necessary) are available on the appropriate websites, e.g. in the aforesaid Walker Group Version.
Voting of the C64-Wiki-Users (10=the best vote):
7.36 points at 25 votes (rank 311).
You need to be logged in to cast a vote.
C64Games
6
19th July 2008 - "good" 2745 downs
Lemon64
7.9
19th July 2008 - 31 votes
TheRyk: "Nice bang-banging. The C64 Skramble lacks a cool music, unlike the Atari Scramble clone Beta Lyrae, which has been released in the same year and has also better graphics and a more challenging degree of difficulty (in a way it was the better Scramble). But the Skramble with K has the bomb in addition to the horizontal shoot, which might be a little compensation. Refueling the spacecraft via bombing FUEL buildings does not really make much sense, but a funny idea which has been copied in later games like Zaxxon. The game is simply too easy. As soon as you can master the only tricky sector by heart, the only remaining challenge will be not to lose concentration or fall asleep. Nevertheless, I regard it as a good game at its time, worth 6 of 10 points."
Shakermaker303: "Those were the days. Mountain sightseeing with a little spaceship. It was one of my first games and was also one of the first I managed to complete. The explosion FX are just awesome. The controlling is simple, but good. Heartbeating and Sweating overwhelmed me when I first reached the skyscrapers. For the average player it may not be somehting special, but for nostalgic reasons I rate it 9 of 10 Points."
Blubarju: "This is probably the most simple Shoot'em up on the C64, when even I come through alle levels 4 to 5 times in one go. But otherwise is the game quite good. Except for the cruel jerking during the scrolling. 6 points."
The C64 game Skramble is - same as the Atari competitve product Beta Lyrae - a homecomputer conversion of the Konami-Arcade game Scramble from 1981, which is known as the first multi level shoot-'em-up in the world (!).
There is a brandnew "4th of July 2008" crack version of this ancient game released by the Walker Group (TWG version). It allows soft scrolling, alternative graphics and slightly increased difficulty. Aditionally, there is a manual and a highscore saver in this version. It is a matter of taste whether that version is better or worse than the original. Of course it is not the real thing any longer, but the design is definitely nicer and the game is more challenging due to faster meteorites. For fans of the 1980s group Eagle Soft, the Walker Group Intro might provide a nice nostalgic surprise.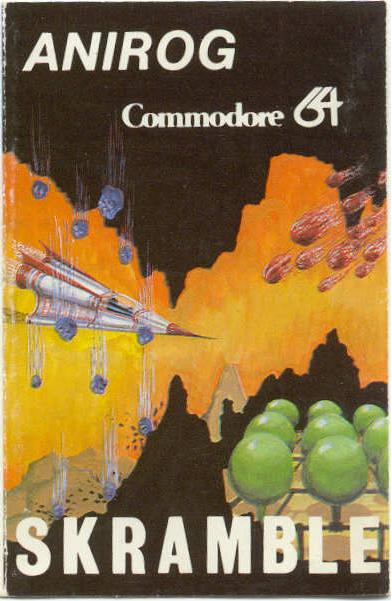 Video Longplay by Reinhard Klinksiek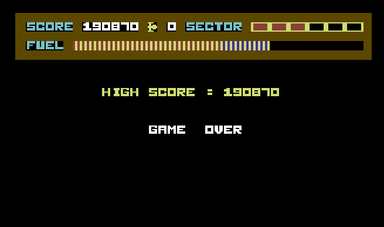 Blubarju - 190.870 (02.01.2010)
TheRyk - 159.480 (12.08.2010)
Werner - 88.520 (15.11.2008)
Radi1975 - 74.380 (24.10.2017)
Ralph Wiggum - 70.230 (15.08.2010)
Robotron2084 - 54.720 (13.11.2008)

Videos
---