Moonsweeper
From C64-Wiki
Jump to navigation
Jump to search
The shooter game Moonsweeper is like an arcade game. Your mission is to rescue all miners from the Jupiter. You started in the space of the star quadrant Jupiter. There you must shoot or evasive deadly aurora flares, photon torches and space bullets from the sun. From time to time you can fly to the surface of Jupiter and collect the stranded miners, but also appears laser towers and lunar satellites and sometimes alien surface destroyers. If you have the maximum of miners collect, you fly into the space again by using the accelerator rings. It exists different levels and different moons...
The graphics is very good. Only sound effects are used by shooting or changing the phase.
On the bottom line the cockpit shows (from left to right): The velocity, the direction (left, right or straight ahead), the max. number of Jupiter rescue missions, the radar of the stranded miners and your score, the lives (numbers of ships, max. 5) and the numbers of collected miners (max. 5), also the fuel.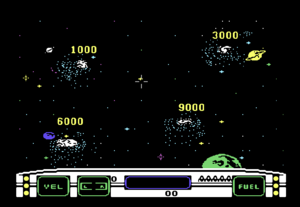 You can play the game with joystick in port 2 or keyboard to control your space ship to the left or right side, also speed up or speed down and fire.
1

 : Speed up.

2

 : Right.

CTRL

 : Left.

↑

 : Speed down.

Space

 : Fire.
RESTORE : Restart the game.
You starts with 5 lives.
The planets or balls in the space are the gateways to the surface. But beware for the aliens...
You can collect max. 5 miners.
After collect all miners, you must pass through 5 until 7 accelerator rings to take off in the space.
In each phase the fuel is full again.
Points
Each destroyed alien: 50
Each collected miner: 100
Level 1000: You must one time to the surface to finish this level: 1000 points
Level 3000: You must three times to the surface to finish this level: 3000 points
Level 6000: You must six times to the surface to finish this level: 6000 points
Level 9000: You must nine times to the surface to finish this level: 9000 points
Each 10.000 points: One extra live.
Shoot and fly...
...but don't fly too slow, that costs fuel!
In the CSDb exists versions with trainer mode.
Voting of the C64-Wiki-User (10=the best vote):
6.00 points at 2 votes.
You need to be logged in to cast a vote.
C64Games
7
27th May 2021 - "very good" 19449 downs
Jodigi: "Nice game... but not my favorite".
Cover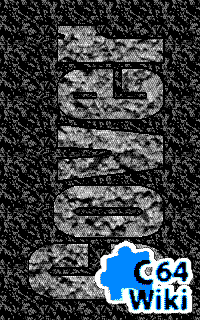 There is no high score list!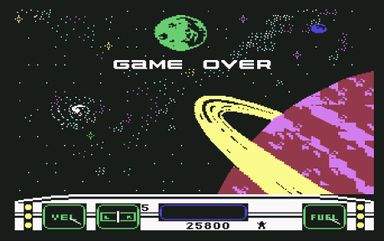 Ivanpaduano - 25.800 - 4 (02.04.2021)
Jodigi - 15.200 (25.01.2021)
Nobody - 0 (dd.mm.yyyy)

Videos