Kickman
From C64-Wiki
Jump to navigation
Jump to search
The game Kickman is copyright 1982 by Commodore and 1981 by Bally. It is a side view game similar to Space Invaders or Arkanoid. You play a clown on a unicycle that has to catch, or pop, the balloons that fall from the rows above. Different color balloons fall at different rates and get different points. Pac-Man and ghosts fill in for some of the balloons after the first level, with differing effects. On level one, the balloons will pop when they land on your head. On level 2 (and beyond) you have to build up a stack of balloons before they will pop. If you miss a balloon, you can kick it back up in the air and have another go. If you let the balloon hit the ground, you lose a life.
(work in progress)
An alternative name of this game was Kick.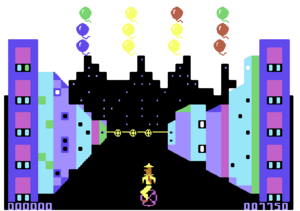 Simple unicoloured graphics. The score displayed in the bottom left of the screen, and the high score at the bottom right. There is a simple background music that loops and starts over at every level in addition, there are sound effects for kicking a balloon and popping a balloon.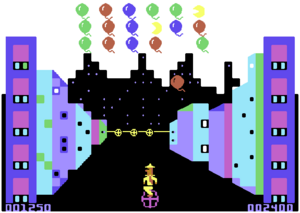 A player can play this game a joystick in port 1 and also with the keyboard.
In this game you starts with 4 lifes.
Joystick:

Keyboard:
F1

 : Start

A

 : Kick

L

 : Left

 ;

 : Right
50: Yellow balloon collect or destroy
100: Red balloon collect or destroy
150: Blue balloon collect or destroy
200: Green balloon collect or destroy
250: Yellow Pac-Man collect or eaten ballons
300: Red Pac-Man collect or eaten ballons
350: Blue Pac-Man collect or eaten ballons
400: Green Pac-Man collect or eaten ballons
450: Collected or destroyed yellow ghost
500: Collected or destroyed red ghost
550: Collected or destroyed blue ghost
600: Collected or destroyed green ghost
: Destroy all ballons of a 3*4 field to get Level 2.
: Since level 2: Firstly collect 4 ballons before you destroy the others. 2 Pac-Mans helps to destroy the ballons on your head. The field is 3*6.
: Since level 3 or higher: The field is max. 3*8. Also ghosts appears.
A level is solved, if you have collected and destroyed all balloons, Pac-Mans and ghosts. If a balloon, Pac-Man or ghost fallen down, you loose a life and the level restarts.
In the CSDb exists a crack with unlimited life.
Voting of the C64-Wiki-User (10=the best vote):
4.00 points at 2 votes.
You need to be logged in to cast a vote.
C64Games
?
DD. Month YYYY - "text-note" nnnn downs
Lemon64
?
DD. Month YYYY - nn votes
Jodigi: "An interesting arcade game from the beginning. A little bit too difficult after a few levels."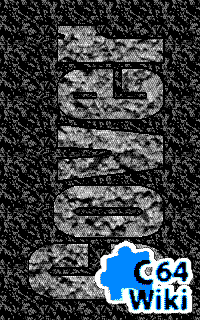 C64 longplay part by Reinhard Klinksiek
Versions of MAX Machine
It exists 2 versions of Kickman for the MAX machine V.01 and V.02. These Kickman version have different music, a slighter graphic, a white background in the title and a black background in the game and also a little bit different gameplay and scoring.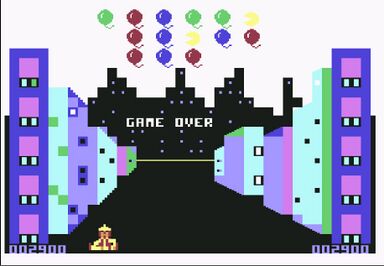 Ivanpaduano - 2.900 - 2 (12.12.2021)
TheRyk - 2.650 - 3 (11.12.2021)
Nobody - 0 (dd.mm.yyyy)