Dot-Matrix Printer
From C64-Wiki
Jump to navigation
Jump to search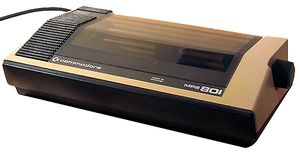 A dot-matrix printer is a printer that uses needles striking a colour ribbon (often black or blue) to print text and graphics in matrix printing on paper. It is available from about 7 needles or pins, popular in the home computer sector in the 1980s were the printer models with 8 or 9 pins, and a little later with 24 pins.
The following printer modes are available:
Draft (normal computer mode) - fast printing mode, single printing, often with lower pins, e.g. 8 or 9 pins.
NLQ (Near Letter Quality) - double printing than in draft mode
LQ (Letter Quality) (only up at 24 pins or more)
Some dot-matrix printers has additional adjustable or built-in fonts (or character sets; e.g. Courier, Pica, Elite, Prestige-Elite, ITC-Souvenir, Bold-P.S.Times-P.S., Hevelette P.S, Draft-Gothic, Sans Serif, Roman) or font formatting such as big letters, wide font, bold, italics (cursive), underline, strikethrough, condensed, expanded, emphasized, superscript, subscript, shadow, outlined or lombination. Also the character pitch and line spacing could be adjusted.
Very important for Commodore users are the compatibility of a printer type like Epson FX, because a lot of software use the Epson specifics printer commands (ASCII escape characters).
Low susceptibility to faults
Low costs
Possibility to create carbon copies
Printing of graphics also possible
Usability of continuous paper and also heavy paper
High noise level during printing
Poor resolution
Long side pressure duration
Models of dot-matrix printers
[
edit
|
edit source
]

Popular dot-matrix printers for the C64 are:
Epson

FX-80 (many printers and programs are compatibility to Epson "FX-80"), JX-80 (MPS 1550 C)
Seikosha

SL 80-VC 24, GP-700A, SP-180VC, SP-800, SP-1000VC, SP-1200VC
Others:

Oki Microline 182, Okimate 20, NEC P6, NEC P2200