Count Duckula
From C64-Wiki
| | |
| --- | --- |
| | This article is very short and not very detailed. Please help to improve it. |
Voting of the C64-Wiki users (10=the best vote):
No votes yet.
You need to be logged in to cast a vote.
Lemon64
5.8
10th December 2014 - 14 votes
Ready64
6.5
10th December 2014 - 4 votes (4 voti)
Description
[
edit
]
Count Duckula is a multi-screen platformer released for the ZX Spectrum, Amstrad, and Commodore 64. The objective is to collect a saxophone found at the top of a pyramid, and to do so you will need to collect a few items to get past obstructions.
Count Duckula and his faithful servants Igor and Nanny have transported themselves and their castle over to the land of the Pharaohs, Egypt. There they decide to search for the mystical Sax, an ancient saxophone with strange magical powers. They know that the Sax is hidden somewhere in the tomb of the great Pharaoh Upanatem, a gigantic pyramid in the middle of the desert. What they do not know is that they have also brought along some unwanted guests in the shape of the Crow Brothers.
Duckula must explore the pyramid, solving puzzles and collecting useful items, while keeping an eye out for wandering Mummies and Crows. With Igor keeping an eye on the time and Nanny keeping an eye on Duckula he must find the mystical Sax before the dawn breaks in Transylvania and the castle returns him home.
Solution
[
edit
]
There is a time limit of approximately 10 minutes. On a PAL system, one second is counted every 68 frames. Being touched by enemies reduces the timer rapidly.
Head to the right of the first floor. You'll first need a key, found by going straight right. Backtrack to the stairs that let you reach one screen up, and head right to the next down stair case. The bottom-right corner has a sandbag.
Climb the pyramid, on the right-hand side. This brings you to a pedestal, where you can use the sand bag.
Head left, clibm the stairs, and jump across the gaps. This leads to the deathmask.
Backtrack to the stairs left of the pedestal door. Head down the stairs, jump across the gaps, and get the key. Fall down the trap floor, open the door to the left, and get the container.
Return to the Pedistal - you have to drop down and climb the right-hand side again. Climb the stairs and head right to reach the top of the pyramid.
On the top floor, head right to get the hammer. Use the hammer to break the container.
On the top floor, use the deathmask on the slot to open the door, then use the key on the keyhole to get the saxophone.

Map of the Pyramid
With minor differences, a general map of the pyramid is found on World of Spectrum.
Critics
[
edit
]
Name: "No criticism". or Testuser: "No criticism".
Miscellaneous
[
edit
]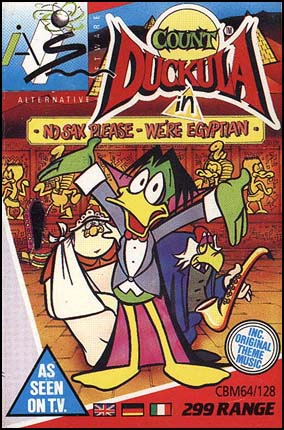 Video Longplay by Ivan Paduano
Highscore
[
edit
]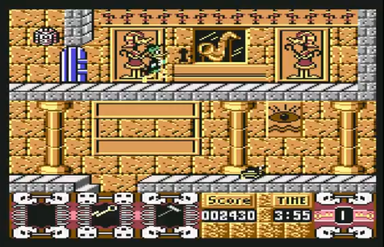 Ivanpaduano - 2430 - all (02.07.2018)
Nobody - 0 (dd.mm.yyyy)
Empty - 0 (dd.mm.yyyy)