YACE64
From C64-Wiki
Jump to navigation
Jump to search
| | |
| --- | --- |
| | This article is very short and not very detailed. Please help to improve it. |
YACE64

Company
Developer
Oliver Meyer
Publisher
actual Version
2.1.0.30
Release
2.1.0.30
Licence
Freeware
Platform
Windows
Operation
iOS-Client
Media
G64, D64, T64, PRG, CRT
Language
Information
YACE64 (Yet Another Commodore 64 Emulator) is an emulator for Microsoft Windows, which emulates a C64 and one or two 1541 floppy drives. The main aspect of the emulator is the graphics and sound experience.
It is possible to transform a C64 program into a real 3D view.
There's also a server version, which can be controlled with an iOS client for iPhone and iPad.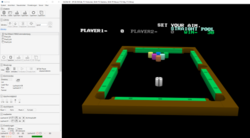 1541 disk drive emulation
REU emulation
Mouse 1351 emulation
USB joystick
Disassembler and debugger
Tracing with many details
Tracing (speed, pause, breakpoints, singlestep)
Display and control with client for iPhone and iPad
Screenshots
Scripting (examples)
Commando console
MIDI SID
MIDI interface emulation (MC6850), e.g. Namesoft, Datel, C-Lab
Video and audio recording, mono and stereoscopic/3D (side-by-side)
Quicksearch in libraries with FTP and Gamebase64 support
3D view and transformation
Stereoscopic view for shutter, VR and red/cyan glasses
Installation
The program can directly be downloaded and installed from the website.
After the start it is necessary to configure the path to the ROM files in the configuration dialog.
The ROM files can also be configured automatically.
The following ROMs should be used:

C64:

kernal.901227-03.bin
basic.901226-01.bin
characters.901225-01.bin
These files can be found here zimmers.net.

1541:

1541-c000.325302-01.bin
1541-e000.901229-03.bin
These files can be found here zimmers.net.

Finally the program restarted and is ready for use.
The emulator is completely written in C++ 11 without usage of 3rd party libraries. The Windows program uses .NET 4.5 with WPF, Direct3D11, DirectSound and DirectInput.