Uuno Turhapuro Muuttaa Maalle
From C64-Wiki
Jump to navigation
Jump to search
| | |
| --- | --- |
| | This article is very short and not very detailed. Please help to improve it. |
Uuno Turhapuro Muuttaa Maalle is a game based on the movie with the same name. Uuno Turhapuro (Numbskull Emptybrook) is a Finnish comedy character created by Spede Pasanen and played by Vesa-Matti Loiri. In the movie (and the game) Uuno decides to move from the town to the country-side. Game is devoleped by Pasi Hytönen and published by Amersoft. Game is a traditional side-scrolling game where you control Uuno-character through three different levels, trying to avoid different obstructions.
Controls
The game is operated by joystick in port 2:
Menu
F1

 : Players: one (yksi) / two (kaksi)

F3

 : Difficulty: easy (helppo), hard (vaikea) or very hard (kaamea)

F5

 : Music: on / off

F7

 : Sound effects: on / off
POKE 30692,173 - Unlocks Cheat Mode
Voting of the C64-Wiki-User (10=the best vote):
6.43 points at 7 votes (rank 666).
You need to be logged in to cast a vote.
C64Games
2
02. January 2010 - "bad" 1837 downs
Lemon64
8.5
02. January 2010 - 15 votes
Ready64
6,0
9. February 2020 - 2 voti
fmatic: "Even Uuno Turhapuro Muuttaa Maalle is a one of the finest finnish made product. Game itself is very, very difficult. Way too difficult. I'm quite sure it's one of the hardest C64 game ever"!

Longplay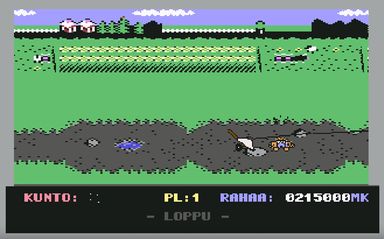 Ivanpaduano - 215000 - 1 (10.02.2020)
FXXS - 95000 - 1 (21.06.2020)
Riemann80 - 35000 - 1 (10.02.2020)
Videos