The Bard's Tale II: The Destiny Knight
From C64-Wiki
| | |
| --- | --- |
| TO | This article has recently been imported from the German C64-Wiki and not been translated yet. Please come back at a later time to read the English version of this article or help us. |
Voting of the C64-Wiki users (10=the best vote):

7.60 points at 10 votes (rank 195).


You need to be logged in to cast a vote.
C64Games
8
7th April 2015 - 8 out of 10 points - 20166 downs
Lemon64
4
7th April 2015 - 4,1 out of 10 points - 39 votes
Description
[
edit
]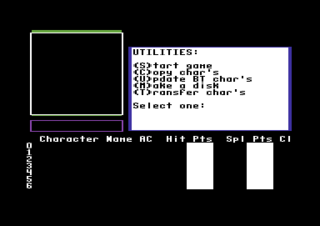 The Bard's Tale II: The Destiny Knight is a computer fantasy role-playing game written by Michael Cranford with Interplay Productions and released through Electronics Arts in 1986. It is the sequel to Tales of the Unknown: The Bard's Tale also by Interplay Productions.

Screenshots
Until some infos are entered here, I recommend the webpage BardsTale.Brotherhood.de.
Solution
[
edit
]
Words Of Wisdom
Near
Earth
Endurable
Compassed
Death Sword
Fountain
Kazdek
Mangar
Dervak
Pass
Wise One
Wise
Fred
Staff of War
Havoc
Zen Master
Still
Staff of Old
Arkast
Gale
Storm Fist
Aram
Freeze
Please
Enter the statistics screen for the first character and pool the gold from the entire party to this individual. Remove this character from the party, then load him again. Pool all of the gold to the next character in the party. Repeat this procedure for all party members, then turn off the computer without saving the game. When the game is reloaded, every character will have an amount of gold equal to that previously pooled by the entire party.
Run into Brockters in Oscon's Fortress, preferably around 5 or so. Make sure you cast DIIL unless your guys are strong enough to disbelieve the creatures they summon anyways. Anyways, keep defending with everyone for a lot of turns and they keep casting creatures that you disbelieve, do this for long enough and you get tons of experience. I did this once and got around 614,500 experience points from 5 Brockters.
Critics
[
edit
]
ACE (Advanced Computer Entertainment) April 1988: "Highly recommended for all those who fancy a spot of battle and bravado in foreign lands - the emphasis, it must be admitted, is more action than IQ, but who could resist."
Miscellaneous
[
edit
]
Youtube Video of Bard's Tale II
Highscore
[
edit
]
Highscore is the highest experience value. The game must be started with a newly created hero group.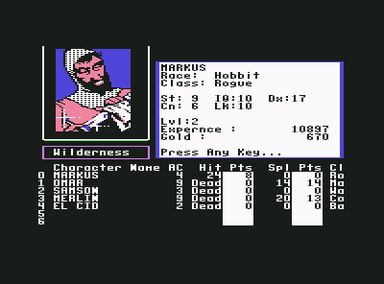 Ivanpaduano - 10.897 - 2 (30.08.2019)
Shmendric - 298 - 1 (18.08.2015)
Leer - 0 (tt.mm.jjjj)