Gremlins
From C64-Wiki
Voting of the C64-Wiki users (10=the best vote):

5.53 points at 17 votes (rank 699).


You need to be logged in to cast a vote.
C64Games
7
2nd February 2008 - "very good" 2658 downs
Lemon64
6,8
2nd February 2008 - 19 votes
Description
[
edit
]
In this arcade game it is your task to collect the Mogwais (small teddy bears). But as it is seen in the movie, they must not be fed after midnight or else they turn into dangerous Gremlins. If they get in touch with water, the Mogwais and Gremlins multiply. After some time the Mogwais change to Gremlins and attack you. You have one hour each night until 6 o'clock when the night is over. You have finished the level (night) prematurely, if you have collected all Mogwais and defeated all Gremlins.
The game Gremlins has a 2D game area the size of one screen (no scrolling) and view from the top with well animated sprites, fitting sound and music, nut unfortunately no highscore list.
Controls
[
edit
]
F1

  - show options

F3

  - change number of players (maximum 2 players), view demo

F5

  - choose level, the higher the number behind "Starting Night", the more difficult the level
During the game:
SPACE

  - pause on/off

F7

  - release a camera flash, to paralyse everyone for a short time

F1

  - abort game
Use joystick to move into the corresponding direction and press fire button to hit with the weapon. The Mogwai and the food are collected by walking over them
7 points for each collected food
100 points for each defeated Gremlin
9 bonus points per minute before 6 o'clock in the morning
For each collected Mogwai you get the following bonus scales each day:
50 for one + 100 for the second, 150 for the third and so on.
After every 10.000 points you get an extra life.
Solution
[
edit
]
As Mogwai and Gremlins do not differ much from human children, switch on the TV. They will be glued to the televeions and you can collect them more easily or defeat them with the sword.
You can carry only one Mogwai.
Critics
[
edit
]
Sledgie: "Nice arcade game. Can be played along the way. Brings back memories about the movie. From my point of view well done."
Guybrush: "Unfortunately, I do not agree. Here the material of an iconic movie was unfortunately cobbled up to a rather sloppy game. Only 3 pointies from me."
Rockford: "The game was and is a hit. But strangely I cannot associate it to something particular. The thing with the flash was by the way new to me. It is played well and excitingly, the graphics are nice and somehow swinging the saber is lots of fun. 7 points. But I am pessimistic about Sledgie's highscore. ;)"
Robotron2084: A boring yawn-game of the nastiest type. The horribly touchy collision query is paired with a game speed that reminds of a 20 year old sleeping pill. It is supposed to be a mixture of Gauntlet and Smash TV and fails depressingly at its own inertness. But it looks o.k. and sounds nice. It could have been SO good, but it is only an unfunny joke. What a pity! 4 points are appropriate."
Blubarju: "As a huge fan of the movie it is also great fun for me to play the game. In the higher levels the speed gets very slow due to the great number of Gremlins and Mogwais, but I can live with that. Unfortunately, you often lose one of your screen lives because the controls do not react that fast. But all in all 6 points!"
Miscellaneous
[
edit
]
Cover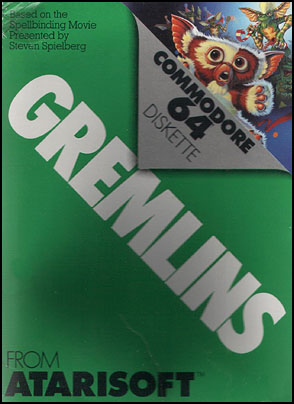 Highscore
[
edit
]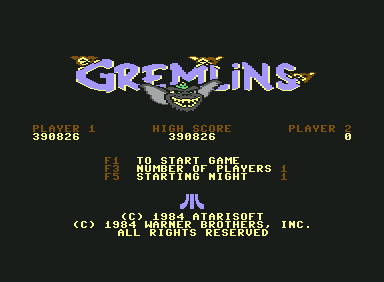 PAT - 390.826 (25.02.2017)
Rockford - 369.641 (18.12.2016)
Blubarju - 168.774 (23.12.2009)
TheRyk - 47.353 (18.06.2014)
Sledgie - 16.257 (10.01.2004)
---