Frankie Crashed on Jupiter
From C64-Wiki
Voting of the C64-Wiki users (10=the best vote):

6.00 points at 4 votes (rank 696).


You need to be logged in to cast a vote.
C64Games
8
18. June 2018 - 20126 downs
Description
[
edit
]
Frankie Crashed on Jupiter is a slightly whimscial text/graphical adventure. As the name suggests, a certain spaceship called Frankie (see title screen) crashed on Jupiter. If it wasn't Jupiter, you could call it "normal", but Jupiter is a gas giant, after all. However, the things you have to collect in the ship and assemble in order to get a code word, is rather aloof. Curious? Just beat the game, and you will know it as well ...
A typical text/ graphical adventure with, to some extent, beautiful pictures (the screen is divided, upper half the image, lower half text input/output). There is a seperate picture for every scene. A time limit to type in your command does not exist, but your inventory is limited to 7 items. You cans ave your game on disk (use only a seprate savegame disk!). Difficulty is not too high, so the game is quite ideal for beginners.
The controls
[
edit
]
The game is controlled soley by keyboard commands, using only letter and number keys. INST-DEL  erases the last character in front of the cursor, RETURN  finished your input. The game uses a two word parser, i.e. verb and object have to be typed in. An example of a command understood by the game: "EXAMINE BEDS" or "CONNECT COMPUTER". Tehre are also special commands for which a single character is sufficient.
Commands
[
edit
]
Special commands: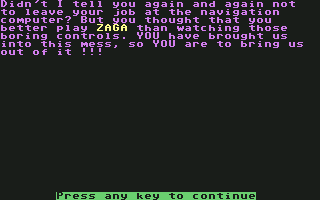 N, S, E, W, SW, NE, U, D
Directional commands (north, south, east, west, southwest, northeeast, up, down).
"I", "INVENTAR"
Displays all objects you are carrying at the moment.
"SAVE GAME"
Save game (Save only on a dedicated savegame disk (empty disk)!).
"LOAD GAME"
Load game.
"X", "EXAMINE", "LOOK"
Show room description.
"X item", "LOOK Gegenstand"
Examine item more closely.
"GET item"
Take item and put it into the inventory (7 items at max).
"DROP item"
Take item from the inventory and drop it.
Some verbs and objects
help, get, examine, insert, move, open, light, pour, drop, connect, turn, wear, press, give, start, say.
floppy, card, cup, dress, beds, ring, card, painting, disk, vault, food, lighter, water, cable, drill, battery, monitor.
Walkthrough
[
edit
]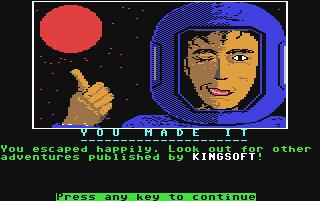 If a disk has two write-protect notches, and both have been taped, you could argue that both sides of the disk were used to save data.
Without space suit and oxygen it is not recommended to open an airlock ...
tehre is a rumour going on that there are monsters on the planet which are specialized on fastfood...
An abandoned vehicle was probably left due to some kind of defect...
To get into the saving station you need a password (now where do you save passwords again? *ponder*,*thinking*)
A map for this adventure can be found here
Step by Step
[
edit
]
E, S, W, W, GET FLOPPY, E, GET CARD, S, S, D, S, S, GET CUP, W, GET DRESS, EXAMINE BEDS, GET RING, E, INSERT CARD, E (Captains Control Room), GET LIGHTER, MOVE PAINTING, OPEN VAULT, EXAMINE VAULT, DROP RING, GET DISK, W, N, LIGHT LIGHTER, POUR WATER, DROP CUP, EXAMINE CABLES, GET CABLE, N, N, W, DROP JOYSTICK, DROP FLOPPY, DROP CABLE, E, E, E, OPEN DRIVE, EXAMINE DRIVE, GET DRILL, D, SW, GET MONITOR, DROP LIGHTER, NE, U, GET BATTERY, W, OPEN CASE, DROP DRILL, EXAMINE CASE, GET PRINTER, EXAMINE PANEL, GET 64, W, W, DROP 64, DROP MONITOR, DROP PRINTER, CONNECT COMPUTER, TURN DISK, INSERT DISK, GET LISTING, E, S, S, S, GET FOOD, N, N, N, N, U, GET TANKS, D, S, S, W, WEAR DRESS, WEAR TANKS, CONNECT TANKS, PRESS RED, D, D, U, U, GIVE FOOD, GO CAR, INSERT BATTERY, CONNECT BATTERY, START CAR, N, SAY KINGSOFT.
(Adventure solved... You made it...)
Cheats are not need for this adventure.
Critics
[
edit
]
H.T.W: "Auch so ein typisches "Kingsoft"-Adventure mit Minimal-Parser und nicht so wirklich spannender Handlung. Dem Titel nach erwartet man hier alles, nur nicht eine Schnitzeljagd im Raumschiff. Die Grafiken sind aber für die damalige Zeit sehr gut ausgeführt. Insgesamt ein mittelmäßiges Adventure für zwischendurch (Trotzdem schön, wenn man das 33 Jahre später immer noch durchspielen kann).
Step-by-Step-Lösung korrigiert und durchgespielt mit der Version von "Gamebase64.com" (CRC = 7d9a0232)."
Miscellaneous
[
edit
]
Cover
Highscore
[
edit
]
The fewer turns needed, the better.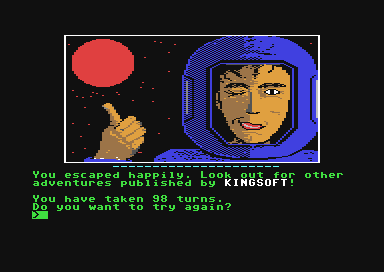 H.T.W - 98 (21.06.2018)
Niemand - 0 (tt.mm.jjjj)
Leer - 0 (tt.mm.jjjj)
Weblinks
[
edit
]