Enduro Racer
From C64-Wiki
Voting of the C64-Wiki users (10=the best vote):

5.56 points at 25 votes (rank 692).


You need to be logged in to cast a vote.
C64Games
7
6th December 2008 - "very good" - 5499 downs
Lemon64
4,8
6th December 2008 - 53 votes
Kultboy.com
7,19
26th June 2011 - 16 votes
ZZap64
16%
Issue 7/87
Description
[
edit
]
The arcade machine of Enduro Racer was the follower of the classic "Hang On" and offered probably the first "three-dimensional" bike race in which you also drove over crests. In the conversion for the C64 this effect is only vaguely perceptible. There are altogether 5 tracks (level) which differ in routeing, the obstacles and the theme (water, desert, etc.). During jumps over obstacles you should drive on the rear wheel to avoid loss of speed. The time limit for each track is 65 seconds. If the finish line is not reached within the limit, the game ends with an evaluation that contains a table with the needed time for each track.
While the pseude 3D track is shown relatively fluently, the obstacles and objects jitter at the rim of the track and are displayed with partially blocky graphics. Unicoloured opponent bikes, but in return good sound and music in the game and good title music. The highscore list is unfortunately not saved in the original.
After the start of the game, the highscore list is shown in turn with the title screen. By pressing the space key the game is started, after pressing the key "R" the keyboard settings can be changed
/

A

 
Speed up
/

Z

 
Wheelie (drive on the rear wheel)
/ ,  
steer left
/ .  
steer right
/

Space

 
brake

H

  /

Run/Stop

 
pause

R

  /

F7

 
Reset
Points are calculated by driving time and overtaken vehicles.
After finishing level 5 you get an extra bonus of 10.000.000.
Solution
[
edit
]
Before a jump you should pull the joystick backward to drive on the rear wheel, as otherwise you will lose speed.
Do not drive next to the street as the speed lowers drastically.
Rocks, trees, etc. must be avoided (crash).
Critics
[
edit
]
Sledgie: "Nicely made racing simulation, but not quite my taste. My son "Link" on the other hand, had a lot of fun with the game."
Guybrush: "Classic arcade racing game à la Outrun, but only with autocycles and through the botany. Cool sound, unfortunately only one track. 7 points from me."
Rockford: "The sound can pass without any complaints. But the abysmally ugly and at the same time jittery graphics makes one get some feelings, but they do not include the feeling of speed. Only an equally ugly track, lowly feel of driving... 4 points, 3 of them due to the music. Out Run and "Hang-On", both also by Sega (!) show that this can be done better.
Miscellaneous
[
edit
]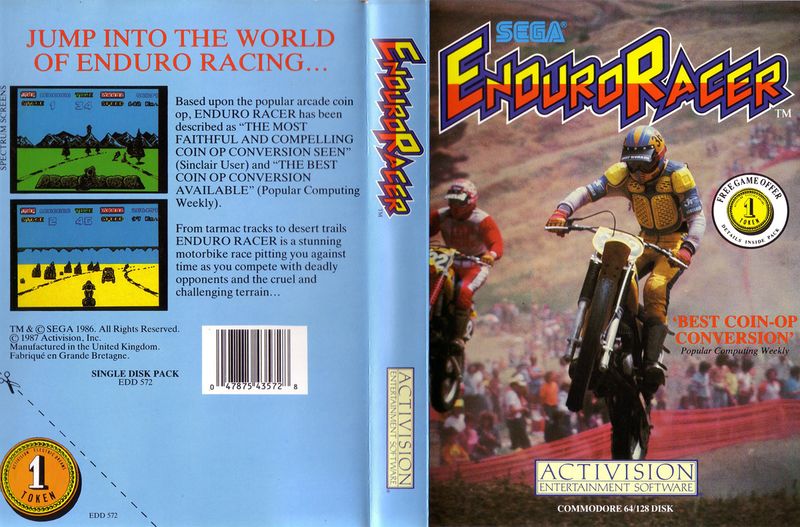 Original disk
[
edit
]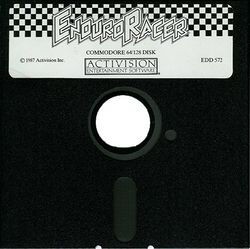 Highscore
[
edit
]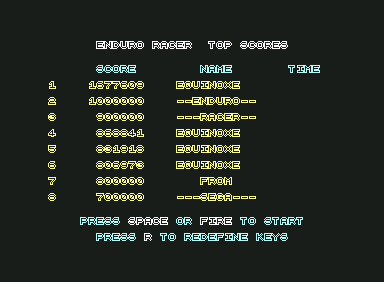 Equinoxe - 1.677.609 (01.05.2011)
H.T.W - 1.508.640 (26.09.2010)
TheRyk - 1.338.589 (13.02.2011)
Equinoxe Junior - 909.599 (12.09.2011)
Werner - 909.071 (06.01.2007)
Keule - 894.166 (02.12.2012)
Sledgie - 367.928 (10.01.2004)