Commodore 128
From C64-Wiki
The C128 (also known as "Commodore 128", also CBM128 or C=128) is the successor and the "big brother" of the C64. It was not only developed as a home computer, but also an office computer. It is almost entirely backwards compatible with the C64 and has two processors: one MOS 6502 variant and one Z80. The Z80 processor enables it to run the CP/M operating system, as well as any CP/M software. In addition, the C128 has more free working memory, a built-in reset button, an additional numeric keypad, a machine code monitor and a higher display resolution.
The C128 has three modes:
BASIC 7: available after turning on the C128
BASIC 2: C64 mode, available after entering GO64 or holding down the C= key at startup
CP/M+ version 3.0: available after inserting and loading the CP/M system from disk drive
In 1986, the C128D was introduced, which integrated the C128 and 1571 into a single case that resembled a desktop PC. The C128D and later the C128DCR also had a detachable keyboard, the only C64/128 variant to have one.
The C128 will automatically boot from drive 8 if a disk is in the drive while the computer is turned on.
In Germany, a total number of 284,300 units were sold, while about 4.5 million units have been sold worldwide.
Construction
[
edit
]
The C128 has following connectors, switches and interfaces:
Right side
[
edit
]

Game port (Control port) 1; 9 pin Sub-D connector for connecting a joystick, light pen, mouse or paddles
Game port (Control port) 2; 9 pin Sub-D connector for connecting a joystick, mouse or paddles
Reset switch
Power on/off switch
Power connector (Power; 5 pin angular) for the power supply)

Main memory expansion (Expansion port; 44 pin; I/O) for connecting cartridges
Cassette/Datasette port (Cassette port); 12 pin; I/O) for connecting a Datasette drive
Serial bus interface or Serial Port (IEEE-488; 6 pin; I/O) for connecting disk drives or a printer
Audio/Video connector (8 pin; I/O) for connecting a monitor/TV in 40 char mode,
Antenna connector for connecting to TVs in 40 char mode (left of it: L-H for channel adjustment (optional)).
RGBI connector (9 pin, output only) for connecting an RGB or monochrome monitor in 80 char mode.
Main board
[
edit
]
Processor: HMOSII 8502 with about 1.02 or 2.04 MHz memory clock, Z80B processor 4 MHz version with 2.04 MHz clocked
Memory: 128 KByte RAM on two 64 KByte Chips (expandable internal on max. 256 KByte, external max. 640 KByte), from this are 38,911 or 122,365 Bytes free for use under BASIC

Picture frequency memory VDC-8563 (16 KByte video RAM)
Color memory 8564 (4×2 KByte)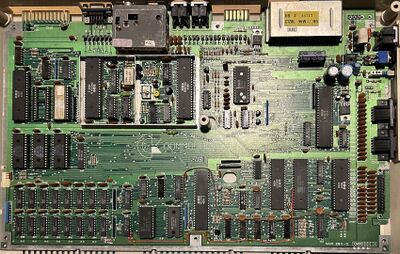 ROM: 64 KByte, split:

C128 mode (64 KByte), Commodore BASIC V7.0 (48 KByte in 2×16 KByte Chips), KERNAL (16 KByte) and C128 BIOS (16 KByte)
CP/M BIOS (4 KByte)
Special character set NMOS-ROM (8 KByte)
Free connector for 32 KByte ROM (e.g. EPROM or additional character ROM)

Video:

The VIC-II or VIC-8564 for the 40 character mode has the ability for 25 (rows) × 40 (columns) characters (singlecolor and multicolor) in text mode (either big letters/graphic signs or big/small letters) or in graphic mode (HiRes) 320×200 pixel in 16 colors, 16 frame colors and 16 background colors or Multicolor mode (4 colors) 160×200 pixel, as well as 8 Sprites (singlecolor or multicolor, 24×21) displaying.
VDC-8563 for 80 character mode 25 (rows) × 80 (columns) with 16 colors, 8 character attributes, 16 frame colors and 16 background colors in text mode (either big letters/graphic signs or big/small letters) or in graphic mode (HiRes) 640×200 pixel singlecolor or 640×400 interlaced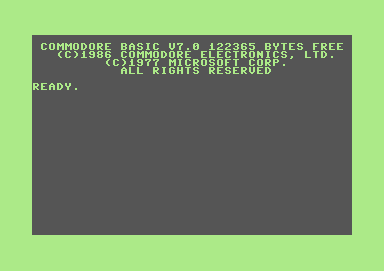 Audio: SID 6581/8580

Sound generator for three voices, 0-4 kHz
4 wave forms per generator (Sine, Triangle, Pulse, Noise)
3 amplitude modulators, 48dB
3 ADSR envelope generators
Oscillator sync
Ring modulation
Programmable filters (low, band-pass, high-pass or notch filter)
Random generator
2 connections for potentiometers
Audio inputs

Keyboard: 92 keys (QWERTY/QWERTZ), which are multiple reserved, with numeric keypad, German keyboard with DIN mode and
<ESCape>, <TAB>, <ALT>, <CAPS LOCK/ASCII+DIN>, <HELP>, <Line Feed>, <40/80-DISPLAY>, <NO SCROLL>, the Function buttons are predefined
Miscellaneous: 2 CIA-6526 for the I/O control (Input/Output), IC for memory management MMU-8722
Function Keys
[
edit
]
The C128/D/DCR function keys are normally:
An overview or a modify of the function keys follows through the BASIC-command KEY in direct mode or in programs. After a reset or a reboot are the normally function key configuration active.