B.C.'s Quest for Tires
From C64-Wiki
Jump to navigation
Jump to search
B.C.'s Quest for Tires

Game No.
50
Voting
7.52 points, 50 votes
Developer
Company
Sydney Development
Publisher
Sierra Online, Stars, Mantra Software
Release
1983
Platform
C64, ZX Spectrum, MSX, Atari 400/800, ColecoVision, Apple II, PC
Genre
Arcade, Weird!
Gamemode
Single player
2 players (in turns)

Operation
Media
Language
Information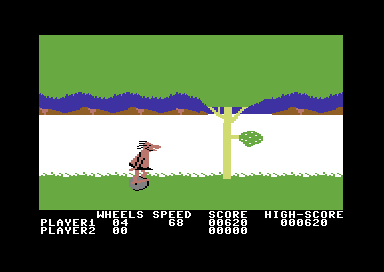 Thor, the inventor of the Stone Age unicycle from the comic series "B.C.", has to rescue his girlfriend. He wobbles over meadows and hills, through forests and caves. On the way he has to jump over stones, holes and logs and duck under low hanging branches and stalactites. Betweeen the individual sections there are "end obstacles":
the crossing of a river using turtles and tricking the woman with the club... (see picture)
the crossing of lava by gripping to a birds feet
the maximum speed-jump over a river
the crossing of a river using turtles and tricking the dragon...
Finding the way into the heart of the girlfriend with the following new start at a higher speed and extra life.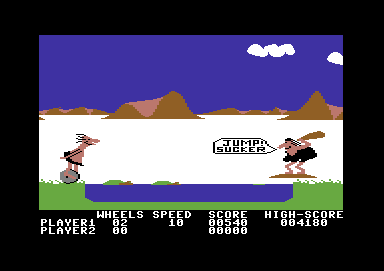 Spartan comical graphics with a bumpy scrolling and only a minimum of sound do not prevent that you can have some fun with this game... The scrolling is continuous, the character can only be steered further to the front or to the back. Independently you can also raise or lower the scrolling speed...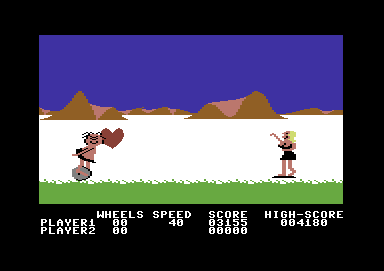 F1

  = start the game

F3

  = choose level

F5

  = one or two players

F7

  = pause
The game is operated by joystick in port 2.
Right: character further to the front
Left: character further to the back
Up: jump
Down: duck
Fire+right: higher "speed"
Fire+left: lower "speed"
10 points for every "static" obstacle
15 points for rolling or falling stones
points multiplied by two at "speed" between 30 and 48
points multiplied by three at "speed" between 50 and 68
points multiplied by four at "speed" between 70 and 80
100 points for cliff jump
200 points for river/lava crossing
Bonus life at the end of the level (heart)
POKEs
POKE 7341,x    - number of lives
POKE 40464,0   - unknown
POKE 14864,0   - unlimited lives
POKE 11485,125 - unlimited lives
POKE 13631,0   - stones are ignored
SYS 28684      - restart game
SYS 2240       - restart game

Voting of the C64-Wiki users (10=the best vote):
7.52 points at 50 votes (rank 253).
You need to be logged in to cast a vote.
C64Games
7
13th February 2007 - "very good" 7231 downs
Lemon64
7,35
13th February - 72 votes
Rombachs C64-Spieleführer
8
September 1984 - "Voting 2"
ZZap64
57%
Edition 5/85
FXXS: "Nice "roll & jump" for in between with a relatively easy entry difficult level. 7 points."
Rombachs C64-Spieleführer: "Mentally retarded Neanderthals armed with clubs need to get outwitted and hits by stones were far from rare in these days. In short, the Stone Age biker has not an easy time and especially not the player. The characters are due to their funny animations suited to cause cheeriness. A versatile and difficult game, where success can only be seen after some practice and trying out. (Voting 2)."
Shakermaker303: "Alas, this was always nice. I liked the guy, who bravely rushed towards the cry for help, no matter what oh so great dangers were approaching him. The sound was cute, I so much liked the sound while hopping or ducking in combination with the rolling stone. A game that really everybody can play, funny graphics and cute game ideas. Even my old dad liked it, although he basically despised computer games. The ending sequence wiht the woman was also cute, where the heart came flying to him :-). For me personally the full 10 points."
Klaws: "One of the games, that keep stuck in your memory. Of course mainly because of the amusing character, but also because playing it was simply fun. Even after a few years you galdy search out the game again. Graphics and sound probably won't win a prize, but they fit the game. I give 9 out of 10 points."
Blubarju: "This one and Kaiser were the first games that I have played on a C64. At that time it was at a friend's, who curiously always named this game Oerm. Well, probably due to the funny soundFXs while jumping. Overall well-done! 8 points."
BC's Quest for Tires is based on the comic strip B.C. by Johnny Hart, which appears on a daily basis in US newspapers since 1985.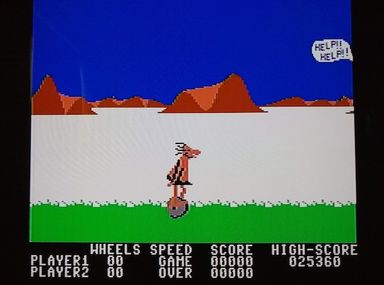 Mindless - 25.360 (24.02.2019)
Camailleon - 21.045 (15.08.2010)
Helmutx - 18.740 (14.08.2010)
Werner - 9.565
Ivanpaduano - 9.345 (06.07.2018)
FXXS - 8.835
Blubarju - 5.790 (11.04.2009)

Videos