U-101
From C64-Wiki
Jump to navigation
Jump to search
| | |
| --- | --- |
| | This article or section is in the process of an expansion or major restructuring and is therefore classed as a work in progress. You are welcome to assist in its construction by editing it as well. If this article or section has not been edited in several days, please remove this template. |
U-101 is a submarine simulator for Commodore 64 that was created 1986 by Mika Larramo in Sweden.
In this game you are a commander of an attack submarine and your mission is to fight surface ships that prepare to attack a country. There are 5 types of ships in the war zone: destroyers, battleships, aircraft carriers, cargo ships, and a depot ship where you can get more fuel and more torpedoes.
The graphics is quite simple, but it is nevertheless a very functional and exciting submarine simulator. Below is a screen dump from the game.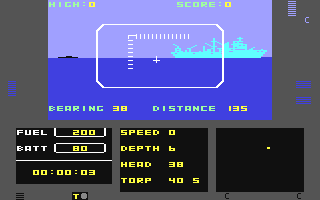 The ship in the cyan color that is shown when the game starts is your depot ship. From this ship you can refuel and get more torpedoes, when needed. To be able to refuel and obtain more torpedoes, the distance to the ship must be less than 20 metres and the speed must be 0.
The game uses both joystick and keyboard to operate the submarine. The picture below shows the joystick commands and keyboard commands that the game uses.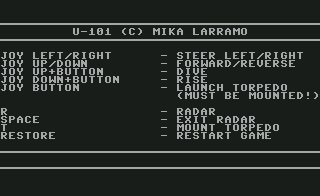 When you press the R button, a radar is shown on the screen. On the radar you can see if there are other ships nearby. You can close the radar by pressing the Space bar.
Before you can launch a torpedo, it must be loaded in the torpedo tube. A torpedo will be loaded to the torpedo tube when you hit the T key on the keyboard. The green lamp to the right of the letter "T" on the screen will be lighted when a torpedo is loaded and ready to be fired.
Here you can write a solution method, walkthrough or something similar.
Here you can add cheats (e.g. Pokes).
Voting of the C64-Wiki users (10=the best Vote):
5.00 points at 1 vote.
You need to be logged in to cast a vote.
C64Games
7
20. Juni 2006 - 2989 "very good" downs
Lemon64
7,2
9. April 2004 - 66 votes
Gamebase64
10
Mai 2005 - "Classic!"
Rombachs C64 game guide
7
September 1984 - "Rate 3"
Further votings of other C-64 pages could be added if available. The reader can see right away, if the votes differ much or if on the whole everyone votes the game as equally good or bad.
User: "Here authors and everybody who likes can write his personal opinion and other things about the game. There may be hints to a school mark."
Here all other topics concerning the game are added (e.g. the cover).