Bundle
From C64-Wiki
Jump to navigation
Jump to search
In the computer sector, bundle is the name for the sale of hardware with additional software such as games or applications. In the early years the sale of expensive hardware was pushed this way, with a commercial effect by putting reduced or even free of charge, high quality full versions to the bundle.
Some examples:
Later, special software versions were included, that query the computer for the corresponding necessary hardware element during installation or when starting the computer. If the hardware element is not available, the software does either only run with restrictions or not at all.
Meanwhile, combinations of different hardware parts or also of different independent programs are also named "bundle" in advertisements. Especially, the sale of computer games as bundle was and still is very popular, in particular as games collections.
Commodore 64 bundles
[
edit
]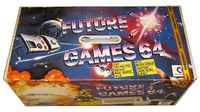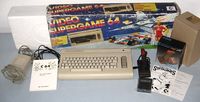 The following bundles were released together with a Commodore 64, which were also named set, edition or package, often as a special sale for special events as e.g. the European Cup or World Cup of soccer or as sale of stock remainders.
Bundle for the European Soccer Cup 1984
1984/85: Commodore 64 Computer Compedium 1984/85
1987: Future Games 64
1987: Commodore 64 Powergames or "COMPUTER AND VIDEOGAME IN ONE"
1988: Video Supergame 64
1990: Commdoore 64 Power Play or Computer Entertaiment System
1990: Commodore-Paket Action-Box or Power Play II
1990: Commodore C64C Hollywood
1990: Commodore C64C Fantastic and Commodore Light Fantastic
1990: Commodore C64C Mindbenders and Night Moves
1990: Commodore C64C World Cup Football
1991: Commodore C64C Playful Intelligence
1991: 1987: Commodore 64 Terminator 2 or "COMPUTER AND VIDEOGAME IN ONE"
1991: Commodore C64 Terminator 2 - Judgement Day I've Returned
1991: Commodore C64C Testpilot