Bad Moon Rising
From C64-Wiki
Jump to navigation
Jump to search
| | |
| --- | --- |
| | This article or section is in the process of an expansion or major restructuring and is therefore classed as a work in progress. You are welcome to assist in its construction by editing it as well. If this article or section has not been edited in several days, please remove this template. |
Bad Moon Rising is a multi event game for the Commodore 64, released by Psytronik on April 19th 2021.
The game follows the adventures of ESA astronauts David Settler and Rey Lopez who are confronted by nazi forces on the moon. It was created by Stephan Katteneder (Programming and Graphics) and Saul Cross (Music and Sound Effects).
Here you can add hints for the game. E.g. which keys are used, which joystick movements are needed. Pokes, cheats, solutions etc.
Here you can write a solution method, walkthrough or something similar.
In the CSDb exists some version with trainer.
Voting of the C64-Wiki users (10=the best vote):
No votes yet.
You need to be logged in to cast a vote.
C64Games
7
20. Juni 2006 - 2989 "very good" downs
Lemon64
7,2
9. April 2004 - 66 votes
Gamebase64
10
Mai 2005 - "Classic!"
Rombachs C64 game guide
7
September 1984 - "Rate 3"
Please adapt the votings of this article to your game!
Rombach C64-Spieleführer: Only for games from the 80's and games that haven been evaluated in both books!
Other votings only from databases, if the game is listed there, otherwise put in "??"!
Further votings of other C-64 pages could be added if available. The reader can see right away, if the votes differ much or if on the whole everyone votes the game as equally good or bad.
User: "Here authors and everybody who likes can write his personal opinion and other things about the game. There may be hints to a school mark."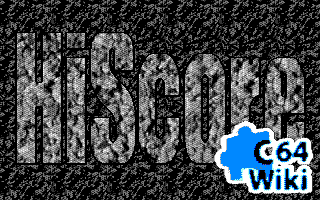 Nobody - 0 (dd.mm.yyyy)
Nobody - 0 (dd.mm.yyyy)
Nobody - 0 (dd.mm.yyyy)

Every player can only be in the table with one score. The table should not have more than 10 entries.
Videos