Archer MacLean
From C64-Wiki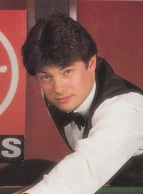 Archer Maclean is a UK-based games programmer who started writing games as a "whizz kid" teenager in 1977, with a simple machine code racing game called "Death Race" for the Nascom 1 and 2 - Z80 based home computers popular at the time.
His first worldwide success was Dropzone on the Atari 400/800 and C64 home computers, released in 1984 and 1985 respectively. After that he wrote and produced International Karate in 1986, rebranded "World Karate Championship" in the USA, and its highly popular sequel "IK+" in 1987, rebranded "Chop N Drop" for the USA market. Next came 16 bit versions of IK+ onto the Amiga and Atari ST, released in 1988. This was followed by a series of landmark 3D snooker and pool games endorsed by the UK snooker champion, Jimmy White, starting in 1991. This spawned a numerous conversions which kept him busy through to the graphically impressive "Cueball 2" in 1998 and "Cueball World" 2001. Then came "Pool Paradise" in 2004, and the multi-award winning "Archer Maclean's Mercury" for the PSP.
Since starting his career he has programmed or produced games titles for Atari 400/800, C64, Amiga, Atari ST, PC, Gameboy, GBA, GBC, Gamegear, PS1, PS2, GameCube, Wii and others. Many of his games have become Number 1 hits in the UK and Europe, and he was also the first European author to achieve a USA Billboard No.1 hit for "World Karate Championship" in Sept 1986. The only other UK author to hit the top spot is David Braben of "Elite" fame.
His games have won numerous awards over the past 30 years, including various "game of the year" categories, and he himself was voted "Games Programmer of the Year" 1991/2 at the annual Golden Joystick awards. He has regularly appeared on TV games shows promoting his games or speaking about his long career in the games industry, and his passion for collecting more 1970s and 1980s arcade games machines than anyone else in Europe. Outside of games, he is known for driving race cars around UK racetracks, and other extreme hobbies such as skydiving and trying his hand at being a trapeze artist.
He is still designing and producing games to this day, and is currently working on new game sourced on the Nintendo Wii, apparently with PS3 and Xbox 360 versions.
C64-Games (Selection)
[
edit
]
Weblinks
[
edit
]