Agricola
From C64-Wiki
Jump to navigation
Jump to search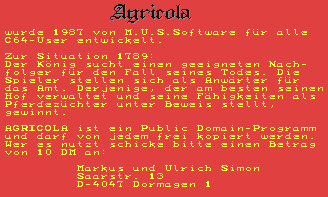 In Agricola you lead a live as a farmer in the 18th century, who has to make a big prosperous agrobusiness out of his small homestead, with the aim to be appointed the successor of a childless king of an imaginary state due to his achieved status. For this you have to upgrade again an again your farmyard in the area of agriculture, forestry, hunting and stock farming (milk cows and racehorses), but you constantly have to be careful to have the finance under control... if you are in debt once, you will never bounce back again.

The graphics are very fine, for a game that was developed by two "amateur programmers". Especially the small animated sequences (hunt, hoseraces) come along very cute.
Sound is negative report in this game , but which economic simulation does neeed such a thing? For games of this genre I generally rather liked to listen to CDs (or cassettes).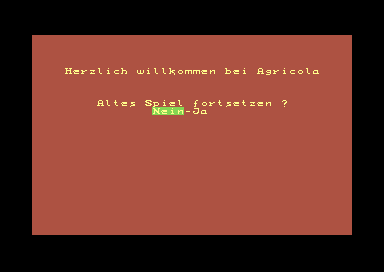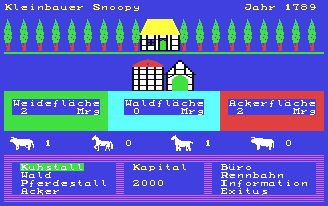 The operation takes place either alternatively with one or alternately with 2 joysticks and the keyboard. The handling is very easy but brilliantly functional. Very beginner-friendly is the number options, which is possible via joystick. This system is defintely copied from Kaiser.
As already mentioned, Agricola is the work of two brothers who programmed the game without the support of a major company and sold it as a Public Domain Product, i.e. everybody could copy the game freely and the one who used it, should pay 10 Marks to the programmers.
General rules:
In a silo you can store 1000 hundredweights of grain
In a barn you can accommodate 20 grown-up animals (horses, cows, oxen, bulls), furthermore for 20 calves
If there is too little place, the animals are automatically sold
Cows only get calves with stock bulls
Deer are better than wild pigs
Wild pigs are better than foxes
To cultivate 4 morgen of acre you need a horse and a plough
At the horse races you always bet on win
In the information the symbols mean:

"-" bad
"0" mediocre
"+" good
"++" very good
The basis for the income is formed by agriculture (with the focus on grain) and the cattle breeding (with selling milk and surplus animals), forestry has to be run for a successful game, but it is not lucrative. In the later course of the game you should try your luck as a race horse breeder, here whooping prizes are to be won, however, you have to invest lots of money in the breeding and training of the horse before that. At the race ground you can also bet, even if you don't have an own horse at the race. This gives you the chance of a high auxiliary income, but it can also rush a player into his ruin.
Tips:
Horse races:
"Rosinante" is a safe tip. (wins most of the time but not always)
Good horses are also: Wunderling, Archimedes, Agricola, Windhose, Pegasus, Mercator, Hosenmatz, Rubezahl, Eusebius and Bleifuss
Acre:
Grain is exposed to big fluctuations in harvest and prices. Thats why you make the biggest gain but also the biggest loss here. Acceptable price from M 95
Beet is very stable in harvest and price. Potatoes are in between
Cowshed:
At the beginnig buy as much calves as possible
A stock bull only pay off from about 10 cows
Forest:
In every round stub until only 90% of crop is left
Sell only when M is 12-15
Always hunt
Voting of the C64-Wiki users (10=the best vote):
6.79 points at 24 votes (rank 502).
You need to be logged in to cast a vote.
C64Games
7
1. Mai 2007 - "very good" 5958 downs
Guybrush: "I will factor out the fact that the basic story behind the game doesn't make sense at all. No farmer would have made it in 1789 to be king, the life peers would have made lots of stress. Apart from that, Agricola is a really profound and versatile game for the C64, which is very beginner-friendly, but by the extremely challenging degree of difficulty it is motivating for a very long time, as you get closer and closer towards the aim (to be king once) with every game step by step. Terrificly done and that is why I give the game full 10 points!"
blubarju: "A game, that doesn't need to hide from commercial games. On the contrary! There is hardly anything to critcise. Alone the high difficulty level due to lack of time (one has only about 35 years until the king dies, which corresponds to about 35 rounds) clouds the fun a bit. Full 8 points out of 10."
Helmutx: "I never got enough of this game. Especially with several players it is really fun, as there are altogether land areas for all players, which you can "snatch away" from each other. The ones that are not fast enough... The horse races and the hunting offer diversity and excitement. It is still today one of my absolute top games on the C64. I think this is mainly due to the difficulty level: hard, but not unmanagable. From me full 10 points!"
Agricola is the Latin word for "farmer".
Cover
no official cover released.
no highscore possible, as the game ends as soon as you are king