RUN (German)
From C64-Wiki
Jump to navigation
Jump to search
For the American computer magazine RUN, see RUN !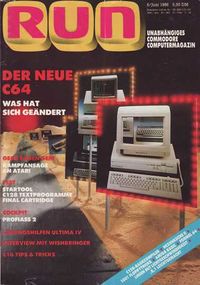 RUN was a German computer magazine, which was published from June 1984 to December 1987 (last edition 01/1988) by the publisher CW-Publikationen, which is a subsidiary company of the publisher IDG.
The information content was infos about hard- and software (games included), hints, coding languages and programlistings for different computersystems like C16, C116, C128, Plus/4 or Amiga, whereas the focal point was the Commodore 64. Since 1985 is exists for easy writting of the programlistings tools like "Supperkorrektor" (for BASIC) and "Checker für Maschinenprogramme" (for Assembler).