Pascal 64
From C64-Wiki
Jump to navigation
Jump to search
| | |
| --- | --- |
| | This article or section is in the process of an expansion or major restructuring and is therefore classed as a work in progress. You are welcome to assist in its construction by editing it as well. If this article or section has not been edited in several days, please remove this template. |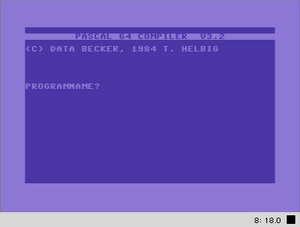 Pascal for the Commodore 64 (or short: Pascal 64) is a development system for Pascal. It contains one 5,25" floppy disk with the "Pascal 64 Compiler" and a manual binder round about 70 pages.
From the Preface page: "Pascal 64 contains even more capabilities which make use of the special features of the Commodore 64. Procedures are included for working with high-resolution graphics and sprites. In addition, Pascal 64 allows you to make complete and efficient use of the relative data management capabilities of your disk drive. Pascal 64 allows you to use strings of any desired length. Programs created by Pascal 64 are 10-20 times faster than equivalent programs written in BASIC, or even 30 times faster in some cases because Pascal 64 creates actual machine code."
The developement system contains one 5,25" floppy disks.
Minimum:
also:
The documentation of Pascal 64 is a 70-pages large manual.