David's Midnight Magic
From C64-Wiki
Jump to navigation
Jump to search
"David's Midnight Magic" is a multi-coloured pinball simulation for up to four players. It comprises all the usual elements as roll-overs, game with several balls (multiball), etc. You can also nudge the pinball table by pressing the corresponding key (English Play), but not too hard, or there will be a TILT. Success or failure mainly depends on the ability and level of training of the player. The pinball is built relatively simply and possesses only a few bouncing and rebounding devices. Coincidence is mainly excluded.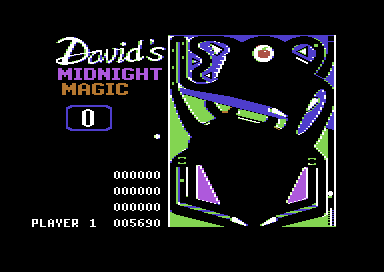 The game area is clearly defined and parted into two halves, of which each is equipped with a pair of flippers. In there are only simple sound effects. The bouncing behaviour and the course of motions of the ball were programmed very realistically.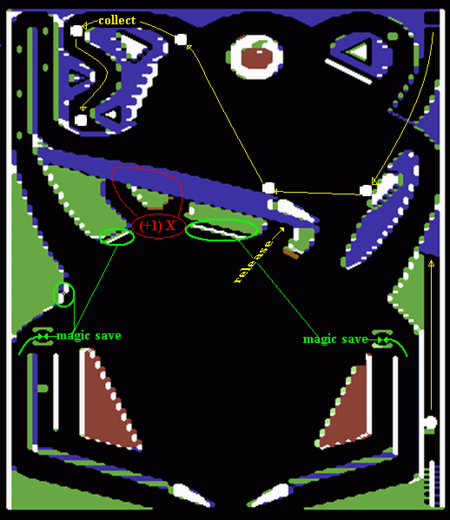 Multiball collector (YELLOW)
With a little bit of practice you can hit directly the collector after shooting a ball (see yellow arrows in the upper half of the pinball). For this you get 10.000 points, 10 bonus points and a new ball. When the third ball has been collected, all balls are automatically released. When the last ball has left the table by a side entrance, also all balls in the collector are freed (Last-Chance-Play)
Multiball activator (YELLOW)
This releases prematurely all balls collected until now (see "release" in the lower half of the pinball). Irrespective of this, you will get 5.000 points and 5 bonus points each time.
Bonus multiplier (RED)
Raises the number of bonus points calculations after loosing a ball. Wiht every calculation there are 1.000 Points per bonus points. At the fifth time the bonus will not be raised, but there will be an extra ball (shoot again).
"Magic save" (GREEN)
You can use a magnet to get the ball back into the game after the corresponding targets have been cleared. Both target rows give each 2.000 points and 2 bonus points.
Further points
Hit all 5 upper targets: 5.000 points or 5 bonus points. The targets are set to initial state.
Hit all 3 targets at the upper right: 3.000 points or 3 bonus points. The targets are set to initial state.
Orange targets: 250 points
White bumper (with apple): 500 points
Lower sidewise kicker: 300 points
C=

  in VICE:

Strg

 (left)
left flipper

Shift

 (right)
right flipper

Space

 
nudge table (tilt)

Z

 ,

X

 ,

C

 ,

V

 
activate left magnet (magic save)

M

 ,

,

 ,

.

 ,

/

 
activate right magnet (magic save)

Run/Stop

  in VICE:

Esc

 
pause mode

H

 
show highscore list

F1

 
change number of players (1 to 4)

F5

  or

F7

 
change lanuching power
Basically you should try to keep the ball in the upper half, as there are more points there and the risk of losing a ball is far lower.
By Remember there is a cracked version with two trainers:
unlimited balls
switch off Tilt
Now I have found the poke. Try:
Poke 34824,234
Poke 34825,234
Poke 4005,248
you won't receive unlimited lives but it makes the game MUCH easier. 1,000,000 points can be reached almost every few games."
Voting of the C64-Wiki users (10=the best vote):
7.98 points at 57 votes (rank 110).
You need to be logged in to cast a vote.
C64Games
10
28th July 2007 - "highlight" 6179 downs
Lemon64
7,2
28th July 2007 - 46 votes
Gamebase64
9
23rd June 2004 - 5/5 "Very Good"
Rombachs C64-Spieleführer
10
1984 - "Cremé de la Cremé" Vote 1+
Kultboy.com
9,15
19th July 2009 - 13 votes
Sledgie: "In DMM it primarily depends on the skill of the player. It is great fun for me and it has a high motivation to play it again and again. Graphically there could surely be more to it (see following version DMM2). But this is insignificant for the game. From me it gets the full 10 points."
C64Freund: "The best pinball that ever existed on the C64."
FXXS: "Consequently concentrated on the essential, it is always again fun to make a new try."
Easybeat: "10 points for this pinball. I can play for hours and it still appeals again and again. Especially when you make it to play with 3 balls!!"
Andy027: "Probably the best pinball of all times (not only on the C64), that goes on a computer. Even though graphics and sound don not show much, the fun is the biggest and also stays after a long time. This game is worth the 10 points to me (incl. NOSTALGIA BONUS)"
Goondoc: "I cannot fully share this euphoria. Without doubt is DMM a very nicely made and properly programmed pinball, but is is alos a bit boring. Some more targets and bumpers would have done no harm. The original "Black Night" pinball is a tick mire exciting. Hence 7 points from me."
Shakermaker303: "On the C64 I didn't know any other pinball that can hold a candle to DMM. The pinball appears cheaply and lovelessly constructed, but it was very gripping during playing. After all I had flippered about 700.000 points. 9 out of 10 points for the in my opinion best flipper on the C64."
Retro-Schulzi: "There are graphically much nicer pinballs than DMM, but concerning the fun there is nothing better. In 1988 I once had 1,5 Mio. points... unfortunately, I've never reached this again :(( 10 points!!!"
Robotron 2084 in Forum64: "DMM is a "cheap" (for the C64 of course a VEEEEERY good) copy of Williams' "Black Knight"." Probably nobody knew that, did you?" Description of Black Knight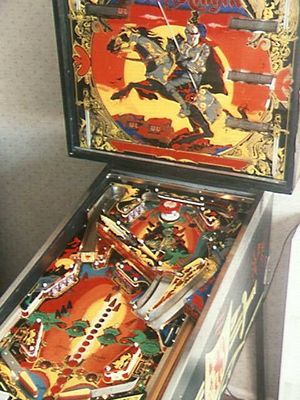 Inofficial follower by the group Fairlight: in principle the same pinball only with improved graphics and covered SID tunes... also the physical behaviour seems to have changed... Gamebase64.com - Game No. 2008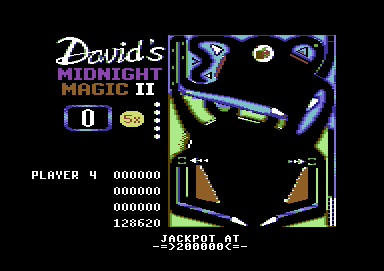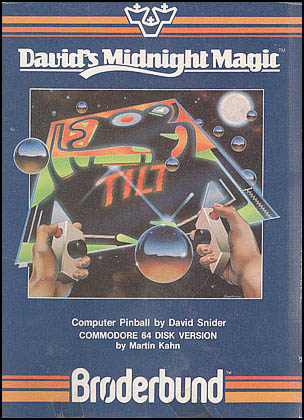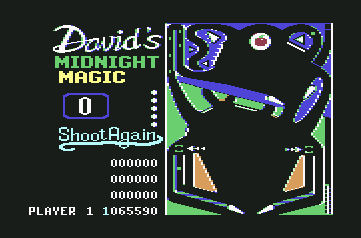 C64Freund - 1.065.590 (27.07.2004)
C64ever - 891.050 (18.06.2023)
FXXS - 889.640 (14.09.2013)
Bernhard - 884.410 (10.09.2004)
Mindless - 696.170 (??.??.198?)
C64ever - 672.740 (11.06.2023)
Ramon - 631.180 (10.07.2008)
Mailhunter - 606.704 (12.10.2006)
Dehryen - 502.670 (30.05.2010)
Jogi - 413.080 (19.11.2004)
Sledgie - 411.160 (03.06.2008)
---

Videos