Commodore Sound Expander
From C64-Wiki
Jump to navigation
Jump to search
| | |
| --- | --- |
| | This article is very short and not very detailed. Please help to improve it. |
The Commodore Sound Expander or SFX Sound Expander is a sound synthesizer cartridge with 9 voices for the Commodore 64. It was developed by Richard Watts. The synthesizer chip is a Yamaha YM3526 OPL, which can upgraded by a YM3812 OPL2 chip, which is also used by AdLib- and Soundblaster sound cards in PCs. This cartridge was produced by Music Sales Limited in the UK and marketed as "Commodore SFX series" by Commodore world-wide.
Installation
[
edit
]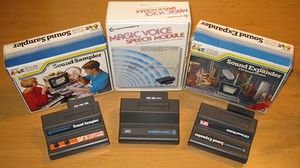 The cartridge is plugged in into the expansion port of a powerlesss C64. The audio plug can be plugged in into speakers or devices which have a speaker plug in. Also can added the external SFX keyboard with 61 keays and 5 octaves
A manual (user's guide) exists, but provides very little technical information. And also the audio lead book "Start Playing Keyboard - The SFX-Tutor" by Peter Lavender.
Programming
[
edit
]
TBD.
Construction
[
edit
]
Used Chips:
ROM : ?
RAM : ?
Dimensions: 53 × 140 × 135 mm
Weight: 315? g
Power Supply: 5 V= through C64 expansions port
Power: ca. ?? W
Ports:

Expansions port for connection other cartridges
Cinch for audio out
SFX interface for connection a external SFX keyboard.

Extras:

Chinch cable
Software "F.M. Sound Expander" (aka "Riff Machine") by Music Sales Ltd. on datasette or disk.
Songbook by Peter Lavender: "Start Playing Keyboard - The SFX-Tutor" (Music Sales)
Keyboard stickers

Optional extras:

Plastic overlay keyboard for using on C64 keyboard
Commodore SFX keyboard with 61 keys and 5 octaves
MID interface for other MIDI keyboards
Software: "FM Composer and Sound Editor" (2 programs with manual)
Other songbooks avaiable
Technical Details
[
edit
]
FM-Software
[
edit
]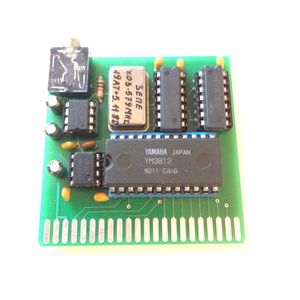 Since 2016 exists a "Sound Expander clone" by Krzysztof Iwanowski, which can bought for 25 Euro.[1]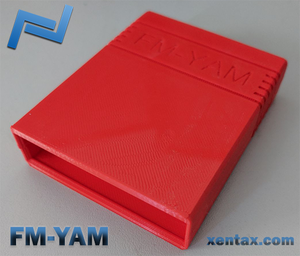 Xentax released FM-YAM [2] in March 2018. FM-YAM is a Sound Expander compatible with ym3812 (OPL2), audio in (to mix SID audio) and audio out (with FM and SID mixed). Over 200 cartridges have been sold to date. See MsMadLemon's review here: https://www.youtube.com/watch?v=Q32I0jk7THE. It also featured in the Zzap!64 Annual 2019.

References
[
edit
]

Videos