C64 Games System (Cartridge Collection)
From C64-Wiki
Jump to navigation
Jump to search
On the cartridge C64 Games System for the game console of the same name by Commodore was a computer games collection issued on one cartridge in 1990. It can also be used on a C64/128.
The follwing C64 games, which are a little modify, because the C64 GS hasn't a keyboard and has only 2 joystick ports, are on this cartridge:
Technical Details
[
edit
]
The black plastic case without screws is very easy to open, is very soft and has a weight of 40 g.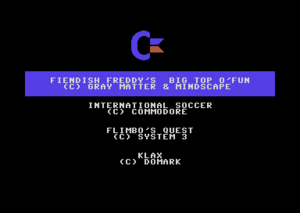 The dimensions of the board are only 58 × 34 mm. This was maked by SMD placement. The 512 KByte large ROM chip are 903327. The control logic is realised by the two chips (74HCT02 and 74HCT174).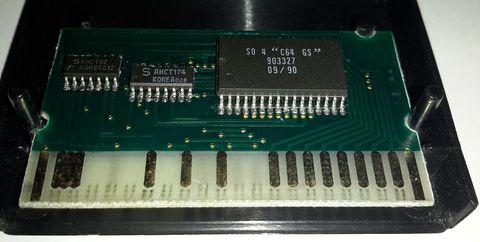 Circuit Diagram
[
edit
]