RR-Net
From C64-Wiki
| | |
| --- | --- |
| | This article is very short and not very detailed. Please help to improve it. |
RR-Net is a 10MBit network card originally designed to be used on the clockport of a carrier card like the Retro Replay, MMC64, MMC Replay but from the Mk3 version you can also plug it directly in the expansion port of the C64.

A second version with a different mechanical shape but full software compatibility was designed for the MMC Replay and also perfectly fits the Turbo Chameleon 64 cartridge.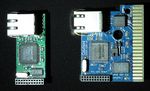 Using the RR-Net MK3 as a cartridge without carrier card does not work with C128, SX-64 and very old C64 mainboard versions.
Networking software supporting RR-Net
[
edit
]
Operating system
[
edit
]
Contiki
[
edit
]
Web-Browser
[
edit
]
Singular Browser
[
edit
]
Terminal-Programme
[
edit
]
GuruTerm
[
edit
]
Data transfer
[
edit
]
CodeNet
[
edit
]
Warpcopy
[
edit
]
HTTP-Load
[
edit
]
Netboot65
[
edit
]