Computer Monitor
From C64-Wiki
Jump to navigation
Jump to search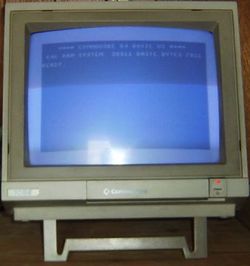 A computer monitor or short monitor is similar a television set (TV) an electrical visual display for computers to show the input data. It is the main output device and essential by working with computer systems.
The Commodore 64 had several monitors available for it, including:
Commodore 1701, 1702, 1084S, 1902, 2002
Philips CM8833
Sanyo DM2112
Some monitors, such as the Sanyo DM2112, were Monochromatic, while others were multi-colored.
Monochrome monitors: At the beginning monitors can be show the datas in one color (monochrome) as black, green, amber or white.
Multi-Color screen: In the 80s color monitors has got 16 or 256 colors.
LCD-, plasma-, LED- and TFT displays:
Commodore had produced this following monitor for Commodore homecomputers (RGB/VGA with colour screen):
1000
1024
1080
1084 /D/D1/D2/P/S/SD1/SD2/SD3/SP/SP1/ST/503 (14")
1085 /S
1402 monochrome
1403 monochrome
1404
1405
1407
1702
1802 (13")
1900 M (monochrome analog, 12")
1901
1930
1935
1936 /A
1940
1950
1960
2002
2080
75BM13 monochrome
75BM1300E
76BM13
A1081
A1981
A2024 b/w - monochrome
CD37
CM-141
DM602 green screen
DTX2001
M1 (monochrome digital, 12")
M1438S
MCL4333
ME10
PC-1901
PC-1902 /A
VC-1510
VC-1601
VC-1701
VC-1702
VC-1802 /D
VC-1804