Commodore 1084
From C64-Wiki
Jump to navigation
Jump to search
The Commodore 1084, which was originally developed for the Amiga, is a very good colour monitor for the Commodore 64.
With its many ports it can be used for connecting to many home and personal computers and can also be connected to video recorders, picture record players and TV tuners.
The Commodore 1084 has a good, sharp picture with luscious colours.
All the important settings can be changed over regulators at the front or the back. While the 1084 only plays mono, the model Commodore 1084S can also play stereo.
Due to its good price performance ratio the 1084 was (and still is) very popular.
With the help of a resting bracket you can flap back the monitor and with this change the viewing angle.
On the left side there is stereo socket (3,5 mm) for the headphone connection.

On/Off: press POWER button (I) (LED lights, if on).
Picture and sound settings (open the lid):
H. CENTERING - move picture from left to right horizontally
BRIGHTNESS   - brightness
CONTRAST     - contrast
COLOR        - colour saturation (not, when connected to RGB)
SHARPNESS    - sharpness (not, when connected to RGB)
VOLUME       - volume

CVBS/RGB switch: with the CVBS/RGB switch the FBAS- (or LCA-) signal (of the video recorder, computer or tuner) or the RGB signal (of the computer) is chosen.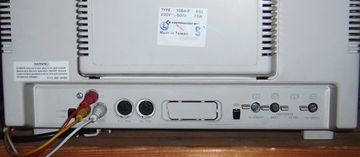 VCR key: when connecting a video recorder or a picture record player the key "VCR" needs to be pressed to adjust the picture. When connection a tuner, this button should not be pressed.
V.HEIGHT     - picture height
V.CENTERING  - vertical alignment
V.WIDTH      - picture width

Television tube                    : 14 inch, in-line- slot style tube
                                   slot distance 0,42 mm,
                                   dark screen
Deflection                         : 90°
-------------------------------------------------------------------------
Monitor input signals at the CINCH socket
1) Accumulated video signal      : (1 V ± 0,5 Vss). impedance: 75 Ohm
   with negative synchronisation
2) Audio signal                  : (150 mVeff - 2 Veff). imp.: 10 kOhm
3) Luminance signal              : (1 V ± 0.1 Vpp). impedance: 75 Ohm
4) Chroma signal                 : (1 V ± 0.1 Vpp). impedance: 75 Ohm
-------------------------------------------------------------------------
Monitor input for RGB signals
1) Euro connection               : RGB linear (see technical data)
2) DIN connection socket         : RGB TTL (see technical data)
-------------------------------------------------------------------------
Resolution                       : 600 lines in the middle of the screen, setting RGB
Characters                       : > 2000 characters (80 x 25), setting RGB
Image frequency                  : 50/60 Hz
Line frequency                   : 15625 Hz
Sound output performance         : 1 W - distortion factor 5%
Power supply voltage             : 230 V ± 15%
Power drain                      : 75 W
Dimensions  (H x W x D)          : 320 x 350 x 387 mm
Weight                           : 11 kg

Test report 1084S and 1802, article in 64'er 01/92 page 22