Clubtape
From C64-Wiki
Jump to navigation
Jump to search
Clubtape

Typ:
Webradio / Podcast
Language(s):
German / English
Founder:
Thunder.Bird
First Broadcasting:
5.1.2019
Music:
native SID / 2SID / Remix
Specials:

weekly live saturdays 12-14 o'clock
extra issue on music cassette, which contains a exclusive data part

Website:
https://c64clubberlin.de
Clubtape is a livestream / podcast with C64-music and moderation.
General
[
edit
]
The product Clubtape (short: CT) offers weekly information about and around the "C64 Club Berlin". Musically enriched with finest SID-tunes moderated by Thunder.Bird from the clubroom in Berlin-Spandau. The resulting podcast will be broadcasted live via Internet on Saturdays on the release date. The finished podcast will be added to the Webplayer playlist on the Homepage during the course of Saturday evening.
As a special gimmick, Clubtape will be released as a tangible medium "compact cassette" with an additional data section. Interested listeners and C64 Club Berlin-members will receive this on personal request. The software includes only non-commercial entertainment and information programs and is only included on the physical edition of the Clubtape.
Clubtape is exclusively private and to be understood as a hobby project under exclusion of financial interests. The programme is aimed at all age groups in the category of professional interest C64 as an information programme.
History
[
edit
]
During a meeting at the end of 2018 with krautguy over a beer, the idea of a "weekly 50-page club magazine", which was mentioned in jest, formed into a much easier to produce medium "music cassette". The name is a combination of "club" (C64 Club Berlin) and "tape" (audio tape). The broadcast length of 45-74 minutes leaves on the free area of an audio cassette with usual run lengths of 60/90 minutes still plenty of space for software that can be played back via C2N. Datassette can be loaded into the C64 Clubtape was first broadcast live as OGG-Vorbis and FLAC compressed radio stream using XM-Play and Oddcast plugin via Icecast2 server on the first Saturday of 2019 during its creation. During the live broadcast on Saturdays you can get in contact with the person responsible for the broadcast Thunder.Bird on https://c64clubberlin.de/live-chat or via IRC on freenode.net in channel #c64clubberlin. For the first four issues inferior microphones were used. Since issue CT64-005 the focus is on semi-professional hardware. Originally (CT64-003 to CT64-006) moderated separately German/English is combined bilingually since CT64-007.

First Broadcast
[
edit
]
21.04.2019 - Special live Report CT014 & Revision 2019 Oldschool Computer Demo Competition (live report)
12.05.2019 - Clubtape vs. Impromptu & Remember the wall - Special 016: 2h23' 2 parts! (SID, remix, funny jingles)
15.06.2019 - Clubtape 019 without moderation Songs of the peoples (SIDs, anthems, temporarily unhosted)
Content
[
edit
]
All the songs you have played so far are already listed in the .cue files. These are located in the same directory as the downloadable Clubtape podcasts from a specially created Web.de cloud. You can find the podcasts and corresponding .cue files as well as native music tracks by clicking on the cloud symbol to the right of the show in the playlist. The file name of the podcast indicates the day and time of the mastering start. Broadcast name and title/artist are displayed by common players from the .cue file according to the current position.

Technical Details
[
edit
]
Every single podcast has been pre-produced (CT64-007 w/o Script 'free talk')
"Live" means the time the podcast isn't finally compiled and streamed while it is parallel produced.
Streaming source: private VDSL2 50.000dn/10.000up over O2 (Telefonica) w/ daily new IP adress
A script to read the actual IP-Adress (every 30 hour) out of my router and writing it to the stream-link (thx Chagizzz!)
Technical broadcast specs: FLAC (for prof. relais use) ~ 4 clients | OGG Vorbis (160kBps for home use) ~ 50 clients (absolute netto-maximum)
Practical broadcast specs: aproximately 2 live listeners (in Germany)
Streaming server: Icecast2 over Oddcast3-Plugin for XM-Play
Mediaplayer: XM-Play 3.8.3.4 wit native SID (rev. 37.1) Plugin
Mastering: Mixxx 2.1.5 (build 2h.1 r6783) mixdown to OGG Vorbis 160kBit/s ABR stereo with CUE-Sheet
On broadcast-days, the Podcast will be available as OGG Vorbis audiofile with CUE-Sheet (song titles)
Equipment: Zoom HD16 Home Recording Studio, Sennheiser HD 280 DJ-Headphones, Sennheiser e840 Microphone (dynamic), Laptop, C64, STEREOinSID
Broadcast Time
[
edit
]
Regular Saturday at 12:00 CEST with transmission length between 45 and 143 (minutes), except the series also Saturday evening 20:00 or Sunday after announcement. The podcast can then be listened to and downloaded at https://c64clubberlin.de/music Spontaneous Impromptu livestreams are possible without obligation if requested in Chat. In the 2nd half of 2019 no broadcasts took place.

References
[
edit
]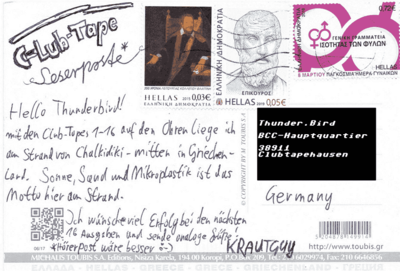 Moderators
[
edit
]